VA Home Loan Rates, Guidelines, & Loan Limits (Updated For 2017)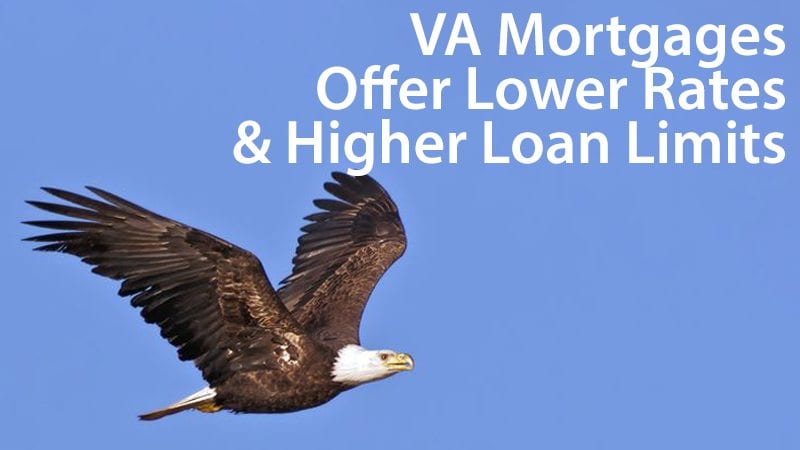 Current VA Home Loan Rates
VA home loans were created to benefit current and former members of the U.S. Armed Forces.
VA loans require no down payment, no mortgage insurance, and come with access to lower mortgage rates than with other common loan types.
Over 20 million veterans have taken advantage of the program since its creation in 1944. Some 700,000 obtained a VA loan in 2016 alone. The VA home loan program is popular, and gaining steam.
For good reason, too.
VA mortgage rates today as much as 50 basis points (0.50%) lower than rates available for conventional mortgage loans; and mortgage insurance is never required with the VA program -- regardless of your downpayment.
VA-eligible mortgage applicants save thousands in mortgage interest throughout their loan term.
Verify your new rate (Nov 21st, 2017)
Current Mortgage Rates for VA Home Loans
VA mortgage rates are among the lowest of all available mortgage rates. There are several reasons why.
The first reason why VA mortgage rates are low is because VA home loans are guaranteed against loss by the Department of Veterans Affairs.
Lenders assume very little risk on VA loans.
A second reason that mortgage rates are low for VA loans is that the program boasts some of the lowest default rates of any mortgage loan type. Lower default risk leads to lower future costs and rock-bottom rates.
A third reason is competition.
Lenders like to make VA loans for the two reasons above, and the competition for veterans' business has created downward pressure on prices.
Comparison shop VA-approved lenders and you'll see how low rates can be.
Rates for the VA streamline refinance are extremely competitive, for example, and the program has helped tens of thousands of military borrowers reduce their monthly payment.
Verify your new rate (Nov 21st, 2017)
2017 VA Mortgage Loan Limits
Among the benefits of a VA loan is that the program allows for "jumbo" loan sizes in some U.S. cities without charging its borrowers extra.
For example, VA buyers can borrow up to $424,100 with no money down, which means that any U.S. home sold for $424,100 or less can be financed 100%.
However, this $424,100 limit is just a minimum. In certain "expensive" parts of the country, however, VA loan limits range much higher.
Consider that the average sales price for a single-family home is near $260,000, according to the National Association of REALTORS®. Yet, in San Francisco, California; or, New York City, buyers would be hard-pressed to find a home for even two or three times that amount.
To help its military borrowers, then, the Department of Veterans Affairs has chosen to extend its maximum loan limits in cities in which costs are typically higher.
As a few examples of the VA's extended loan limits:
Marin County, California home buyers: VA loans up to $636,150
Seattle, Washington home buyers: VA loans up to $592,250
Boulder, Colorado home buyers: VA loans up to $529,000
The 2017 VA loan limits chart tops out at $721,050 for home buyers in Honolulu, Hawaii.
Homes can be purchased with no money down and at very low rates.
What Are Today's Mortgage Rates?
VA mortgage applicants aren't required to give in-depth, in-person applications. Most applications can handled online, or over the phone, with needing documentation on-hand.
Get today's live mortgage rates now. Your social security number is not required to get started, and all quotes come with access to your live mortgage credit scores.
Verify your new rate (Nov 21st, 2017)
The information contained on The Mortgage Reports website is for informational purposes only and is not an advertisement for products offered by Full Beaker. The views and opinions expressed herein are those of the author and do not reflect the policy or position of Full Beaker, its officers, parent, or affiliates.
Try the Mortgage Calculator