USDA Loans Offer 100% Financing To Today's Mortgage Shoppers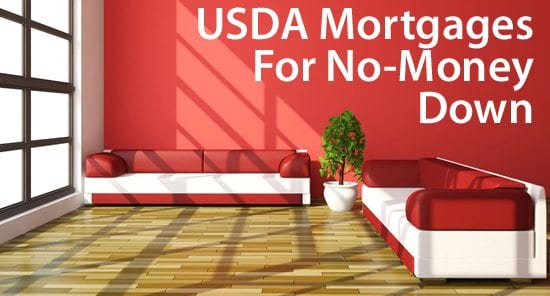 USDA Loan: A 100% LTV Mortgage
Today's home buyers have a multitude of low- and no-downpayment mortgage programs from which to choose.
The FHA's flagship loan program and Fannie Mae and Freddie Mac's Conventional 97 both offer downpayment options of less than 5%; as does the FHA's construction loan, which is formally known as the 203k program.
But buyers also have access to several zero-down home loans.
One such loan is the VA loan, a loan which is guaranteed by the Department of Veterans Affairs. However, USDA loans are limited to military borrowers and their families.
The other 100% loan is more widely available.
Called the USDA loan and backed by the U.S. Department of Agriculture, USDA loan requires no downpayment, offers reduced mortgage insurance, and is available in the nation's less-densely populated cities and neighborhoods.
Furthermore, USDA mortgage rates are often lower than comparable conventional and FHA rates.
If you're buying a home in a suburban or rural area, then, consider the USDA loan among your home loan options. Even if you plan to make a downpayment, USDA financing may be the most favorable of your options.
Click here to get a rate quote (Mar 24th, 2017).
What Is A USDA Mortgage?
The USDA mortgage program was started in the early-1990s as a way to promote homeownership in rural and less-densely populated suburbs of the United States, including many exurbs and "college towns".
The program has no maximum loan size and allows buyers to make large or small downpayments -- or no downpayment at all.
Formally known as the Section 502 Rural Housing Loan, USDA loans are guaranteed by the U.S. Department of Agriculture and available via most lenders nationwide.
Because of its government guarantee, lenders can offer USDA loans at lower rates than for comparable conventional or FHA loans, and USDA mortgage rates rival those available via the VA Loan Guaranty program as well. 
USDA mortgage rates are typically 37.5 basis points (0.375%) below "average" weekly rates.
Aside from low mortgage rates, USDA loans offer other benefits to buyers, too. Namely, the USDA loan program is one of two generally-available loans which allow 100% financing.
USDA loans have no downpayment requirement, but borrowers may choose to make a downpayment, if they wish. Whatever the loan size, though, the USDA will assess a 0.40% annual mortgage insurance fee on the borrowed amount, or $400 per year per $100,000 borrowed.
The USDA loan's mortgage insurance cost is the cheapest of all low- and no-downpayment loans, save for the VA loan which charges no mortgage insurance whatsoever.
USDA loans can also be refinanced via a specialized refinance program exclusive to USDA borrowers. 
Known as the USDA Streamline Refinance, the money-saving program waives the standard verifications of a refinance including credit, income, and employment; and gives on-time homeowners access to today's lower rates.
USDA mortgages are available as 30-year fixed rate mortgages and must be used to purchase a primary residence, single-family home.
Click to get today's live mortgage rates (Mar 24th, 2017).
How To Qualify For A USDA Mortgage
Applying for a USDA-guaranteed mortgage follows the same process as applying for a conventional or FHA loan. A mortgage lender will take your application, underwrite your loan, and deliver funds to your closing.
However, because the USDA program is meant for borrowers of modest means buying a modest home, there are two additional underwriting steps to clear.
The first step is an income verification -- the USDA will not guarantee loans for buyers whose household income is more than 15% greater than the median household income for area.
Use the USDA Income Eligibility Lookup tool to check your income. 
The second step is to verify that your home is in a USDA-eligible area. This is possible via the USDA website which lists homes by census tract. In general, USDA financing is available in towns of fewer than 25,000 people but, as census tracts change, so does USDA eligibility.
The USDA plans to update its maps in October 2015.
Beyond income and population density, qualifying for a USDA loan is similar to qualifying for any other loan type. Borrowers will be asked to provide tax returns and pay stubs to verify income; to provide proof of employment; and, to show a minimum credit score of 620.
Note that underwriting a loan for the USDA Rural Housing program is typically slower than underwriting other loan types. Before you plan a "quick closing", therefore, be sure to verify with your lender.  
Get A Mortgage Rate Quote Now
USDA mortgages are no-money down loans and, because they're guaranteed by the government, rates are ultra-low as compared to other loan types. It's an excellent option for today's buyers -- whether you're making a downpayment or not.
Get a complimentary mortgage rate quote now. Rates are available for free with no obligation to proceed and with no social security number required to get started.
Click to get today's rates now (Mar 24th, 2017).
The information contained on The Mortgage Reports website is for informational purposes only and is not an advertisement for products offered by Full Beaker. The views and opinions expressed herein are those of the author and do not reflect the policy or position of Full Beaker, its officers, parent, or affiliates.
Try the Mortgage Calculator