Rates drop for the third week in a row
Mortgage rates fell again this week, marking the third consecutive week of declines, according to Freddie Mac.
Today's rates have dropped more than 50 basis points (0.5%) since their high-water mark in early November.
Couple falling rates with improved housing market conditions, and it seems things are starting to look back up for home buyers.
Find your lowest mortgage rate. Start here
Lowest rates since September
On Dec. 2, the average 30-year mortgage rate fell from 6.58% to 6.49%. Fifteen-year fixed rates dropped as well, from 5.90% to 5.76%.
While that's a relatively small drop from week to week, it came on the tail of significant declines over the past two weeks. That puts today's mortgage rates at their lowest level since Sep. 22, when the 30-year rate averaged 6.29%.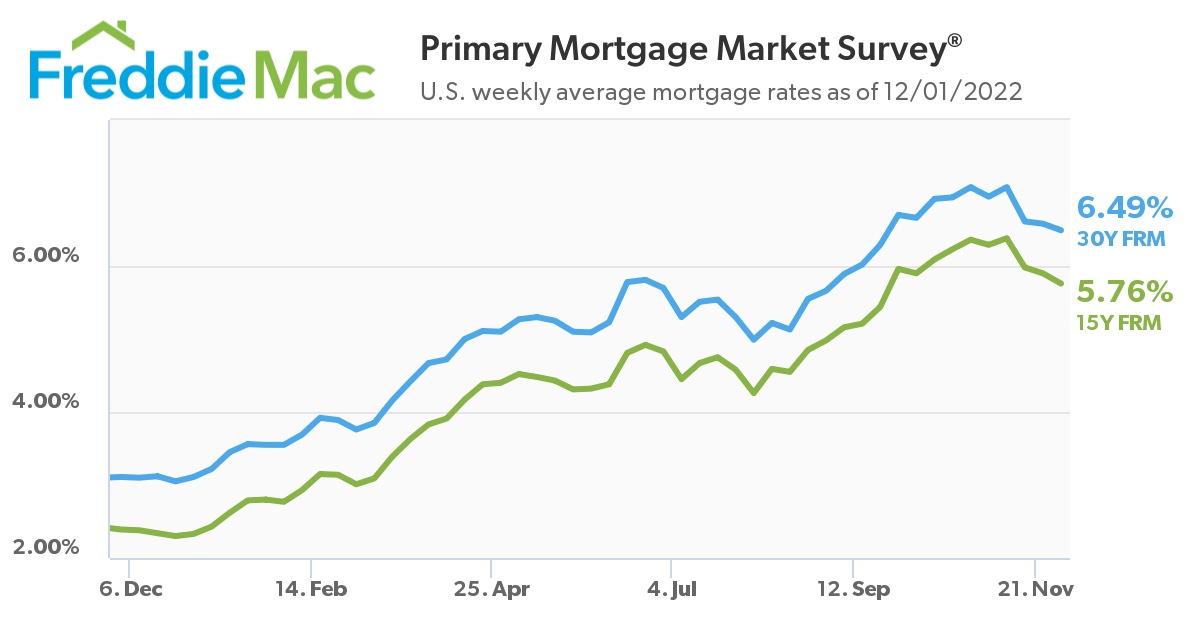 Source: Freddie Mac 
Find your lowest mortgage rate. Start here
Mortgage rates fall on improved Fed outlook
Recent changes in mortgage rates have been driven largely by the Federal Reserve.
Rates spiked following historic increases to the fed funds rate in June, July, September, and November. Mortgage lenders often hike rates even before the Fed meets if they're fairly certain it's going to raise the benchmark rate.
But that same logic can work in reverse.
If lenders anticipate a softening in Fed policy, they can lower their rates in response. And that's just what happened this week.
"Mortgage rates continued to drop this week as optimism grows around the prospect that the Federal Reserve will slow its pace of rate hikes."

Sam Khater, Chief Economist, Freddie Mac
This came following a speech by Fed Chair Jerome Powell on Dec. 1, in which he hinted that the Fed could be done jacking rates up by 0.75% at each meeting. "The time for moderating the pace of rate increases may come as soon as the December meeting," Powell stated.
If that holds true, and we see the Fed continue to pull back on its aggressive policies in the near future, further mortgage rate drops could potentially be in the cards.
Advice for home buyers
Of course, borrowers may be thinking that rates are still more than double what they were during the height of the pandemic. And that's true — recent drops haven't put them anywhere near that historic low range.
But home buyers should take a longer-term view when it comes to mortgage financing.
Today's mortgage rates are still below the long-term average (since 1971) of 7.8%. And regardless of when you lock, remember that you're not stuck with your mortgage rate forever. Homeowners will have opportunities to refinance if rates fall again in the coming months or years.
That's why some mortgage pros say, "marry your home and date your rate." If you can afford to buy in today's environment and start building equity, it's probably worth paying today's rates for the time being.
Time to make a move? Let us find the right mortgage for you