Higher mortgage rates could be coming quickly
The Federal Reserve made clear in its latest meeting that it doesn't view inflation as transitory. And it's adjusting its 2022 policies to reflect that.
Experts now predict the Fed will start raising interest rates in March. And it could hike rates four times (up from three) over the course of the year.
That means significant mortgage rate growth could take off in the next few months. It also means if you're betting on interest rates to decline before you buy a home or refinance, the interest rate environment might never be lower than it is now.
Find your lowest rate before they rise. Start here
Listen on The Mortgage Reports Podcast!
---
The Fed's impact on interest rates
To be clear up front, the Federal Reserve doesn't set mortgage rates. However, home loan rates often move in line with its actions and policy changes.
The Fed announced after its Federal Open Market Committee (FOMC) Dec. 15 meeting that it will wind down the buying of mortgage-backed securities (MBS), a move it initiated to help stimulate the economy during the pandemic.
On Jan. 26, it confirmed plans to finish tapering by early March. That means all the Fed's pandemic-era mortgage stimulus will be withdrawn in the near future.
This tapering will almost inevitably drive interest rates higher.
The fed funds rate and mortgage rates
Additionally, the Fed confirmed at its Jan. 26 FOMC meeting that "it will soon be appropriate to raise the target range for the federal funds rate," with experts forecasting as many as four rate hikes throughout the course of the year.
The federal funds rate is what banks pay to borrow money from each other overnight. When the Fed increases that rate, it signals higher inflation and economic expansion.
"The fed funds rate and mortgage rates don't correlate with each other, but they do run pretty close to one another," said mortgage loan advisor Ivan Simental on a recent episode of The Mortgage Reports Podcast.
"When we look at the federal funds rate and mortgage rates… They are always pretty spot on," he continued.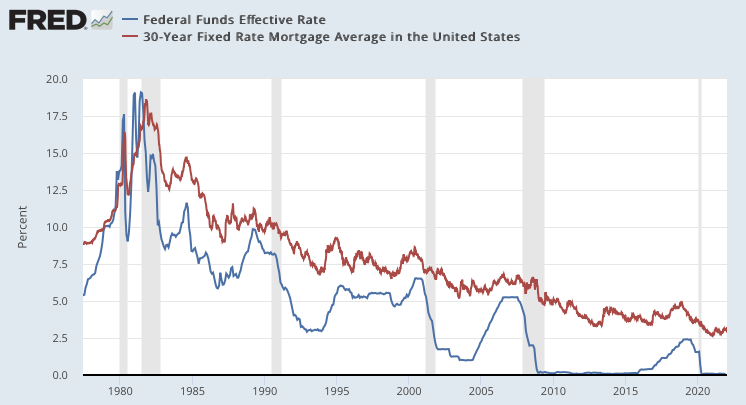 Source: Federal Reserve Bank of St. Louis
FOMC members plan for MBS purchasing to wrap up in March, and it's expected the central bank will implement its first interest rate hike around the same time.
What borrowers should do
If mortgage rates grow alongside the federal funds rate as expected, house shoppers and homeowners looking to refinance should act fast.
"Maybe you're a consumer who waited to buy because you thought rates were going to go even lower. Or you thought there was going to be a housing crash this year," says Simental. "What should you do now?"
The good news is that low mortgage rates aren't gone completely.
"One thing that we do know is that rates are still historically low, even if they go into 4%," says Simental. So there's still a window for home buyers and refinancers to take advantage of affordable financing.
While a 4% mortgage rate is still low from a historical perspective, locking in a rate before they rise further could save you thousands of dollars over the life of your home loan.
Time to make a move? Let us find the right mortgage for you