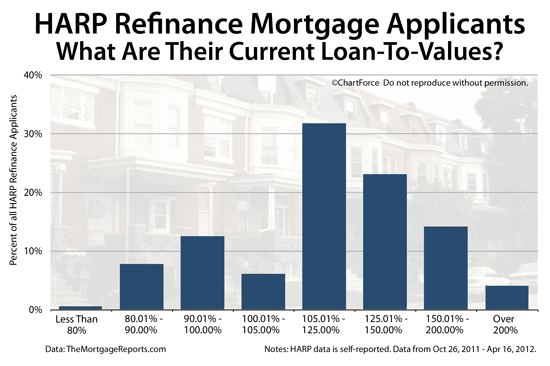 The HARP refinance program was updated and re-released in March. The new HARP allows for unlimited loan-to-value on most HARP refinances. Yet, as many underwater homeowners are finding out the hard way, just because HARP allows it, that doesn't mean banks will do.
If you've been turned down for HARP because of high LTV once (or twice!), don't give up. You still have options.
.
About The HARP 2.0 Refinance Program
HARP stands for Home Affordable Refinance Program. It is a government-led mortgage program for underwater homeowners. It was first launched in 2009 as part of an economic stimulus program.
With HARP, homeowners with "lost equity" can refinance to current mortgage rates, lowering their monthly payments — often by a lot. The typical HARP homeowner, after all, has a mortgage rate north of 6 percent. Today's mortgage rates are much lower than that.
When HARP was first implemented, it was intended to reach 7 million U.S. households, especially those in hard-hit states such as California, Arizona and Florida. Restrictive guidelines, however, kept the government from reaching its goal.
Fewer than 1 million HARP refinances were processed between 2009-2011. It's one of the reason why the government re-wrote its HARP program. The government wants HARP to reach more households, more quickly.
.
Under HARP 2.0, underwriting guidelines have been relaxed :
You can refinance with HARP with any participating lender — not just your current bank
You can refinance a home with private mortgage insurance (PMI)
You can remove a co-borrower from the mortgage if they no longer share your home
But perhaps the biggest change in HARP's re-release is that the program provides for unlimited loan-to-value. No matter how far underwater you are, so long as you refinance into a fixed rate mortgage, you can use HARP.
Your home could have lost half of its value from the peak, and HARP wouldn't care. The problem, though, as too many people are finding out, is that banks care.
Few banks are honoring the unlimited LTV feature of HARP 2.0.
Lenders Limiting HARP 2.0 Approvals
Have you been turned down for a HARP loan because of high loan-to-value? You're not alone. Nearly all of the nation's biggest banks have placed at least one LTV-limiting overlay on their respective HARP guidelines.
Some big banks will allow up to 105% only. Some big banks will allow up to 125% only. Some big banks will allow up to 125% but only if you're a current mortgage customer. The banks make these rules for two reasons. First, to slow new loan applications — banks can only handle so much loan volume before their systems crack. And, second, loans over 125% are known to have a high default rate.
Few banks want that risk — even when the loans are guaranteed by the U.S. government.
41 percent of HARP applicants have LTVs over 125 percent based on data from more than 15,000 queries handled through this website. So, when big banks cap HARP 2.0 approvals at 125% loan-to-value, it dramatically limits the HARP program's effectiveness and reach. Because of this, HARP 2.0 will help far fewer families than expected — just the same as with HARP 1.0.
.
Re-Apply for HARP 2.0 Mortgage
The good news for underwater homeowners is that there are banks offering unlimited LTV with HARP. The hard part, though, is that they're not banks you'll find every 10 blocks and in every shopping mall nationwide.
HARP remains a specialty product and there are plenty of lenders writing good loans with it. If you've been turned down for loan-to-value problems or for any other reason, don't give up hope. Find a new channel to find a lender. Get started with a rate quote.
.