Your house may be your best (or only) emergency fund
As millions of Americans suddenly find themselves unemployed, having cash at hand is more important than ever.
Many who don't have large emergency savings account are looking for other ways to tap into cash flow.
Fortunately, falling mortgage rates and a decade of increasing home equity are giving homeowners a significant lifeline through their largest source of wealth: their home.
>Related: The best way to refinance your mortgage
And, according to statistics, Americans are doing just that.
Cash-out refinances and home equity lines of credit (HELOCs) had already hit a 10-year high in the fourth quarter of 2019.
Then in March, refinance applications surged 479 percent, their highest levels since 2008. Many of these were cash-out refinances.
Verify your cash-out refinance eligibility
U.S. homeowners are sitting on $6.2 billion of tappable equity
Fortunately for millions of homeowners, equity is the one thing still holding strong amid a volatile economy.
After eight straight years of median price gains for single-family homes, there's a decent chance you're one of the 45 million homeowners with equity at the end of 2019.
In fact, mortgage data firm Black Knight estimates the average homeowner holds about $119,000 in home equity.
Black Knight estimates the average U.S. homeowner holds about $119,000 in home equity.
Overall, there's $6.2 billion in so-called "tappable" equity, says Black Knight.
What's more, mortgage rates are sitting comfortably at near-record lows. And some predict they'll stay there for a full year or longer.
This rare combination of historically low mortgage rates and record-high equity presents a unique opportunity for homeowners.
When your savings are low, and you don't want to run up credit card debt, tapping into your home equity can be a lifesaver.
Many are in the position to borrow thousands — even tens or hundreds of thousands — at an ultra-low interest rate via cash-out refinancing or a home equity line of credit.
Verify your cash-out refinance eligibility
Equity is cheaper money than credit card debt
According to Bankrate.com, the average credit card rate is almost 17%.
By comparison, the average mortgage rate last week was just 3.31%.
True, mortgage rates for a cash-out refinance tend to be slightly higher than non-cash-out refi's.
But these rates are still lower than most home equity loans and home equity lines of credit (HELOCs). And they're almost guaranteed to be far, far lower than your credit card interest rate.
So looking at the cost of borrowing alone, using your home equity for emergency cash makes much more sense than using credit cards.
And there are other reasons you might choose a cash-out refinance, too.
Add money to your savings. Now more than ever, many homeowners need the comfort of knowing they have a nest egg for emergencies. Getting cash out from your equity at a low rate could give you the breathing room you need
Cutting your term to 15-years.

Reducing your loan term to 15 years

could reduce your overall interest by tens of thousands of dollars. And, with 15-year mortgage rates in the 2's, that 15-year mortgage payment may finally be affordable
Lowering your rate on a 30-year term. Is it some monthly breathing room you need? Refinancing to a rate in the 3's on a 30-year fixed mortgage could lower your payment and add some much needed slack to your budget
Make one of these home improvements. Home repairs and improvements are one wise way to use your equity. Pulling cash out to reinvest in your home can increase its value. According to Remodeling magazine's 2019 Cost vs. Value Report, you may add the most value to your home with these upgrades: A garage door replacement; manufactured stone veneer; a minor kitchen remodel; adding a wood deck; or replacing siding
In short, emergency cash isn't the only good reason to pull from your home equity.
When you use a cash-out refinance, you can put the money to work however you like. So today's low rate environment could benefit many — not just homeowners who have been affected financially by coronavirus.
But there are extra hurdles to refinancing right now
As lenders continue to deal with a volatile mortgage landscape never seen before, getting approved for a cash-out refinance isn't as easy as it was just 30 days ago.
To qualify for a cash-out refinance, most lenders are currently requiring slightly higher credit scores, along with a minimum amount of equity.
While some lenders are still offering refinance loans to mortgage borrowers with scores under a 660, many lenders are requiring 660-680 credit scores.
Many lenders are now requiring a minimum credit score of 660-680 credit score and higher levels of equity for a cash-out refinance.
Now more than ever before, mortgage borrowers who have a sub-700 credit score may have to shop around to find lenders who will approve their cash-out refinance.
From an equity standpoint, you'll need to have 20% leftover after you pay off your current loan, and get your cash out. For example:
If your home is valued at $200,000
And your mortgage balance is $100,000
You have $100,000 of equity in your home
You can cash-out refinance the $100,000 and potentially pull out roughly $60,000
In this example, your new loan is $160,000 ($100,000 plus the new $60,000 you cashed out). A $160,000 loan amount divided by a $200,000 property value equals an 80% loan-to-value ratio.
The basic point is that you can't take out all of your home equity in cash. But the more you have built up, the more you'll be able to withdraw while still leaving 20% in the bank.
Do I need a letter of explanation for a cash-out refinance?
Whatever your reason for your cash-out refinance, some lenders will require a "cash-out letter."
Cash-out letters tell the lender your intentions for tapping your home equity.
These letters are oftentimes just a formality. But in some cases, they can also be the difference in getting approved for your new refinance or not.
Lenders tend to be turned off by homeowners who frivolously use their equity. When asked to submit a letter of explanation for cash-out, remember to be professional, concise, and clear about your intentions.
For example, a cash-out letter may look something like this:
Sample letter of explanation for a cash-out refinance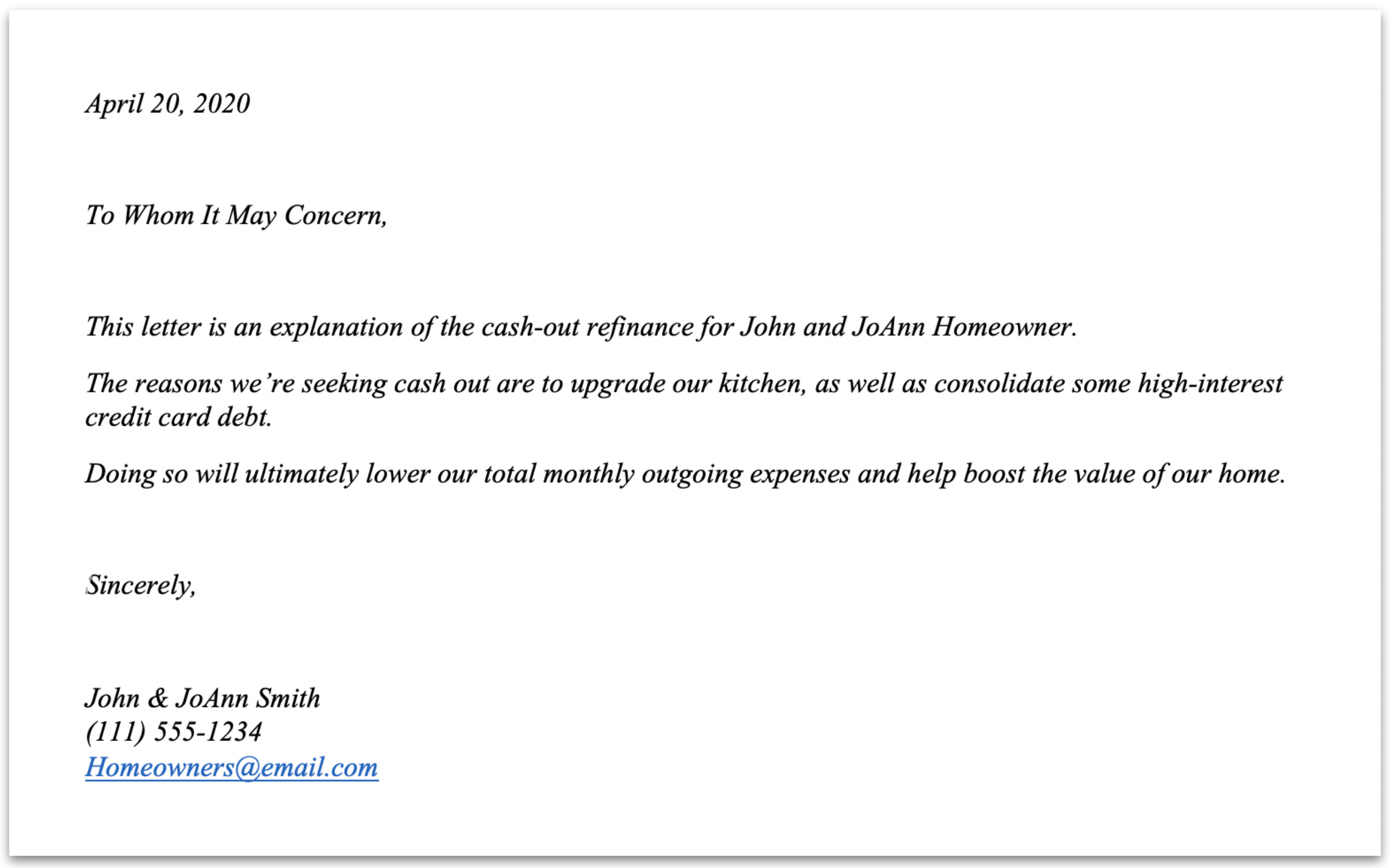 It doesn't have to be lengthy or super in-depth.
Just a straightforward explanation of the main reason (or reasons) you're seeking a cash-out refinance right now.
Who should NOT use a cash-out refinance?
Even if you have a ton of equity in your home, you should still fight the urge to use your home as an ATM.
While some cash-out refinances can be ideal for re-establishing your savings, or helping complete necessary home repairs, not everyone should cash-out refinance.
That's why most experts advise against cashing out for 'frivolous' reasons like a lavish vacation or buying a fancy new boat. Even taking cash out for necessities bears serious consideration.
Remember, the equity you use now means you'll have less equity when you decide to sell your home.
Plus, most refinancing homeowners choose to roll their closing costs back into their new loan. This, too, can decrease your equity.
But perhaps most importantly, using a cash-out refinance could put some homeowners in an even more precarious position in the current economy.
If a cash-out refinance results in a higher mortgage payment, you'll want to consider whether or not a potential furlough or loss in income will result in that payment no longer being affordable.
So be sure to factor in the still unseen fallout from coronavirus as it pertains to job loss.
When to consider a home equity line of credit instead of a cash-out refi
If you already have a super low interest rate, you may want to consider a home equity line of credit (HELOC) instead of a cash-out mortgage.
HELOCs work similarly to a credit card. You can borrow from the credit line as the need arises, pay it off in installments, then reuse the credit.
The interest rate on a HELOC is typically much lower than most credit cards.
The prime rate, the one that is tied to HELOCs, plummeted to just 3.25% in April. That's down from 4.75% in early March.
The prime rate has only been this low a couple of times over the last 60-plus years.
The interest may be tax-deductible as well, if you use the money to improve your home.
HELOCs can be a great way to access your equity. However, they aren't without risk.
These loans come with variable interest rates.
Yes, rates are super low right now. But they could take a significant upward swing after the economy recovers from this pandemic.
So if you go the route of a HELOC, think carefully about the amount of credit you use and the repayment terms on your loan.
Final words on cashing out your equity
As coronvirus' impact continues to cause disruptions in household finances across the country, homeowners are forced to seek other ways to access reserves funds.
If your savings are low and you don't want to run up debt on high-interest credit cards, the equity in your home is one of the few, reliable resources for accessing cash to make it through these tough times.
Thanks to record-low interest rates and a strong housing market, using the equity in your home to fund emergencies can be a great idea. But it's not without risk. So consider your options carefully.
Time to make a move? Let us find the right mortgage for you