Origins of the Modern Home
These homes were built out of new ideas, mindsets and a forward-thinking style that sprung up following World War II. The war introduced new materials—such as steel and plywood—to the forefront of architecture, making these simplistic, flowing designs possible.
Many consider this modern style to be a reaction to the eclectic and ornate styles of the Victorian era and, later, Art Nouveau. The first wave of modern homes—known as Mid-Century Modern—are characterized by flat planes, large glass windows, and open spaces that integrate nature seamlessly into the design.
Early greats like Joseph Paxton and Frank Lloyd Wright doubtlessly inspired today's modern homes. Modern homes can take on many different looks and incorporate sleek clean designs with large windows and open spaces.
Ready to buy a home? Start here.
Advantages of Modern Homes
These unique building styles can take on many different looks. People gravitate toward the blending of historic elements and the attention to current lifestyle trends that these homes offer.
The spacious design of modern homes is one of their main attractions. Modern homes pay close attention to using space as efficiently as possible. This attention to detail considers the structure as a whole—including ceiling space, hallways, and corridors—maximizing airflow and minimizing wasted space.
Modern homes seek to balance the use of space with the overall size of the home and its place in the surrounding environment. They are designed to fit in with nearby homes and natural open spaces, while still abiding city zoning laws. This concern with creating a balance between design, structural efficiency, and overall aesthetic value leads to very attractive homes.
Modern homes are known for is putting a premium on natural light. Large south facing windows are commonly combined with smaller windows to flood the space with natural light while maintaining privacy. Maximizing the natural light helps with energy costs, requiring fewer lights in the summer or trapping heat during the winter.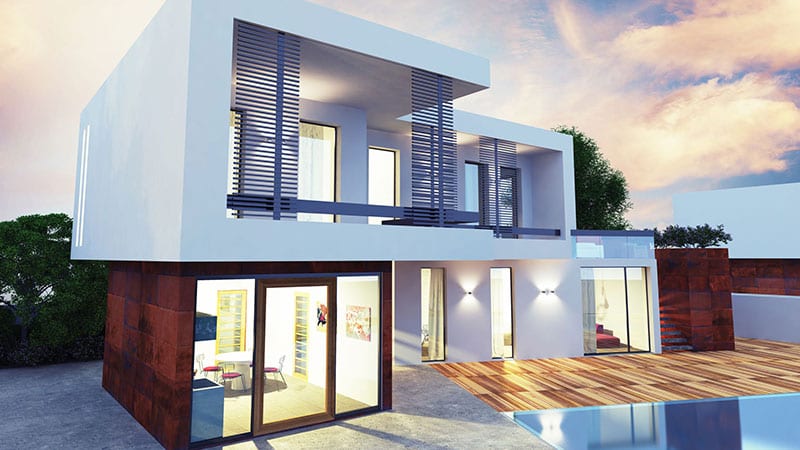 Customizing Modern Homes
Another benefit of owning a modern home is the ability to customize the space.
Since modern homes rarely use symmetrical design, it is easy to make seamless changes to them. This leaves plenty of room for future expansions or upgrades—it's not unheard of to downsize and add more outdoor features.
Modern Homes Are Environmentally-Friendly
Modern homes tend to emphasize sustainability, energy efficiency, and the use of recycled, non-toxic materials.
This emphasis on minimizing waste extends to building materials, appliances, water-saving plumbing, air conditioning, and energy-efficient lighting. Modern house plans put a premium on energy and environmental efficiency, maximizing and recycling energy wherever possible.
This is in addition to the natural light and efficient airflow that saves money and the planet.
These are important features for millennials entering the home buying market. Contemporary homes are a savvy option: sleek stylish designs with low energy and maintenance costs.
Time to make a move? Let us find the right mortgage for you