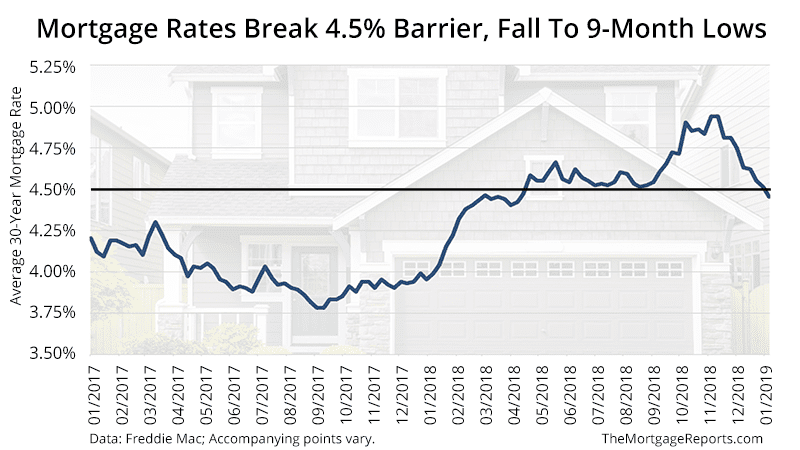 Lowest rates in 9 months
There is a quiet refinance boom brewing, as mortgage rates sink to 9-month lows.
Not since April 2018 have rates been this low.
Freddie Mac, in its weekly mortgage rates survey, reported that the average 30-year mortgage rate hit 4.45%, sinking below the psychologically important 4.5% mark.
What's more, rates have come down from highs near 5% seen as recently as November.
That drop represents a savings of $90 per month on a $300,000 mortgage.
Consumers a flocking to refinance. No one knows how long this good fortune can last.
Refinance applications surge 35% on low rates
The Mortgage Bankers Association (MBA) probably had to check numbers twice when they saw the results of this week's mortgage applications index.
The data showed that refinance applications spiked 35% in one week.
Falling rates snuck up on the American consumer. While everyone was enjoying the holidays, mortgage rates fell precipitously starting the week before Thanksgiving.
Rates continued dropping through Christmas and New Year's Day until, on January 10, they hit levels not seen since last spring.
Joel Kan, the associate VP of economic industry forecasting for MBA, said, "Mortgage rates fell across the board last week and applications rebounded sharply, after what was a slower than usual holiday period."
Now, it appears, consumers are hearing about low rates and finally acting.
Those who have been priced out of a refinance or home purchase are finding out that a new mortgage finally makes sense.
15-year fixed and 5-year ARMs drop into the 3s
The 30-year fixed rate gets all the attention, but other types of mortgages should be making headlines, too.
Rates for 15-year fixed and 5-year ARM loans are now in the 3s according to Freddie Mac.
15-year fixed: 3.89%
5-year ARM: 3.83%
These alternatives to the 30-year give homeowners the opportunity to secure pre-2018 rates — before rates started spiking in earnest.
For instance, someone buying a home may have found they could no longer afford monthly payments at today's 30-year fixed rate.
But they choose a 5-year ARM rate instead and shave more than $100 per month from today's 30-year payment.
Five-year ARMs are fixed for five years, then start adjusting based on the market. These loans are perfect for homeowners who plan to stay in their homes only 5-7 years.
Those who are impressed at today's dropping 30-year rate will find short-term rates even more enticing.
How do I check my rate?
Mortgage rates suddenly turned low again, sparking a new interest for home buyers and refinance applicants alike.
Each applicant, though, needs a personalized rate quote. Average rates are only that — an average. Your rate might be higher or lower depending on credit score, down payment, home equity, or other factors.
Get your live rate quote now. A quick conversation with approved and vetted loan partners can reveal significant savings for you.