Happy new year — as a homeowner
Is your new year's resolution for 2018 to become a homeowner? Or would you make it one, if only you thought it was a smart move — and you stood a chance of achieving it?
Well, read on because you might find some good news.
2018: A vintage year for first-time buyers?
As the new year kicks off, things seem promising. It's looking increasingly likely 2018 will be a great time to get your feet on the housing ladder. Indeed the background noises you hear during the next 12 months may be windows of opportunity closing.
That's because mortgage rates look set to remain affordable for the time being. Home price inflation isn't all that scary — yet.
Meanwhile, you can get a good, mainstream mortgage with a down payment of just 3.0 or 3.5 percent. And there are thousands of programs that offer grants or loans to help you save the amount you need.
Complete guide to down payment assistance in the USA
Mortgage rates
It's hard to become a homeowner when mortgage rates are high. But "high" is a relative term.
If you're young or haven't followed mortgage rates closely, you may think they're high now. At the time of writing (late-January 2018), they're hovering around the 4.25 percent mark. That's for a 30-year, fixed rate mortgage (FRM).
What is high?
That is high, compared to the 3.35 percent seen over the last couple of months of 2012. Delve back further into Freddie Mac's rate archive, and any mortgage rate beginning with a 3 or 4 is ridiculously low.
They peaked at 8.05 percent through 2000. And they started with a 5 or 6 every year this century up until 2009.
Scarily, they started with two digits (over 10 percent) for more than a decade from 1979-90. In November 1981, they stood at 18.45 percent for one of those 30-year FRMs.
When will rates "normalize?"
Writers, analysts and commentators (including this one) have been predicting a return to "normal" levels for rates for the best part of a decade. And, so far, we've all been proved comprehensively wrong.
Of course, it's possible we'll continue to be mistaken: Maybe current rates are the new normal. But how likely is it that things are so different today we'll never see a return to the old normality?
The answer may be 2018
There are signs 2018 could be the year rates begin to head back toward the "normal" range. To start with, the Federal Reserve is continuing to raise its interest rates. Now, it's true the Fed doesn't directly determine mortgage rates — except those for existing adjustable-rate mortgages. There's an undeniable connection over the long term between the two.
MBS: what REALLY determines your mortgage rates
Secondly, strange things are happening at the time of writing in the market for 10-year U.S. Treasury bonds. That is the market that mortgage rates really do closely shadow. In January 2018, Craig W. Johnson, who is director of Piper Jaffray's technical research group, told CNBC that yields on those bonds were entering a "danger zone" while the market was reaching an "inflection point." If he turns out to be right, there really is a good chance of mortgage rates rising significantly later this year.
Home prices aren't running away
Another big barrier to anyone who wants to become a homeowner can be property prices. Now, there's no point in pretending those aren't increasing at a quick clip. Well, that's good if you're already on the property ladder.
According to CoreLogic, property prices rose 7.0 percent in the year ending November 2017, nearly twice the rate or typical property inflation in the US. But the company forecasts that they'll rise by a more "historically-correct" 4.2 percent over the 12 months ending in November 2018.
Inventory issues easing
The building of more new homes may cause some of this slowing in home price inflation. The National Association of Home Builders (NAHB) reckons its members are currently at their most optimistic this century.
Not everything is rosy and there's a shortage of skilled labor that will put a cap on home builders' ambitions. However, the NAHB is still forecasting a rise of 5 percent in 2018 of the number of construction starts on new, single-family homes. The law of supply and demand means that could moderate price increases.
So should you become a homeowner this year?
Perhaps you'd love to become a homeowner in 2018 but lack the savings for a down payment and closing costs. If so, don't despair quite yet.
2018 mortgages with zero and low down payments
Between mortgages with low down payment requirements and available down payment assistance (remember that guide mentioned above?), you may be much closer than you think to home ownership.
When rents are more affordable where you live
It's cheaper to own than rent your home in most of the country, according to recent research by ATTOM Data Solutions. There are plenty of areas (especially more populated ones) in which the opposite is true.
What should you do if you're living where renting is the more affordable option? Only you can decide. Bear in mind that you can fix your mortgage payments for up to 30 years and you'll have an asset that's likely to appreciate, subject to market fluctuations.
If you choose to continue being a tenant, you'll likely face regular rent increases and you might harm your potential net worth. Only disciplined and clever investors find returns that beat home price inflation rates.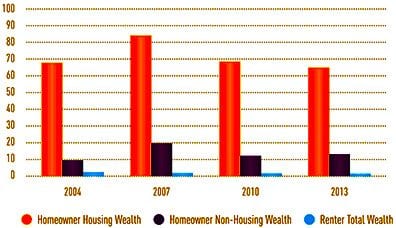 According to research at Harvard University's Joint Center for Housing Studies, homeowners amass about 15 times the wealth of renters. Much of that wealth is in the form of home equity.
The research says that "Home equity remains a key source of household wealth, accounting for $80,000 of the $195,500 median net wealth of homeowners in 2013. By comparison, the median net wealth of renters was just $5,400. The difference in net wealth between
owners and renters are particularly stark among low-income and minority households."
What millennial homeowners think
When in 2017 Bank of America asked millennial homeowners about their purchases, the vast majority expressed satisfaction. A whopping 79 percent believed it would have a positive impact on their finances. An even bigger 86 percent thought owning was more affordable than renting.
The survey's respondents revealed the top two reasons they'd bought:
I thought money I spent on rent would be better invested in a mortgage
I wanted a place to call my own
Only you can decide when to become a homeowner. But, if you're ready, able and willing to do so, 2018 might turn out to be a great choice.