What Is A USDA Loan?
The USDA home loan program is one of the best-kept secrets in the home buying market today.
This zero-down, 100% financing home loan is sponsored by the United States Department of Agriculture to promote homeownership in less-dense communities across the U.S.
For this reason, it's often known as the USDA Rural Development Loan (RD Loan) or Rural Housing Loan. The program is part of the larger Rural Housing Service under USDA's umbrella of programs.
But don't let the name fool you. It's not just for properties that are far-removed from civilization.
In fact, a full 97% of U.S. land mass is eligible for USDA financing, representing 109 million people — about one-third of the U.S. population. It's very likely that a property near you qualifies.
Verify your USDA loan program eligibility (Apr 5th, 2020)
USDA Home Loan Down Payment
The down payment requirement — or lack thereof — is why so many buyers choose the USDA loan program. No down payment is required, making it one of the few 100% financing home loans available in today's market.
The only other widely available zero-down loan is the VA mortgage, eligibility for which is gained by adequate military service.
For civilians, USDA loans are likely the only no-down mortgage option. Following are the minimum down payment requirements for all major loan types.
Conventional loans: 3% down
FHA: 3.5% down
VA: 0% down
USDA: 0% down
Down payment advantage: It would take years for many families to save 3% down or more. During that time, home prices can go up, making saving a down payment even harder. With USDA, home buyers can purchase immediately and take advantage of increasing home values.
Am I Eligible For A USDA Home Loan?
There are two main factors for USDA home loan eligibility: the property and the home buyer.
1. USDA property eligibility
Geographic areas for USDA loans: The home must be located within a USDA-eligible area. The USDA website contains interactive maps with which you can pinpoint an address or take a wider view of a region.
Definition of a rural area: To be eligible, a home must be in a rural area. But you might be surprised at what is considered rural. Generally, cities and towns with a population less than 20,000 qualify, but bigger cities are eligible if they are "rural in character" or don't have good access to mortgage credit.
Plus, property eligibility maps haven't been significantly updated in more than 15 years. Many surprisingly populous areas across the U.S. qualify. What was once considered a rural area might now be a significant population center.
Property standards: Your lender will order an appraisal of the property which will ensure it is worth what you're paying. The appraisal report also verifies the home is livable, safe, and meets USDA's minimum property requirements. Any safety or livability issues will need to be corrected before loan closing.
Property types: Contrary to popular belief, USDA loans are not meant to finance farms or large acreage properties. Rather, they are geared toward the standard single-family home. You can also finance some condominiums and townhomes with the program.
Occupancy: The home you are buying must be your primary residence, meaning you plan to live there for the foreseeable future. Rental properties, investment properties, and second home purchases are not eligible for the USDA loan program.
USDA home loan map: USDA home loans are available in many suburban areas around the country, often just outside major metropolitan areas. Below are screenshots showing USDA eligible locations (everything except the tan areas).
2. USDA buyer eligibility
The lender will verify USDA rural development loan eligibility in the same way as for any other home loan program. Your credit, income, and bank account information will be compared to current guidelines for USDA loans.
First-time home buyer: You do not need to be a first-time home buyer. However, you may not own an adequate, livable property reasonably close to where you are buying.
USDA income limits: USDA requires an income of 115% or less of your region's median income. For instance, if your area median income is $50,000, you could make up to $57,500 and still qualify.
Increased limits are available to families of five or more.
Keep in mind that the USDA lender will count your entire household income toward limits. For instance, if you have a working teenage son, the lender would factor his income into household income totals, even if he is not on the loan.
Loan limits: There are no stated mortgage limits for USDA loans. Rather, the applicant's income determines the maximum loan size. The USDA income limits, then, ensure reasonable loan sizes for the program.
Asset limits: If you have 20% down, you may not use USDA financing. According to USDA guidelines, this loan is reserved for those who can't qualify for other mortgage types, such as conventional loans.
Employment: You typically need a 24-month history of dependable employment to qualify, plus adequate income from said employment. However, schooling in a related field can replace some or all of that experience requirement.
USDA loan debt-to-income ratio (DTI): Current DTI limits are set at 29/41. The definition of debt-to-income ratio is the comparison between your monthly debt payments compared to your gross income.That means 29% of your pre-tax income can go toward the principal, interest, taxes, insurance, and HOA dues on the home you plan to buy. A total of 41% of your income can be used for your proposed house payment plus all other debt.
For USDA, 29% of your pre-tax income can go toward the principal, interest, taxes, insurance, and HOA dues on the home you plan to buy. A total of 41% of your income can be used for your proposed house payment plus all other debt.
For instance, if you make $5,000 per month, your house payment can be up to $1,450 and all other debt payments (auto loans, student loans, credit cards, etc.) can equal $600.
To sum it up, for every $1,000 in income, $290 can go toward the house, and $120 toward other debts.
Citizenship: You must be a U.S. citizen or have permanent resident status, be a non-citizen national or qualified alien to qualify for the USDA program. Valid evidence of residency status will be required.
Direct loan vs guaranteed loan: USDA offers two types of loans: direct and guaranteed. Guaranteed loans are offered by private lenders and backed by USDA. Direct loans have more stringent requirements, like very low-income limits. USDA offices issue these loans directly to consumers.
Verify your eligibility for a rural housing loan (Apr 5th, 2020)
USDA Mortgage Rates
USDA loan rates are some of the lowest on the market. You might be thinking that you'll pay high rates for a zero-down loan that accepts low credit scores. But, due to strong government backing, rates are low.
USDA's mandate is to promote homeownership in non-urban areas. As such, it makes its loan affordable to a wider spectrum of home buyers by keeping rates and fees low.
You will probably end up paying less for a zero-down USDA home loan compared to a 3% to 5% down conventional loan.
Credit Score Requirements
You don't need a high FICO score to qualify for USDA loans, and technically, there's no minimum.
Borrowers with a credit score of 640 and higher can receive a streamlined approval. If your score is below 640, or you have no score at all, your lender will request extra documentation to determine approval status. Documentation may include:
Rental history
Utility payment history
Insurance payments
Childcare provider payment history
Tuition payments
In some cases, the lender can package up these documents and request a credit score from a credit rating agency. With good payment history, the agency can generate your score, allowing a more streamlined USDA rural housing approval.
The lender might need extra documentation if you have experienced a bankruptcy, have any accounts in collection, or have other credit "dings" on your report. This applies even if your credit score is above 640.
Verify your USDA loan program eligibility (Apr 5th, 2020)
How To Check Your USDA Eligibility And Get Started
Lenders across the U.S. offer USDA financing. Here at The Mortgage Reports, we specialize in matching applicants with the right lender. Check your state to get started: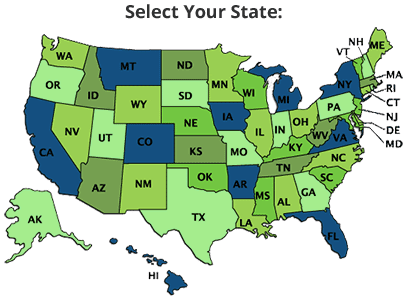 Verify your USDA loan program eligibility (Apr 5th, 2020)