Fannie Mae announces new higher loan limits for 2018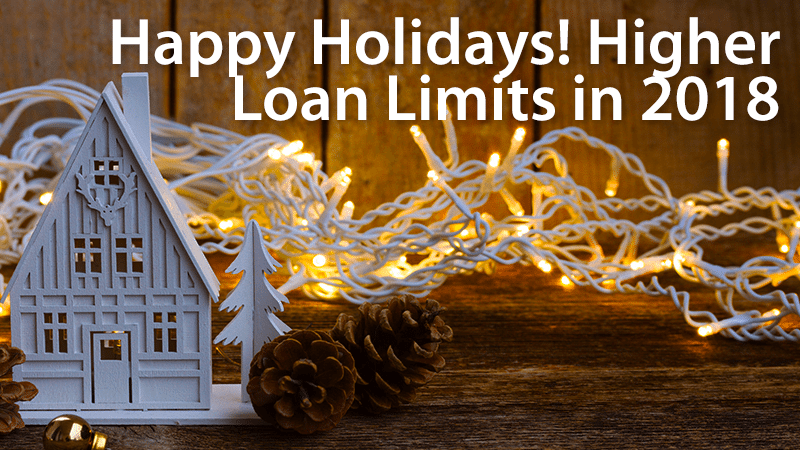 Loan limits to increase in 2018
This morning, Fannie Mae announced that it will raise its loan limits in 2018. That's welcome news for those who want to buy next year, because so-called "conforming loans," backed by Fannie Mae and Freddie Mac, often come with lower interest rates than loans classified as "jumbo" or "non-conforming."
Verify your new rate (Feb 25th, 2018)
Most borrowers will get a higher limit in 2018
The new loan limit for borrowers in most parts of the US will be $453,100, up from 2017's $424,100. That's a 6.8 percent increase over the 2017 limit.
What is a conforming mortgage?
Loan limits are based on median home prices in the county or MSA (metropolitan statistical area) in which the property is located. For next year, all but 71 counties or MSAs will get an increase.
The new limits are effective for loans closed on or after January 1, 2018. Find detailed information, including Fannie Mae's  Loan Limit Look-Up Table, on Fannie Mae's Loan Limits page.
Why do higher loan limits matter?
Higher conforming loan limits help make cheaper financing available to more borrowers. Fannie Mae and Freddie Mac are government-sponsored enterprises that buy loans that conform to their guidelines from lenders. Then, they sell them to investors.
Fannie Mae versus Freddie Mac: What's the difference?
Loans that meet these guidelines often cost lenders less to originate, and so these less-risky mortgages tend to come with better mortgage rates. And because so many lenders offer conforming loans, they are easier to find, shop for, and compare.
What about jumbo or non-conforming mortgages?
Jumbo loans, with amounts that exceed conforming limits, are not always more expensive. They do vary more from lender to lender, however, so you have more to gain by shopping carefully. In addition, the larger amounts can turn a small difference in interest rate into a large difference in payment.
How your loan size affects your mortgage rate (and what to do about it)
In more expensive areas, limits for Fannie Mae and Freddie Mac loans are higher. So check your own local limit before you go mortgage shopping.
If you have to go with a jumbo home loan, get several quotes from competing lenders and choose the one with the best terms. The higher your mortgage amount, the more you have to gain by shopping.
What are today's mortgage rates?
Today's jumbo and conforming rates are still very affordable. In fact, they have not changed much since October. This is good for anyone planning to buy soon.
Verify your new rate (Feb 25th, 2018)
The information contained on The Mortgage Reports website is for informational purposes only and is not an advertisement for products offered by Full Beaker. The views and opinions expressed herein are those of the author and do not reflect the policy or position of Full Beaker, its officers, parent, or affiliates.
Try the Mortgage Calculator