Equifax data breach sparks firestorm of consumer concerns
143 million.
That's how many U.S. consumers are potentially affected by a data breach of consumer credit reporting agency Equifax.
Nearly two-thirds of the adult U.S. population.
The disturbing thing about the latest breach — in what seems to be a neverending stream of breaches — is that thieves had access to social security numbers, driver's license numbers and credit card numbers.
Equifax also has on file dates of birth, residence history, and a no shortage of other personal data that could be used to open fraudulent accounts.
Presumably, an identity thief could even use your data to apply for mortgage. Most lenders across the country use Equifax reports to check applicant credit scores and history, and most lenders are set up to do this by phone or even via an online application.
This is all unsettling, but consumers are not helpless.
Here are things consumers should consider doing right away. Chances are that their data is out there after this mega-breach.
Verify whether your data was stolen
The sad fact is that your data is most likely in the wind. Equifax—along with the other credit bureaus Transunion and Experian—probably collects data on you if you've ever applied for a credit account of any kind.
As a real-life test, one of the staff here at The Mortgage Reports tried out Equifax's new data breach website: www.equifaxsecurity2017.com.
After entering their last name and last 6 digits of their social security number, the site displayed this message: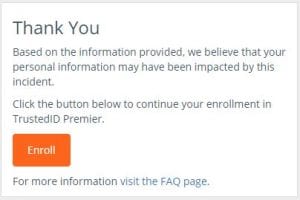 The bad news is that our staff member's data was stolen.
The good news is that Equifax is providing a protection service for those affected.
More bad news, though. Upon hitting "Enroll," however, another message appears saying you can't sign up right away. Capacity overload, maybe? You must come back to the link https://faq.trustedidpremier.com on your specified date to sign up for enrollment in the protection service.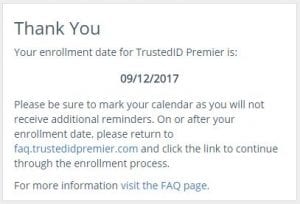 As if Equifax's PR nightmare isn't big enough, here's more ammo for detractors: If you sign up for the service, called Trusted ID Premier, you may not be able to bring a class action lawsuit against the company.
Sign up for extra protection
If you're the kind of person who doesn't like to leave things to chance, you can sign up for a third party service for additional protection.
Lifelock (affiliate link) is apparently responding to the likely influx of traffic by offering 10% off and a $25 Amazon gift card, as of the time of this writing (Sept. 8, 2017).
The service alerts you by phone, email and text of suspicious activity and will even reimburse you for monetary loss in accordance with the protection plan chosen.
According to Reviews.com, there are also similar services, such as Identity Guard, Identity Force, and ID Watchdog. Do your research on each service, and make sure they provide adequate monitoring and restoration services.
Check your credit report for free
The U.S. government set up a free service by which consumers can check their credit reports for free once per year.
At AnnualCreditReport.com, you can check account history to make sure there are no fraudulent or erroneous accounts showing up on your credit history.
This website is unlike other "free" credit report websites, in that the purpose is not to collect your information to later resell to other companies. It's the only government-sanctioned credit report check tool that's not out to collect your personal information.
Equifax admitted that hackers had access to data between May and July 2017. Meaning, your identity could have already been used to open accounts. It's prudent to check your credit now if you haven't in the past 30 days.
Initiate a credit freeze
Consumers can put a "freeze" on the credit reports. This means that any company — even legitimate ones — have to go through extra steps to open an account for you.
Lenders must contact you directly via phone to open the account.
This creates delays when you do want to open new accounts, but the payoff could be big. Imagine getting a call because someone is trying to open a credit card in your name. It's like an automatic warning system.
The service can be initiated at these links:
You can always lift the freeze permanently or temporarily at a later time.
Will data breaches ever end?
Identity thieves seem to get smarter even as mega-companies such as Equifax up their security. It does not appear that data breaches will slow down any time soon. ID theft is going
That leaves it up to the consumer to be on guard, because no corporation can monitor your identity like you can.
Sources:
http://www.marketwatch.com/story/are-you-one-of-the-143-million-customers-in-the-equifax-data-breach-do-this-now-2017-09-08
www.reviews.com/identity-theft-protection-services