Mortgage rates just hit a 2017 low, so why aren't homeowners refinancing?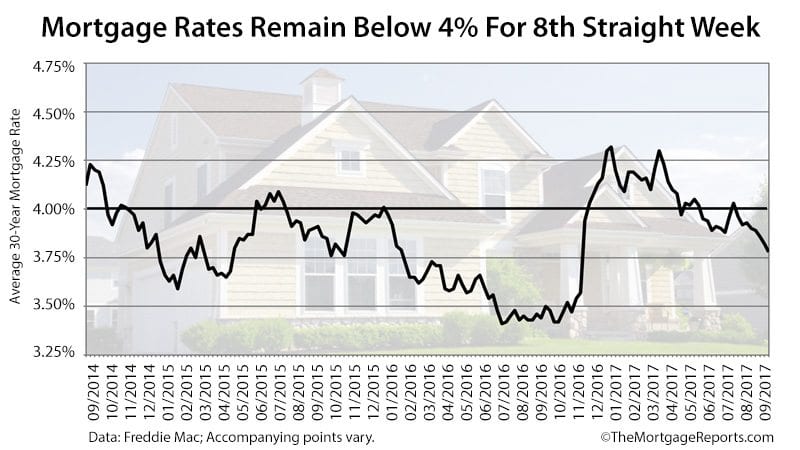 30-year fixed rate now at 10-month lows
Not since mid-November 2016 have mortgage rates been this low.
Mortgage agency Freddie Mac reported that the 30-year fixed rate mortgage is now at 3.78% nationwide. That's the lowest since just before the 2016 election, and down from a 2017 high of 4.3%.
The thing is, you may not have noticed.
2017 was said to be the "year that rates finally rise." But that never materialized.
All year, rates have been dropping, but news organizations have been relatively quiet about it. After all, it's more exciting to report on skyrocketing rates than a slow, downward drift.
Nonetheless, astute mortgage consumers are starting to take notice. Now is the time to "redo" the mortgage you didn't think you could refinance.
Verify your refinance eligibility (Jun 25th, 2018)
Mortgage rates now near pre-election levels
In late 2016, mortgage rates skyrocketed.
President Trump had just won the election. The market was full of optimism.
Students of mortgage rates know that rates rise in a healthy economy, and also in the face of rising inflation.
Analysts predicted both scenarios, but neither fully materialized.
Sure, the economy is doing well, with decade-best unemployment rates and a rising stock market. But other fundamentals point to slower growth.
Wages aren't rising much, and the housing boom is slowing due to rising prices and low inventory. The economy is growing only at about two percent annually so far this year — by no means blockbuster growth.
And inflation is almost non-existent.
This is a prime environment in which low mortgage rates flourish.
So, why aren't homeowners refinancing?
1. Homeowners think rates are higher than they are
Mortgage rates are probably not as high as you think.
Rates are just 0.20% above levels seen just before massive increases late last year. The 30-year fixed rate was at 3.57% just before the election; now it stands at 3.78%.
That's a difference of just $22 per month on a $250,000 mortgage.
Rates are now comparable to levels in 2016, but refinance volumes are way down.
According to Investing.com, refinances are down 40% since one year ago. But rates are just a fraction higher than they were then.
Presumably, consumers haven't heard that rates are so low. That's understandable. The average consumer doesn't check rates every day if they don't think they can benefit from a refinance.
Will the word get out before rates rise again? That remains to be seen. But homeowners who do hear that rates are this low are likely to act upon that knowledge.
Verify your refinance eligibility (Jun 25th, 2018)
2. Homeowners are suffering from regret
It's easy to say "I should have refinanced" and homeowners may be right.
Rates hit very low levels in 2016. But just because they missed that specific opportunity doesn't mean they have to miss this one.
Mortgage rates are fickle. They slowly fall, which lulls consumers into complacency. Homeowners wait for just slightly lower rates. After all, they've been falling for some time.
But then rates rise tremendously without notice.
This chart shows that trend.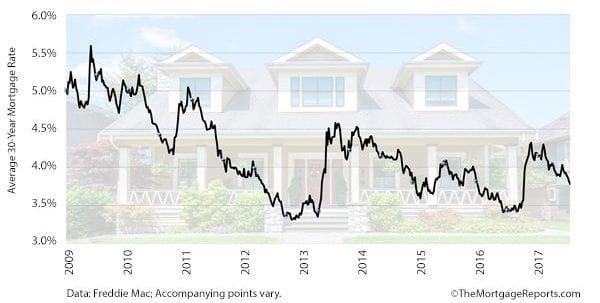 Rates have been on a steady decline since March of this year. But all that progress could be erased overnight.
2016 is a prime example. Rates went from the mid-3s to low 4s in a matter of days, not months.
So, instead of suffering from regret, homeowners should consider acting on the current opportunity before it's gone for another year or longer.
Verify your refinance eligibility (Jun 25th, 2018)
3. Homeowners forgot the other benefits of refinancing
Low rates are not the only reason to refinance.
Many homeowners are realizing the mountain of cash they are sitting on, in the form of home equity.
Home values are up more than 50% in many areas compared to just a few years ago. That's a lot of equity even new homeowners have built.
According to Freddie Mac, 57% of refinances were cash-out transactions in the second quarter of 2017. That means homeowners took equity out of their home for purposes other than paying off their existing loan.
The cash can be used for any purpose:
Home improvement
Student loan payoffs
Auto purchases
Besides taking cash out, a refinance can be used to consolidate high-interest credit card debt, pay off a second mortgage, or finally get rid of student loans.
The added benefit is that, yes, rates are low. But even if they weren't there might be reason enough to refinance.
4. Homeowners think refinancing will be hard
Getting a mortgage is getting easier.
After the housing downturn, lenders ratcheted up rules and guidelines and made it difficult for even "perfect" applicants to qualify.
Those days are gone.
Now, getting a mortgage to purchase or refinance a house will be "easy," according to U.S. consumers. Mortgage giant Fannie Mae polls consumers each month, and the trend is toward easier qualification.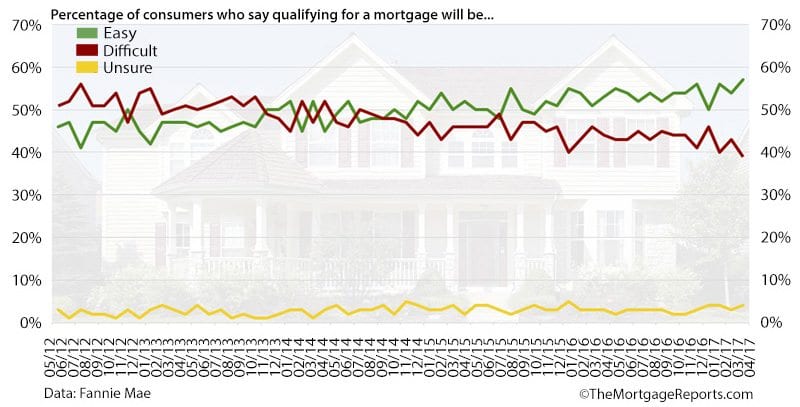 If the fear of the process is the only thing stopping you from lowering your payments, consider what other consumers are saying.
Check your refinance eligibility
Curious about today's rates and your eligibility? There have been fewer times in history in which conditions for a refinance have been more favorable.
Check your personalized mortgage rate, and get started on lowering your payment.
Verify your refinance eligibility (Jun 25th, 2018)
The information contained on The Mortgage Reports website is for informational purposes only and is not an advertisement for products offered by Full Beaker. The views and opinions expressed herein are those of the author and do not reflect the policy or position of Full Beaker, its officers, parent, or affiliates.
Try the Mortgage Calculator