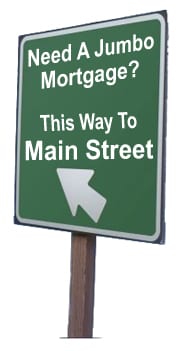 A good jumbo mortgage is tough to find. A good super-jumbo mortgage, even tougher.
Finding good loans for more than your local loan limit take a little bit of research and a little bit of luck. However, when you find a good jumbo mortgage, the rewards are great.
You'll find that today's mortgage rates are low; and that the approval process is simplified.
You have to know where to look.
Click here for your personalized jumbo mortgage rate (Dec 12th, 2019).
The Scarcity Of Low-Rate Jumbo Loans
Like today's conforming and FHA mortgages, jumbo mortgages are actually widely available. What's different is that jumbo loans are often expensive.
The reason jumbo loans are expensive is straight-forward — the government doesn't "back" jumbo loans like backs loans via Fannie Mae, Freddie Mac, the VA or FHA.
Jumbo loans require the backing of non-government investors, and non-government entities don't come with the same financial backing your Uncle Sam.
For some background, beginning in late-2006, mortgage markets went bad. Very bad, in fact. Failing loans, un-accounted for risks, and a terrible economy led to widespread mortgage losses. Mortgage banking collapsed under its own debt and the respective stock prices of Fannie Mae and Freddie Mac — both publicly-traded companies at the time — dropped from $70-levels to roughly $1 each.
To restore market faith, the U.S. government soon placed both agencies under conservatorship.
Through most of 2008, if you needed a mortgage, you had but few options. You went through Fannie Mae, or Freddie Mac, or FHA or the VA. That's it. If the government didn't back it, the lenders didn't lend it.
Jumbo loans were all but inaccessible, as were niche loans for condotels and foreign nationals, and any other loans which non-standard in any which way.
The sudden shift in markets was especially tough for homeowners in places like Los Angeles, California; Loudoun County, Virginia; and New York City where high home prices meant that even run-of-the-mill mortgages blew past the national $417,000 conforming mortgage loan limit.
For homeowners in high-cost areas, to borrow more than $417,000 was a bona fide challenge. With "jumbo lending" gone, either your loan met conforming mortgage guidelines, or you had no loan. 
Until February 2009.
Click here for your personalized jumbo mortgage rate (Dec 12th, 2019).
High-Cost Areas Get "Jumbo-Conforming" Loan Limits
In late-2008, when Fannie Mae and Freddie Mac were seized by the government, the housing market was crumbling. It was not cause-effect; the events were related, and occurring at the same time.
The government stepped in with stimulus.
In early-2009, Congress passed the 2009 American Recovery and Reinvestment Act. The law increased conforming mortgage loan limits from $417,000 to $625,500 in high-cost parts of the country including the aforementioned Los Angeles and New York City, as well as other high-cost areas such as Marin County and Silicon Valley near San Francisco; and Montgomery County and Fairfax near Washington, D.C.; and Eagle County, Colorado.
With the change, residents of Potomac, Maryland, for example, could now borrow up to $625,500 via Fannie Mae or Freddie Mac, which reduced the need for jumbo mortgage rates. 
However, because of the government did its high-cost calculations, not all "expensive" cities were categorized as high-cost.
In Chicago, Illinois, for example, where the Metropolitan Statistical Area stretches as far south as the Indiana border, as far north as the Wisconsin border, and as far west as Joliet, the area's median home price was deemed too low to make high-cost lending available.
Despite home prices routinely topping $1,000,000 in such places as Hinsdale and Highland Park; Streeterville and Gold Coast; and Lincoln Park, Chicago homeowners were left with a $417,000 limit.
Such "jumbo" homeowners were forced to find other mortgage options and, by 2011, those options returned.
Click here for your personalized jumbo mortgage rate (Dec 12th, 2019).
Need A Jumbo Mortgage? Mortgage Rates Can Be Great.
Jumbo mortgage lending is private market lending at its best. Loans are too big for the government's mortgage appetite so market forces come into play.
When a mortgage lender feels good about holding non-government backed loans, its jumbo mortgage rates move lower. When a mortgage lender feels worse about non-government back loans, its jumbo mortgage rates move higher.
This explains why you can shop jumbo loans with 3 different lenders and get three different rates, in contrast to shopping conforming loans.
With conforming loans though Fannie Mae and Freddie Mac, a loan officer will tell you that "money costs what it costs"; there's a near-commodotization because all loans flow through the government. Rates are the same from bank-to-bank, and closing costs are often close, too.
With jumbo loans, there's disparity. Ans, if you can find your way off Wall Street's way of lending, there are legions of jumbo mortgage lenders on Main Street, eager to help you. Different from the Too-Big-To-Fail Banks you know by name, these smaller, less-known banks actually prefer to keep loans on their books, and they understand the jumbo loan market.
Furthermore, they often underwrite to common sense standards and will approve a loan its individual merit as opposed to a series a checkboxes. Loans over $1 million are routine for jumbo-lending banks.
And rates are often amazing.
See Today's Jumbo Mortgage Rates
Jumbo mortgages remain readily available today (if you know where to look). What's tough is that the niche banks which make them are often poor marketers — you won't find them on Google, for example.
But you can still get rate quotes. Any loan size, any loan scenario — if it's a loan which makes sense, in today's expanding economy, there's a bank that will take a look for you. Just want to see rates?
Click here for your personalized jumbo mortgage rate (Dec 12th, 2019).