Double Duty Home Improvements
Most people undertake home improvements for two reasons — to make their property more valuable, to improve energy efficiency, and to make their houses more comfortable and functional.
The best renovations do more than one of these things. For instance, new windows can make look attractive, insulate against heat or cooling loss, and keep the sun from beating you senseless in your eat-in kitchen.
Verify your new rate
Renovations Paying Off More In 2024
2024 has seen a jump in home improvement value for the amount spent. While costs increased by three percent in 2016, the value realized from improvements rose by 4.2 percent. That's great news for those who want to upgrade their digs without moving.
The Trend
The trend this year is small, incremental changes over big splashy gut jobs. That's nice for those who don't want to live in a construction zone all summer. Remodeling Magazine's 2017 Cost Vs. Value Report says you get the best return on your dollar with improvements that enhance your home's curb appeal.
And that you can make any room more valuable by painting it "greige."
Good News: Best Projects Are Also Most Affordable
You don't have to build an expensive addition or gee-whiz kitchen to add home equity. Changes to exterior features like doors, windows, and siding, says the report, create more value than interior alterations.
Fannie Mae HomeStyle® vs FHA 203K : Choose Your Renovation Loan
Next best are insulation and window and door replacements. The nice thing is that these home improvements also can reduce your energy use and increase home security while making your exterior prettier.
Sell Your Home Faster
One thing that may not appear on a cost-versus-value analysis is the shorter selling time you can get with some home improvements.
Pretty plants out front may not increase your property's appraised value, but they do make an impression on buyers, and can help you sell faster.
$165,000 To Move. $165,000 To Remodel. Choose Wisely
If you've moved out of your old house and are still paying the mortgage, taxes, insurance and utilities, shaving weeks off your selling period can save big bucks.
Hot Markets = Higher Returns
Think that you don't need to spruce up your house because you're listing in a seller's market? You'd be wrong. According to the report, home improvements in the hottest real estate markets generated the best returns on investment. The chart below illustrates this.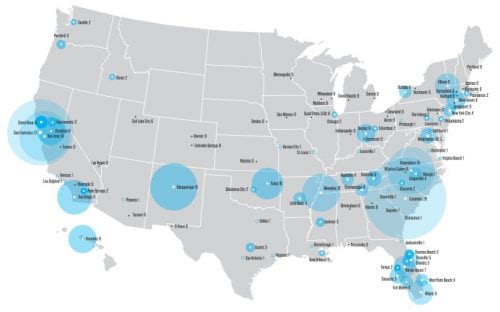 So, What Are The Best Home Improvement Projects?
Obviously, you want to make improvements that will improve your quality of life. But if you're trying to decide between several options, some will pay off better than others, and you should probably gravitate to those.
Here are the top improvements at different price points.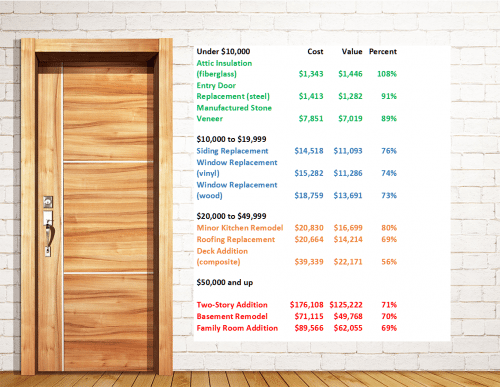 Your Financing Counts, Too
The return on investment you get for your home improvements depends on how much it costs you to finance them.
The Buy-And-Rehab Strategy Nets Home Buyers Serious Equity
If you install attic insulation in the Pacific region, for instance, your average return on investment is 122 percent. If your financing costs five percent, that eats a lot less of your profit than if you pay 15 percent.
Home Improvement Financing Options
Some of the top methods of financing renovations include:
Cash-out refinance: This usually gets you the lowest fixed interest rate. It's a good option when you're undertaking an upscale project, and you can improve on your current mortgage terms. However, the costs are higher than other options, and it can take longer.
4 Cash-Out Refinance Options That Put Your Home Equity To Work
Home equity loan: Your interest rate is a bit higher, but it is usually fixed. Your loan costs should be less, and your loan will process faster. It's good for larger projects that require a sizable lump sum — for example, if you're paying a contractor for an addition.
Home equity line of credit (HELOC): This loan can have a very low start rate, but it is adjustable, so your rate and payment can increase. You draw funds as needed, and only pay interest on what you use. It's great for projects of all sizes that will be completed in stages over time.
HELOC Or Home Equity Loan? What's Best For You?
Personal loan: The interest rate on this loan is higher because it's not secured by your property. But it's generally fixed, the costs are low, and repayment takes between one and five years, so you'll be free of your debt rather quickly.
Credit card: This method carries the highest interest rate because it's unsecured. Your interest rate is also variable. However, if your project is small, or you can pay off the advance quickly, this can be the most hassle-free method. In addition, if you have a rewards card, you may be able to make money on the deal — use the card for the rewards and then pay if off.
You may even combine payment methods — for example, use your rewards card to charge your improvements, then pay off the card with a HELOC or other loan.
What Are Today's Mortgage Rates?
Whether you're looking for a home equity loan, HELOC, or cash-out refinance, current mortgage rates are low enough to make an investment in your home pay off.
To get the best deal on your home improvement financing, compare quotes from several competing sources and choose the best terms for your project.
Time to make a move? Let us find the right mortgage for you