Mortgages Enter The 21st Century
Getting approved for a mortgage is about to get a whole lot easier.
In an effort to streamline the application process, mortgage giant Fannie Mae has rolled out a new program that allows lenders to "skip" the collection of most borrower documents.
Instead, lenders will access third-party verification portals electronically for everything from your recent bank statements to your latest pay stub.
Finally, tech is doing the heavy lifting when you get a mortgage.
Verify your new rate
Why is Fannie Mae Doing This?
Your employer and bank are already storing your income and asset information in a database somewhere.
Asking you for it is becoming redundant and unnecessary.
A lender just needs secure access to the information. Thanks to Fannie Mae, that is becoming a reality.
Fannie Mae now gives lenders access to nationwide databases through Desktop Underwriter (DU)— the computerized verification system that analyzes a large share of loan applications in the U.S.
In cooperation with mortgage credit and verification company Equifax, lenders can direct-check qualification items with your employer, bank, and even the IRS.
The effort started as a way to minimize mistakes (and even fraud) within mortgage files. Lenders could ensure they were originating "clean" files, which would help them avoid penalties from Fannie Mae later on.
The agency branded the process "Day 1 Certainty", meaning lenders can have complete confidence from day one of the application that the loan file was sound.
But the real benefit — at least to the everyday mortgage applicant — is that faxing, scanning, mailing, and even hand-delivering piles of documentation becomes completely unnecessary in some cases.
The lender is already pulling everything the applicant would deliver as standard procedure.
A truly all-online, all-digital mortgage is coming to a lender near you. Or not near you. With this model, lender location is irrelevant, too.
Verify your new rate
Is Everyone Eligible For Reduced Paperwork?
Applicants who get a Fannie Mae or Freddie Mac conventional loan may already have access to the program.
Lender adoption is not total yet, but more mortgage providers are coming online daily.
Fannie and Freddie account for about 60% of the U.S. mortgage market. So, chances are, your next mortgage will be a very simple process.
Other agencies that provide FHA, VA, and USDA loans are probably not far behind. Universal lending practices often start with Fannie Mae and work their way through the system.
Already, many lenders are using bits and pieces of the process, like automated employment verifications with income specifics. Paystubs not required.
Very soon, the first question you ask your lender could be whether it can give you an all-online mortgage.
What Are These Databases That Store My Information?
Employers are very used to companies requesting information about employees.
Instead of hiring massive teams to field requests, they outsource that task to third parties.
The result is a massive database in which thousands of employers store information. A company called The Work Number, for instance, receives millions of employment records annually and delivers that information to lenders upon request.
Likewise, a company called FormFree provides lenders secure access to bank records. The lender doesn't need "real" bank statements — just information on account balances and history. Your bank has the information, so why not ask for it directly?
All this is done with the applicant's permission. Still, the question arises about how safe all this is.
What About Security?
A common and understandable question is, "Is all this secure?"
Verification houses like The Work Number have been around for years. You may never know that your employer uses the service, that is, until you get a mortgage.
The Work Number holds records for about one-third of U.S. workers, according to its website.
As can be expected with an operation this size, security measures include website encryption, protected transfer of information, and secured servers, says its privacy statement.
In the case of bank account verification by FormFree, the applicant performs a series of authorization steps to transmit information to their lender.FormFree details their security
The applicant first gives the lender authorization to check accounts via the service. Then, the borrower receives an email during the loan process at which time he or she proceeds through a verification login and re-authorization.
According to FormFree's website, the lender has no access to the accounts. They only see a report detailing necessary information.
While these companies employ complex security measures, there's no guarantee of 100% security. It seems anyone's system can be breached these days.
However, your information is likely more secure than the credit card in your wallet. And, any applicant who feels more comfortable handing over paper documents is more than welcome to do so (although, you have little choice as to whether your employer uses The Work Number, so your data is already there).
Those who choose to use these services can save time and money by closing their loan faster.
Appraisals And Tax Returns Could Be The Next To Go
Income and asset documentation might not be the only application pieces on the chopping block.
Appraisals and 1040s might be the next items to get the "Not Required" designation.
Fannie Mae's little brother, Freddie Mac, already offers a "no-cost automated appraisal alternative" according to its website. The smaller agency is leading the way in removing the expensive and time-consuming appraisal requirement.
Appraisals can cost between $350 and $750 or even more.
And, with today's appraiser shortage, they can take weeks to get.
Closing times could shorten from 30-45 days down to 10, say some industry experts.
Fannie Mae isn't left out of the action, though. It estimates that about 10 percent of all its refinance transactions will be appraisal-free in 2017.
Tax returns are another friction point for borrowers.
Self-employed applicants and even those with a hobby side-business are often embroiled in delivering 1040s, K-1s, 1120S sheets, and an alphanumeric soup of other IRS forms.
That could become a thing of the past.
Today, lenders already have to submit what is called a 4506-T to the IRS. The purpose is to verify that the tax returns you submit to the lender match IRS records.
That begs the question why these IRS transcripts aren't "good enough" for lenders. They prove the returns were filed and accepted by the IRS. And, they provide the same line-by-line information as the tax returns themselves.
Soon, lenders may stop asking for tax returns altogether.
Mortgages Getting Easier By The Day
Consumers are already feeling the benefits of recent changes.
According to a recent Fannie Mae study, 57% of consumers think getting a mortgage today would be easy. That's the highest reading in this survey to date.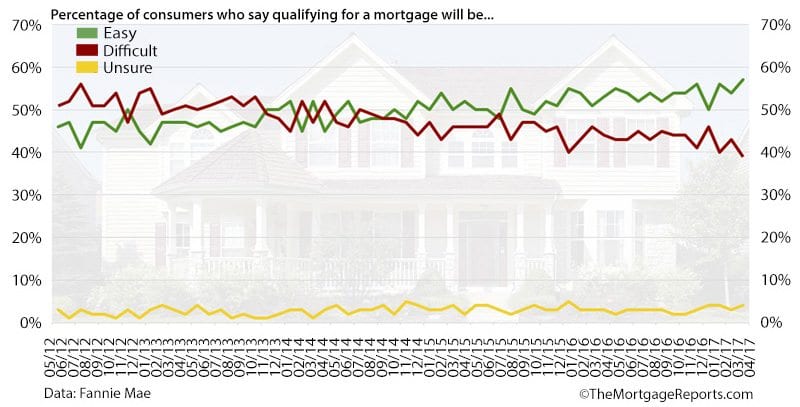 Consumers and lenders alike are hopeful about the coming 100% paper-free mortgage.
How To Check Your Mortgage Eligibility
A streamlined mortgage process is bringing back applicants were fearful of applying.
An eligibility check can take just minutes, and the entire mortgage process can be done in weeks, not months as in times past.
Mortgages have finally entered the 21st century, and consumers are loving it.
Time to make a move? Let us find the right mortgage for you