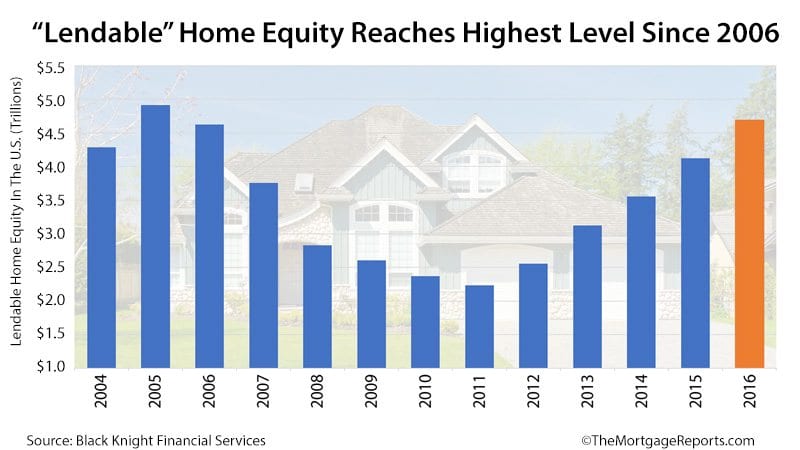 Resistance To Cash Out Financing Fades
Homeowners are discovering that they are sitting on a mountain of cash.
Uncommon home appreciation has left homeowners U.S.-wide with a staggering $4.7 trillion (with a "t") in tappable, i.e. "lendable" home equity, says a recent report from Black Knight Financial Services.
That's surpassed only by an all-time high set in 2005.
But it's not just rising home values that are causing the spike in equity. It's also homeowners' reluctance to do a cash out refinance. In years past, lenders tightened up cash out lending rules to the point that homeowners didn't even bother.
Many saved the cash little by little. Others borrowed via some other means for home improvements, debt consolidation, or to diversify their equity portfolio.
Now, lenders have loosened guidelines and cash out loans are once again "en vogue". Lenders are scrambling to spin up new offerings as mortgage rates rise and no-cash out refis dry up.
2017 could be the year of the cash-out refinance.
Verify your new rate
Report: Homeowners Start To Leverage Their Most Valuable Asset
After the mortgage downturn in the late 2000s, homeowners became ultra-conservative about borrowing against their homes.
Even Millennial home buyers, hearing their parents' woes, shied away from aggressive borrowing — or refused to buy at all.
Now, those attitudes are changing.
Young people are buying homes again, many using low- and no-down-payment loans like FHA and the USDA loan.
Plus, homeowners are starting to use home equity to accomplish financial goals, according to Black Knight Financial Services in its February Mortgage Monitor.
The report shows homeowners tapping into $31 billion in home equity in the fourth quarter of 2016, up 50% from Q4 of 2015.
Now, cash out refinances make up nearly half the total refinance market. In 2012, less than a quarter of the market consisted of cash out loans.
The word is out: homes are getting very, very valuable. Homeowners are looking at today's mortgage rates and payments, and comparing them credit cards, student loans, and auto financing.
Often, one low, tax-deductible mortgage payment is vastly more affordable than four or five payments to various lenders.
Is A Cash Out Refinance "Dangerous"?
Homeowners are still gun-shy about borrowing against their home.
In 2006, an absolute frenzy broke out. Homeowners took cash out to buy other homes with zero-down, no-doc loans, then, in turn, cashed out those homes to do it again.
The market deflated. Housing prices were unsupported (or supported by lending that had no basis in reality).
It's a different story these days. Lending is sensible again, and home prices are a reflection of a strong job market and a growing economy. As long as people have jobs, they'll want homes, and prices should remain stable.
According to Black Knight, cash out loans are primarily going to applicants with high credit scores. Applicants' post-refinance home equity remains a healthy 35%.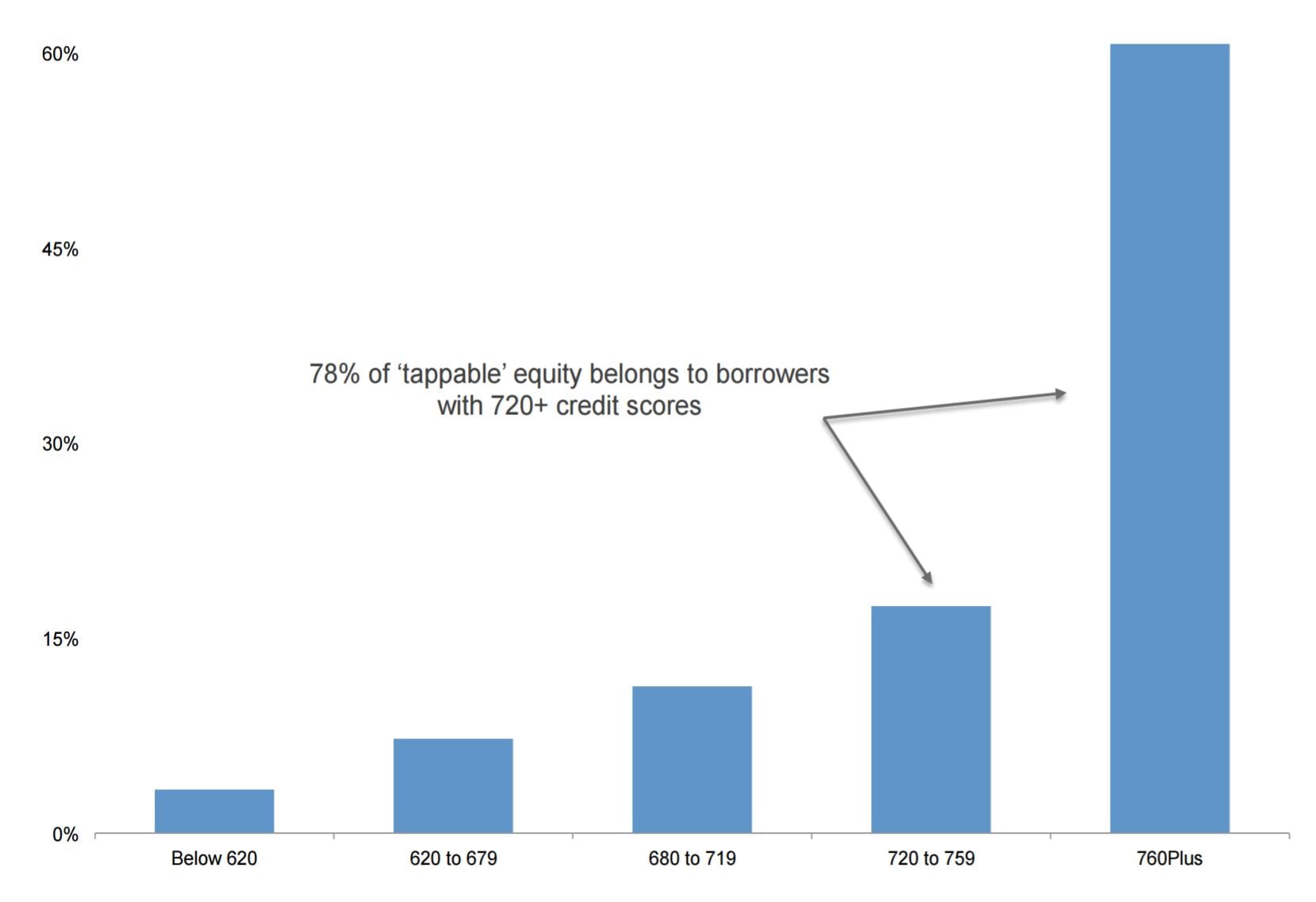 Source: Black Knight Financial Services
Today's cash out loans are conservative and sustainable.
As a homeowner, you should know that there is nothing "wrong" with getting a cash out refinance. It's not dangerous because lenders build in guidelines to ensure the homeowner doesn't borrow too much.
You are in no more danger of being foreclosed on after a cash out loan. In fact, you are taking less risk as a homeowner.
A bank can foreclose on a home that has $100 in outstanding loans as easily as it can take a home with $1 million in outstanding loans — in fact, much easier.
Leaving a ton of equity in the home is actually riskier. In the case of a job loss or other unforeseen event, the bank can take your hard-earned equity, and will be more willing to do so if you have a very low loan balance compared to the home's value.
There are plenty of reasons not to get a cash out refinance. But retaining equity in the home because it's "safer" — well, that's a myth that has cost homeowners trillions of dollars over the decades.
Should I Get A Cash Out Loan At A Higher Rate?
In today's environment, cash out loan candidates have to face a tough decision: should they cash out their home equity, even if it puts them in a higher rate?
Not always. For instance, if you just want $20,000 for a remodel, it might not make sense to replace your existing mortgage. A home equity loan could cost less.
However, if you're already in debt — well, that's another story.
A cash out loan can be a very useful tool for debt consolidation, even if your current first mortgage rate is very low. Consider the charts below.
| | | |
| --- | --- | --- |
| Loan type | Balance | Payment |
| First mortgage (3.875% rate) | $250,000 | $1,175 |
| Credit cards | $15,000 | $750 |
| Home improvement loan | $20,000 | $250 |
| Student debt | $30,000 | $345 |
| Total | $315,000 | $2,520 |
Here's what the payment would look like after a cash out debt consolidation loan.
| | | |
| --- | --- | --- |
| Loan type | Balance | Payment |
| First mortgage (4.25% rate) | $315,000 | $1,505 |
This homeowner saves an eye-popping $1,015 per month by taking a cash out loan at a higher rate. This strategy could be used to pay off second mortgages, auto financing, personal loans, peer-to-peer loans, or any other debt type.
There is no restriction whatsoever on what you can use the cash for.
A mistake might be to leave a first mortgage in place at an ultra-low rate, and keep paying high interest on other loans.
Verify your new rate
How Does A Cash Out Refinance Work?
A cash out refinance replaces are smaller loan with a larger one. The difference is taken in cash, less closing costs.
| | |
| --- | --- |
| | Balance |
| New mortgage  | $300,000 |
| Current Mortgage Balance | -$250,000 |
| Closing Costs | -$3,000 |
| Cash To Homeowner | $47,000 |
The proceeds can be sent to a bank or investment account via wire, taken in check form, or sent to another creditor to pay off debt.
Lenders don't restrict what you can do with cash out loan proceeds. It's your home equity, therefore your choice what to do with the equity-turned-cash.
Most homeowners assume that you take a cash out refinance only for the purpose of a home improvement project or debt consolidation. But one underestimated strategy is to diversify your investment portfolio or start a retirement account.
Many families have all their net worth tied up in real estate — namely, their primary residence.
That's not a bad thing. It becomes a very valuable asset over time. But it may not be good to have your financial future tied up in one asset.
When you invest, financial advisors recommend diversifying your stocks, mutual funds, and ETFs. For instance, no financial expert ever said "go put all your money into Snapchat stock" — at least not to the everyday investor. The reason: that one stock could lose value quickly.
Real estate is not as volatile as a single stock. Still, it can lose value. Markets experience ebbs and flows. All markets. We saw that at the end of the last decade. While values returned with a force (as home values have always done), it may not be wise to count on home values being sky-high when you retire and want to sell.
That's why some homeowners take a cash out loan: to start a conservative, diversified retirement account or another investment fund. The stock market has made an 11.69% return between 1926 and 2011 (which does take into account massive stock market crashes, by the way) according to financial guru Dave Ramsey.
That's enough to cover inflation and the interest you pay on that money, plus yield a healthy profit.
Real estate returns are tougher to nail down, but by some measures, real estate has grown by more than 10% annually according to an Investopedia study.
So, you don't lose returns by placing money in non-real-estate investments, and, you're more diversified. If you already have a nest egg built, great. A cash out refinance to fund more investments may not be a good idea.
A homeowner with no other assets, though, might consider tapping into home equity to diversify its portfolio.
What Types Of Cash Out Loans Are There?
There's more than one variety of cash out loan. Each has its purpose in the marketplace.
Conventional cash out: Maximum loan-to-value of 80%. Best for homeowners with excellent credit and a large amount of equity.
FHA cash out: Maximimum loan-to-value of 80%. Best for homeowners with less equity and lower credit scores.
VA cash out: Maximum loan-to-value of 100%. Best for former or current military members.
How Do I Get A Cash Out Refinance?
Cash out mortgage rates are still low, despite recent rate jumps. Historically, rates have averaged more than 8%, so today's rates in the low 4s are a stellar value.
Get a cash out rate refinance rate quote, and see if this loan type is right for you.
Time to make a move? Let us find the right mortgage for you