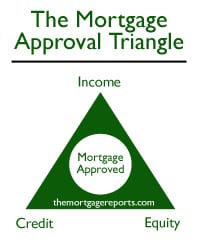 Mortgage lending is tough these days. Banks are more careful, borrowers are more careful, and there is more federal regulation than there's been in several years.
However, there's no "trick" to getting approved for mortgage. Underwriting is the same as it ever was — just with higher hurdles.
All you have to do to get approved is to satisfy the Mortgage Income-Equity-Credit Triangle.
Click here to get a rate quote (Aug 20th, 2019).
Get Mortgage Approved : Income, Equity, Credit
To get approved for any type of mortgage — conforming, FHA, jumbo, VA or otherwise — you'll need to show income, equity and credit. It's that simple, really.
Income, Equity and Credit are mortgage lending's Big 3.
Income : Your monthly taxable income versus your monthly household debt (i.e. DTI).
Equity : The percentage of equity you have in your home (i.e. LTV).
Credit : The middle of your three scores, as reported by Experian, Equifax, and TransUnion.
For each mortgage product available, mortgage applicants must meet some minimum series of qualifications. When all 3 factors are in balance, the approval "bullseye" is in plain view, and a mortgage approval is likely.
Click here to get a rate quote (Aug 20th, 2019).
Hit The Bullseye : Get Approved For Your Loan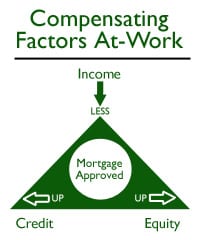 The ideal mortgage applicant for a bank will have strong income, big equity, and great credit. In reality, though, not every applicant will. And, that's okay.
It's because of something known as "compensating factors".
Compensating factors are strengths in a person's mortgage application that, literally, compensate for weakness in the same.
For example, if a person's income levels are low but he has stellar credit and loads of equity, it's likely he'll be approved in underwriting.
This example is illustrated at right.
The Income-Equity-Triangle is shorter at its top because of low income, but wider at its base because of credit and equity.  It's the compensating factors (i.e. credit and equity) that keep the "bullseye" in view, resulting in approval.
Click here to get a rate quote (Aug 20th, 2019).
When You Don't Have Compensating Factors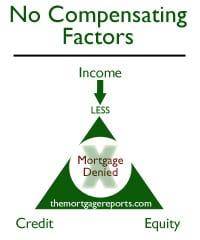 Compensating factors are limited to income, credit and equity; you can't use them for "employment history", for example. For this reason, few applicants have legitimate compensating factors.
Without compensating factors, mortgage approvals are tougher to get
For example, if we look at the same applicant from above — low income but without stellar credit and without big amounts of equity — the mortgage application gets a turndown.
The base of that Income-Equity-Credit Triangle can't widen, so the bullseye breaks the plane of the triangle.
This creates a "turndown".
Need A Mortgage Approval ASAP? Get One Now.
The problem with compensating factors is that they're unofficial; they're a bit of common sense injected into an otherwise sterile mortgage lending process.
If you think your mortgage should be approved despite failing the official, published mortgage guidelines, consider applying anyway. Compensating factors could get you approved.