Can I Get A Mortgage In 2017 If I Was Turned Down Last Year?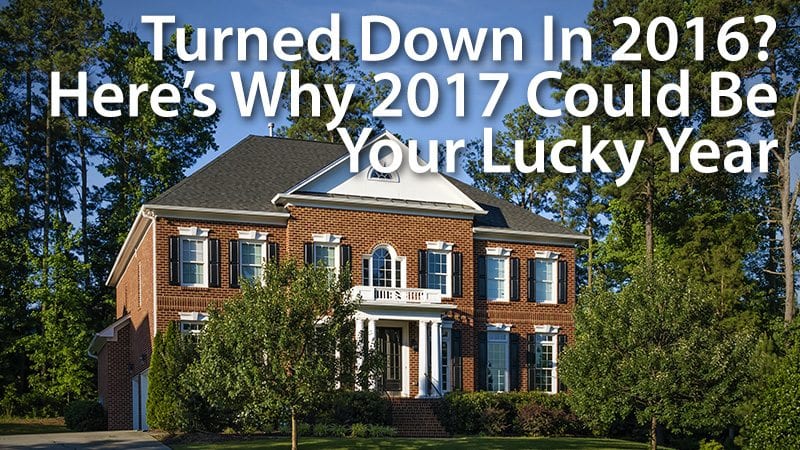 Happy New Year! Getting A Mortgage In 2017
If you tried unsuccessfully to buy or refinance in 2016, you may have a better shot this year. The higher mortgage interest rates that are scaring some off may be good news for borderline home loan applicants.
When mortgage lenders were completely busy during the refinance boom, they could afford to be choosier about their borrowers. They could also build in higher profit margins. Applying for a mortgage in 2017 could be a different story.
Click to see your low-downpayment loan eligibility (Jul 21st, 2017)
Rates Up, Refinancing Down
Researchers at the Kroll Bond Rating Agency (KBRA) report that "lending volumes are likely to fall in 2017 and beyond" as profitable refinancing markets dry up.
The Mortgage Bankers Association (MBA) predicts mortgage volume for the first quarter in 2017 will hit $352 billion. That's a steep drop from the $561 billion level registered in the third quarter of 2016.
The industry trade group also anticipates that 30-year mortgage rates will hit 4.3 percent in 2017 during the first quarter.
That's not a bad rate if you can get approved.
Are Lenders Over Overlays?
Mortgage lender overlays are guidelines that are stricter than those required by the institution backing the loan. For example, FHA allows FICO scores as low as 580 for a 96.5 percent loan, but many lenders set minimums at 620 or higher.
Mortgage lenders do this to minimize the chances of loans going into foreclosure. However, it's easier to get away with applying stricter guidelines when you have all the business you can handle -- as was the case in the last couple of years.
When lenders need to bring in more business, one way of accomplishing that is scrapping rules they don't need.
You've Got A Shot, So Take It
In 2015, for example, Fannie Mae's Lender Survey showed that two-thirds of lenders applied some form of overlay, usually in the form of higher minimum credit scores.
By the end of 2016, the survey cited "overlay rollbacks" as a "significant change" in credit standards over the next three months.
If overlays kept you from getting a mortgage in 2016, they're less likely to prevent approval for a mortgage in 2017.
Lenders May Have To Eat Some Of Your Costs
Another side effect of higher interest rates across the board is that mortgage lenders may have to compete harder for your business. While interest rates were at their lowest, mortgage lending profits hit record highs.
This suggested to many researchers and consumer advocates that rates were not as low as they could have been. In fact, Liberty Street Economics and researchers at the Federal Reserve Bank in New York concluded that 30-year fixed mortgage rates should have gone as low as 2.6 percent in 2012.
Make Lenders Earn Your Business
If the relationship between what lenders charged borrowers and what investors paid for mortgage-backed securities had remained consistent with previous levels, borrowers should have gotten much better deals.
However, when demand for loans is high, and the lenders' capacity is limited, profits increase. As demand falls off, mortgage rate increases may not keep up with spikes in Treasuries or other bonds.
Your mortgage in 2017 might cost less than you think.
What Are Today's Mortgage Rates?
Today's mortgage rates are still quite low for most applicants. Of course, current mortgage rates are offered on an individual basis, and your exact offer depends on your credit, down payment, property and other factors.
Click to see your low-downpayment loan eligibility (Jul 21st, 2017)
The information contained on The Mortgage Reports website is for informational purposes only and is not an advertisement for products offered by Full Beaker. The views and opinions expressed herein are those of the author and do not reflect the policy or position of Full Beaker, its officers, parent, or affiliates.
Try the Mortgage Calculator