Loans For Suburban And Rural Home Buyers
About 26 percent of the US population lives in areas designated "rural" by the US Department of Agriculture.
Designated rural areas are perhaps not as rural as you think — many are just outside major cities.
If you plan to buy a home in one of these areas with five percent down or less, consider the program designed specifically for rural home buyers - the USDA Rural Housing mortgage.
This program helps low- to moderate-income households buy safe and comfortable dwellings in designated rural areas. These houses may be sited on acreage that disqualifies them for other types of financing.
For many, USDA loans are a better option than traditional financing.
USDA Rural Home Loans Eligibility
The USDA Rural Mortgage program has a couple primary restrictions — income and geography.
Geography
The property must be located in an eligible area. You can check if the home you want is eligible at the USDA website.
Simply click on Single Family Housing in the Property Eligibility section and enter the address when prompted.
About 97% of U.S. land mass is eligible for a USDA home loan. As could be expected, states with a higher population percentage in rural areas will benefit the most, but USDA-eligible areas can be found in all 50 states.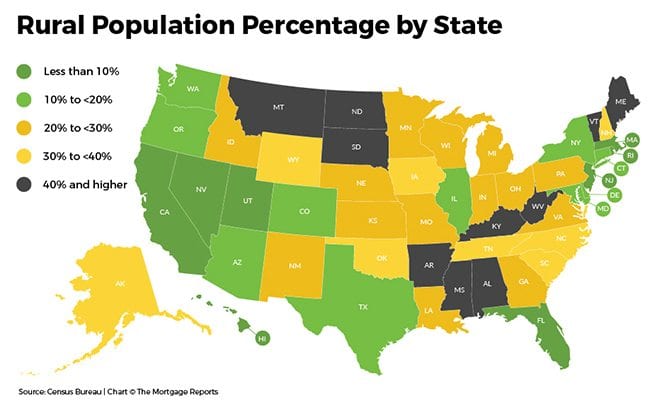 A quick check on USDA's website may reveal that the neighborhood where you want to buy is eligible for zero-down financing through USDA.
Income
Total household income is used, even if someone in the household is not on the loan. Income eligibility is determined by your state, number of household members, age of household members and the number of disabled household members. You can determine your eligibility on the Income Eligibility section of the USDA Web site.
In addition to income and geography, borrowers must also meet these requirements:
Agree to personally occupy the dwelling as their primary residence
Be a U.S. citizen, U.S. non-citizen national, or Qualified Alien
Demonstrate the willingness to meet credit obligations in a timely manner
Purchase a property that meets all property condition guidelines.
The applicant's debt-to-income (DTI) ratio must be under 29 percent for housing and 41 percent total for those with FICO scores under 680. The DTI minimum increases to 32 percent and 45 percent with higher scores and compensating factors.
The minimum credit score for a USDA home loan is 640.
Rural loans can be used by first-time buyers or repeat home buyers. USDA loan programs include a streamline refinance option for current USDA loan holders that dramatically simplifies the refinance process should the market present lower mortgage rates.
The Benefits Of USDA Rural Mortgage Loans
USDA loans allow 100% financing, meaning no down payment is required. This is because USDA loans are insured, or backed, by the U.S. government.
The program provides a 90% loan note guarantee to approved USDA lenders in order to reduce the risk of extending 100% loans to eligible rural home buyers. That risk reduction allows for lower mortgage rates than conventional loans typically.
Mortgage insurance for those lacking 20 percent down is also less expensive than higher LTV conventional loans, costing about $29 per month for every $100,000 borrowed now that the USDA has reduced their monthly MI fees
Check out these numbers and decide for yourself. We'll base of hypothetical situation on recent average rates and assume a $250,000 purchase with a 740+ credit score. Note: This does not constitute a mortgage quote and is simply a hypothetical illustration.
Downpayment
USDA Home Loan: $0
Conventional 97: $7,500
Conventional 95: $12,500
Conventional 90: $25,000
Conventional 80: $50,000
Loan Amount
USDA Home Loan: $252,525 (includes 1% Guarantee Fee)
Conventional 97: $242,500
Conventional 95: $237,500
Conventional 90: $225,000
Conventional 80: $200,000
Monthly Principal, Interest, And Mortgage Insurance
USDA Home Loan @ 3.25%: $1,172
Conventional 97 @ 3.75%: $1,382
Conventional 95 @ 3.5%: $1,269
Conventional 90 @ 3.5% : $1,126
Conventional 80 @ 3.375%: $898
Again, get the actual numbers from your experienced mortgage professional. But as you can see in this hypothetical situation the USDA loan makes a lot of sense — especially now that the new fee structure went into effect on October 1, 2016.
What Are Today's USDA Mortgage Rates
Mortgage rates change daily, but they have been extremely low in 2016. USDA loan rates are as low or lower than conventional rates.
Request a USDA home buying eligibility check now, which comes with your monthly payment estimate and rate quote.