A Refinance Wave Is Now Underway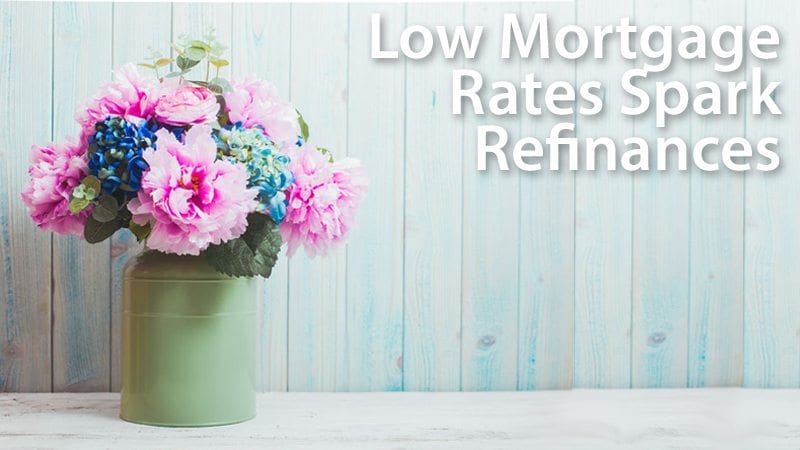 Have You Refinanced Your Mortgage?
U.S. homeowners are making the most of their opportunity to refinance.
With current mortgage rates defying Wall Street expectations, a mini refinance boom is underway.
30-year fixed-rate mortgage rates are approaching 3-year bests; and 15-year mortgage rates are doing the same.
More than 8.7 million homeowners are potentially eligible for a refinance to a lower rate and payment. Many more are eligible to "cash out".
If today's rates can fit your budget, explore your opportunity to refinance.
Lenders are approving more loans than during any period this decade and refinancing homeowners will save more than 6 billion dollars, collectively, over the next 12 months.
Click to see today's rates (Sep 23rd, 2017)
What Is A Mortgage Refinance?
The term "mortgage refinance" is a literal one. It's the re-financing of a mortgage -- your original mortgage is paid-off and replaced with a new one.
The mortgage refinance process is different from the mortgage process when buying a home. For one, it's less intense.
When you're buying a home, you're bound by time deadlines and are forced to cooridnate dozens of people to get your loan to fall in place.
This is none more obvious then when your lender attempts to schedule an appraisal of a home you don't even own. An uncooperative seller can derail the mortgage approval process and cost you money at your closing.
With a refinance, there's far less coordination and far less paperwork.
Your old loan is retired. Your new loan is started. That's it. You can even change the terms of your loan if you decide you want something different.
With a mortgage refinance, you're in control. And you can achieve a lot.
Click to see today's rates (Sep 23rd, 2017)
Reasons To Refinance A Mortgage
Refinancing a mortgage is simpler than getting a loan for a purchase. You already own your home, so the mortgage becomes more about "pushing papers" than anything else.
Even better, because your home is yours and your loan is yours, it remains your right to refinance your loan at any time -- and there are plenty of reason why today's homeowners might want to refinance.
Here are some of the more common ones.
Refinance for a lower mortgage rate
The most common reason why homeowners refinance is to get access to lower mortgage rates. A refinance to lower your mortgage rate is known as a rate-and-term refinance.
Now, some homeowners will wait until mortgage rates have dropped 100 basis points (1.00%) before they'll start a refinance. They say it's the only way a refinance makes sense.
This trick has been disproved as a myth.
However, you don't just want to refinance willy-nilly. That can get expensive. A smart approach is to use the zero-closing cost refinance.
Zero-cost loans save time and money.
Refinance to own your home faster
Another reason to refinance to is shorten the number of years until you own your home outright; and, when mortgage rates drop, homeowners can aggressive on this type of refinance.
For example, if your current mortgage is a 30-year fixed-rate mortgage, you will pay 65% more mortgage interest over the life your loan as compared to using a 15-year loan.
This means you will save $65,000 per $100,000 borrowed, which is a huge sum.
Perhaps it's why more than a quarter of refinancing households ditch their 30-year mortgages in favor of something shorter.
Money saved on your mortgage is money which can be used for other purposes, including funding a retirement portfolio or paying for a college tuition (or two).
Refinance to get rid of mortgage insurance
Refinancing get rid your loan of mortgage insurance, too.
For homeowners with conventional mortgages, private mortgage insurance (PMI) is required for up to 24 months from the date of purchase regardless of the home's value.
Yet, for homes with a loan-to-value of 80% or less, PMI is not required. Therefore, refinancing to a new loan can rid your home of mortgage insurance instantly.
It's a method which works for FHA loans, too, which require mortgage insurance to be paid for the life of the loan. Once your home has gained some equity, it's often sensible to refinance away from your FHA loan in order to cancel FHA MIP outright.
Refinance to take "cash out"
You may also want to refinance to "cash out" your home equity, a choice which is increasingly popular as home values climb.
In a cash-out refinance, homeowners willingly increase their loan sizes in order to receive cash-in-hand at settlement which can be used for any purpose possible.
Some homeowners do cash-out refinances in order to pay for home improvement projects. Others do cash out to consolidate credit card debt because mortgage interest rates are much lower than credit card interest rates.
Other households cash-out to fund retirement or pay for college; or, just to diversify their portfolios away from real estate.
What Are Today's Mortgage Rates?
Today's mortgage rates are near the lowest they've been in history. And, with home values rising, there is ample opportunity to refinance to better loan terms or to achieve whatever other financial goal you may have.
Take a look at today's real mortgage rates now. Your social security number is not required to get started, and all quotes come with instant access to your live credit scores.
Click to see today's rates (Sep 23rd, 2017)
The information contained on The Mortgage Reports website is for informational purposes only and is not an advertisement for products offered by Full Beaker. The views and opinions expressed herein are those of the author and do not reflect the policy or position of Full Beaker, its officers, parent, or affiliates.
Try the Mortgage Calculator