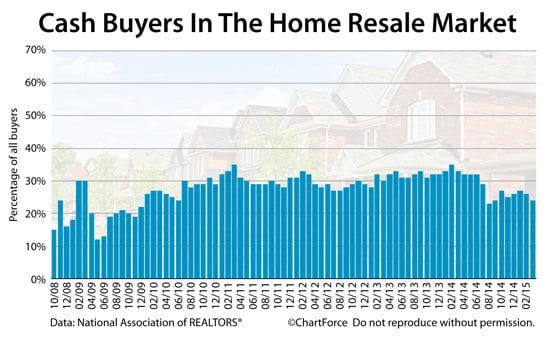 Mortgage Rates For Cash-Out Refis
According to the National Association of REALTORS®, roughly 1-in-4 home resales are purchased using cash. And now, today, cash buyers can re-access their purchase funds just one day after closing.
[post-link post="18286" linktext=""Cash out" refinances"] are available to buyers with no mortgage.
Via a special Fannie Mae program known as Delayed Financing, U.S. home buyers and real estate investors are no longer required to wait 6 months post-closing to refinance a home bought with cash.
You can now refinance your home within 24 hours of its purchase, and still get access to today's great rates.
With back below four percent, it's an excellent time to consider a cash-out refinance of the home you purchased with cash.
The "Delayed Financing" Mortgage Program
Fannie Mae first introduced its Delayed Financing Rule in mid-2011. The program was intended to help sell homes which would otherwise go un-purchased.
It was meant to help buyers and real estate investors purchasing "unlendable" homes in foreclosure. Properties can be unlendable for a multitude of reasons.
The most common reason is inhabitability.
Homes without running water, for example, are unlendable because no person could reasonably live there. The same is true for homes with broken windows, or lead paint, or a busted roof.
Yet, these same homes are often sold at attractive, bargain-like prices for buyers with the available cash — and this is where the Delayed Financing program shines.
Via Delayed Financing, a buyer can purchase a home with cash, perform the home repairs necessary to make the home "livable", and then do a cash-out refinance to recapture the assets used to make the purchase.
For many borrowers, Delayed Financing is simpler than home construction lending or the loan.
Another common use of Delayed Financing is to support buyers required to close within 3 weeks of signing a contract. While there's a possibility of closing a purchase loan within 21 days, the short time frame leaves little room for error.
Delayed Financing can take the pressure of the transaction. Via the program, the home can be purchased with cash, and refinanced immediately afterward.
How To Apply For Delayed Financing
The Delayed Financing program has been widely available since 2011. Prior to its release, home buyers and real estate investors could not cash-out refinance a purchased home until six months had passed.
Today, the cash-out refinance process can begin immediately.
In order to qualify for Delayed Financing, you must only meet certain eligibility standards :
The cash used for the original purchase must be documented to the bank
The new loan size may not exceed the property's original purchase price
A title search must show that no liens exist on the home
As a fraud-prevention measure, you must also show proof that the home sale actually occurred.
The simplest way to prove that the home was sold is to provide your loan officer with the original Closing Disclosure document which you will receive at closing. The Closing Disclosure replaced the HUD-1 in 2015 as the uniform disclosure detailing transaction details.
The document must show no evidence of a lien, and it must be signed by all parties.
Your lender will also verify that the original transaction was arms-length.
Mortgages via the Delayed Financing program are limited to 70% loan-to-value, and can be used for 1-unit, 2-unit, 3-unit or 4-unit homes. It can also be used with second homes, vacation properties, and rental units.
Delayed Financing is also available for buyers with more than 4 properties financed.
What Are Today's Mortgage Rates
The Delayed Financing Rule is available in all 50 states. Rates adhere to typical cash-out pricing, and there are no additional "points" or fees due at closing just for using the program. Not every bank will offer Delayed Financing, though, so it pays to shop around.
Take a look at today's real mortgage rates now. Your social security number is not required to get started, and all quotes come with instant access to your live credit scores.