Will The FHA Reduce Mortgage Insurance Premiums (MIP) For New And Existing Homeowners In 2014?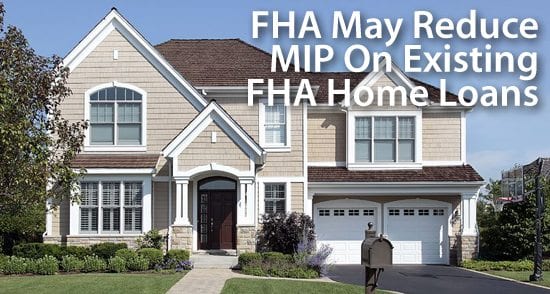 2014 may be the year of falling MIP.
In an overview of its budget for 2015 and just one year after requiring taxpayers for the first time in its 80-year history, the Federal Housing Administration's Mutual Mortgage Insurance fund is expected to show a capital reserve balance of +$7.8 billion — the largest reserve balance in several years.
The FHA's fiscal health may result in lower costs for FHA loans in 2014 and 2015, plus a reduction in FHA mortgage insurance premiums (MIP) for all new and existing FHA home loans.
Click here to get FHA mortgage rates (Sep 17th, 2019).
FHA To Show Surplus; May Reduce MIP
The Federal Housing Administration was formed in 1934. The average home loan at the time required large downpayments of fifty percent or more, carried very high interest rates, and featured loan payback periods of five years or fewer.
Then, the National Housing Act of 1934 was passed which called for the creation of the FHA — a federal mortgage insurer which would stimulate mortgage lending nationwide.
The act established two mortgage insurance programs which are still known by their original names. The first — Section 203 — grants mortgage insurance on 1-to-4 unit homes. The second, known as Section 207, insures multi-family homes.
The rules of the FHA insurance programs were basic. So long as a mortgage lender made loans which met the FHA's specifications, the agency would agree to insure it against loss. These specifications, which would come to be known as "FHA guidelines", included maximum debt-to-income levels, minimum downpayment requirements, and asset verifications.
Via the FHA's insurance programs, banks could offload the risk of lending to the U.S. government. And, meanwhile, at the same time, the FHA was building a secondary market where home mortgages could be sold, which then made more money available for lending.
The FHA was self-funded for its first 79 years — the only federal agency to be able to make that claim. However, because of loosening lending policies from 2007-2009, a period when the economy was headed south, the FHA had suddenly collected too few premiums to account for the risk of its portfolio.
It tried to "catch up", raising mortgage insurance premiums (MIP) five times in 5 years and tightening its mortgage guidelines. The moves, however, were not enough. In late-2013, the FHA was forced to draw from the U.S. Treasury for the first time ever.
Click here to get FHA mortgage rates (Sep 17th, 2019).
FHA Mortgage Insurance Premiums
The FHA is not a mortgage lender. It's a mortgage insurer. And, like other insurers, the FHA collects regular payments known as premiums which fund the claims it pays to lenders.
FHA mortgage insurance premiums have climbed steadily since 2009. Today, they're split into two parts.
The first part is the Upfront Mortgage Insurance Premium (UFMIP). UFMIP is paid at the time of closing and is equal to 1.75% of your loan. This means that for every $100,000 in your loan size, your upfront mortgage insurance premium paid is $1,750.
Upfront FHA MIP can be paid as cash but most people choose to add it to the mortgaged amount.
UFMIP does not count against your loan-to-value (LTV) so homebuyers making the minimum FHA downpayment of 3.5 percent will often carry an initial loan-to-value closer to ninety-eight percent.
The good news about UFMIP is that it can be refunded via a refinance.
When FHA-backed homeowners use the FHA Streamline Refinance program within 36 months of closing, a portion of the upfront MIP paid is refunded in full. Refunds range from 68 percent of the initial amount paid to ten percent — depending on how soon you choose to refinance.
The longer you wait, the lower your FHA MIP refund.
The second type of FHA mortgage insurance is the annual MIP. Annual MIP rates vary based on the length of your loan, the amount you're borrowing, and your initial loan's LTV.
The FHA MIP rate for a 15-year loan is 0.45 percent annually, for example, when the initial downpayment is ten percent or more. For the same loan as a 30-year, mortgage insurance premiums rise to 1.30 percent.
The complete MIP schedule, as of
, is as follows :
15-year loan terms with loan-to-value over 90% : 0.70 percent annual MIP
15-year loan terms with loan-to-value under 90% : 0.45 percent annual MIP
30-year loan terms with loan-to-value over 95% : 1.35 percent annual MIP
30-year loan terms with loan-to-value under 95% : 1.30 percent annual MIP
Note that the number of years you're required to FHA MIP also varies by loan type. Loans for which the initial downpayment was 10% or more are required to pay premiums for 11 years from the date of the mortgage.
Loans for which downpayments are less than 10 percent must pay FHA MIP for as long as the loan is active.
Click here to get FHA mortgage rates (Sep 17th, 2019).
New, Lower FHA Mortgage Insurance Premiums For 2014?
The FHA is projected to show a positive balance in its capital reserves for 2015, marking the first time since that the agency's reserves increased on a year-over-year basis since 2006.
The news has analysts wondering whether the FHA will soon reduce its current MIP rates, which would help keep homes affordable for the markets in the FHA purports to serve. Low mortgage rates don't matter when high MIP just adds to monthly costs.
For example, a first-time home buyer today can reasonably lock a mortgage rate near 4.50 percent with zero points paid at closing. However, assuming the 30-year loan and low downpayment combination common to first-timers, the annual MIP rate of 1.35 percent raises the borrower's effective annual rate to 5.85%.
This is a low rate by historical standards, but it's much higher than what an FHA borrower would have received just several years ago.
Furthermore, add the cost of the upfront MIP and, suddenly, the buyer may be priced from the market.
With the FHA expected to show a positive capital reserve balance, and with FHA loans defaulting at much lower rates as compared to 2007-2009, the agency may be prepping to lower its premiums for new FHA-backed borrowers and for existing ones, too.
In a sweeping move, the FHA could announce lower annual MIP for all of its existing, insured homeowners; and make that change effective immediately. MIP could drop as little as a 0.10 percent per year, or maybe as much as 0.50 percent.
This would generate bona fide monthly savings for FHA homeowners nationwide while keeping with the spirit of the FHA mandate to provide affordable U.S. housing.
Already, the FHA is putting its Homeowners Armed With Knowledge program, otherwise known as FHA HAWK, into play for the fall. Via HAWK, home buyers will save 50 basis points on their upfront MIP and up to 25 basis points annually on ongoing MIP.
Get Today's FHA Mortgage Rates
FHA mortgage rates have been dropping for most of 2014. Now, there is talk that FHA MIP will drop this year, too. A reduction in MIP rates will make refinancing simpler for millions of U.S. households, and help to keep homes affordable for today's new buyers.
Take a look at today's FHA mortgage rates live. Rates are available online at no cost, with no obligation to proceed, and with no social security number required to get started.