Minimum FHA Credit Score Requirement Falls 60 Points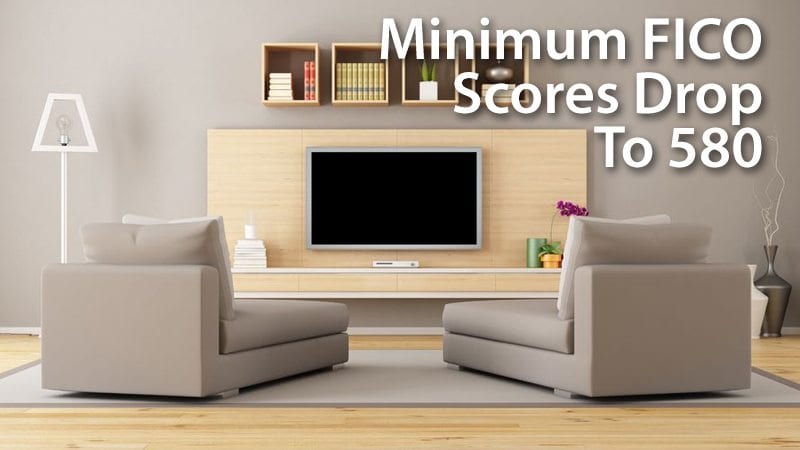 Minimum FHA Credit Score For A Home Loan
The minimum FHA credit score for a home loan is 500, however, it's possible to get a mortgage loan with no credit score at all. Lenders can check "non-traditional" credit sources and build a credit report if you don't have enough accounts to generate a score.
VA home loans require no minimum credit score, FHA minimums range from 500 to 580, USDA loans have a FICO floor of 640, and conforming loans require a minimum credit score of 620.
Exceptions can be made to minimum credit score policies for borrowers with reasonable cause.
FHA Credit Score Requirement Drops 60 Points
It's getting easier for borrowers to get an FHA-backed home loan.
Major lenders will now approve 96.5 percent FHA mortgage applications for borrowers with FICO scores of 580. It marks a 60-point improvement over a few years ago, when FHA lenders required 640 FICO scores or better to get approved.
The news comes at a time when FHA loans are in demand.
The program's 3.5% downpayment minimum is among the most lenient for today's home buyers; and underwriting requirements on an FHA loan are flexible and forgiving.
FHA loans account for close to one-quarter of all loans closed today.
Verify your FHA loan eligibility (Dec 11th, 2017)
Minimum Credit Score To Get An FHA Loan
There are two minimum score levels for FHA, depending on down payment level.
580 with 3.5% down
500 with 10% down
Some potential buyers have credit issues from their past. With a clean recent history, though, these buyers might achieve mortgage approval despite low scores.
This is especially true after "extenuating circumstances."
These are events outside of the applicant's control. Sometimes, a lender can look past a layoff, one-time medical event, or another isolated financial shock that "wrecked" your credit.
A low score is not always reflective of the applicant's creditworthiness. In these cases, lenders can push through an approval for someone with a low score.
Keep in mind, though, that lenders may impose higher minimum scores than FHA itself – sometimes as high as 620 to 640.
FHA Loans With No Credit Score
FHA loans are even available to those who have no traditional credit history – i.e. those who have paid cash for everything and have never opened a credit card, auto loan, or mortgage.
According to FHA, lenders must not automatically deny applicants with no credit. Rather, it should gather history for credit-like accounts: utilities, cell phone bills, insurance payments, and even childcare expenses.
Lenders can approve a loan built on non-traditional credit. A mortgage can be the applicant's first-ever real credit account.
Verify your FHA loan eligibility (Dec 11th, 2017)
Getting An FHA Mortgage After Bankruptcy
Different rules apply according to what type of bankruptcy you went through. The following are standard waiting periods for Chapter 7 bankruptcies:
FHA loans: 2 Years
VA home loans: 2 Years
Conventional mortgages: 4 Years
USDA home loans: 3 Years
To see complete details on getting a mortgage after bankruptcy, see our guide.
FHA Loan After A Foreclosure
A foreclosure can certainly drag down your credit score. Fortunately, agencies tell lenders it's okay to lend to an applicant after a foreclosure, provided enough time has passed.
FHA loans: 3 years
VA home loans: 2 years
Conventional mortgages: 7 years
USDA home loans: 3 years
Waiting periods are reduced if the event was caused by circumstances beyond the borrower's control.
Minimum Credit Score For A Mortgage: FHA, VA, Conventional, USDA
FHA might not be your only choice if you have a lower credit score.
It is often the best option, but not the only one, especially if you are buying in a non-urban area or have served in the military.
FHA: A minimum 580 score is required for FHA applicants with a 3.5% down payment. If you have 10% down, you can get approved with a score down to 500. Keep in mind that some lenders will impose higher minimums.
VA: Most lenders require a 620 score, although VA itself does not publish a minimum score.
Conventional loans: These are backed by Fannie Mae and Freddie Mac and offered by most lenders in the country. A 620 minimum score is required, with some lenders requiring as high as 620-640 for conventional financing. For those with a small down payment, FHA is usually more cost effective.
USDA: A 640 score is required for a streamlined approval on a USDA loan. Lenders may approve lower credit scores, but documentation requirements are heavier. The USDA mortgage is available in certain geographical areas around the U.S.
Verify your FHA loan eligibility (Dec 11th, 2017)
Can I Buy A Home With Low Credit?
Lenders often look at the complete story, not just the credit score. This can work for or against you. Here are two situations that might play out in real life.
Scenario 1: An applicant had a bankruptcy 18 months ago. He has a 660 credit score – high enough for an FHA loan. But, his waiting period is not up. He will not be approved.
Scenario 2: An applicant has a 580 credit score due to a one-time medical emergency which resulted in unpaid bills and a job loss. She had perfect credit and steady employment before and after the event. She could be approved. The score is not reflective of her true creditworthiness.
These situations play out every day across the country. Just because you have a low score does not mean you can't be approved for an FHA loan or any other mortgage type.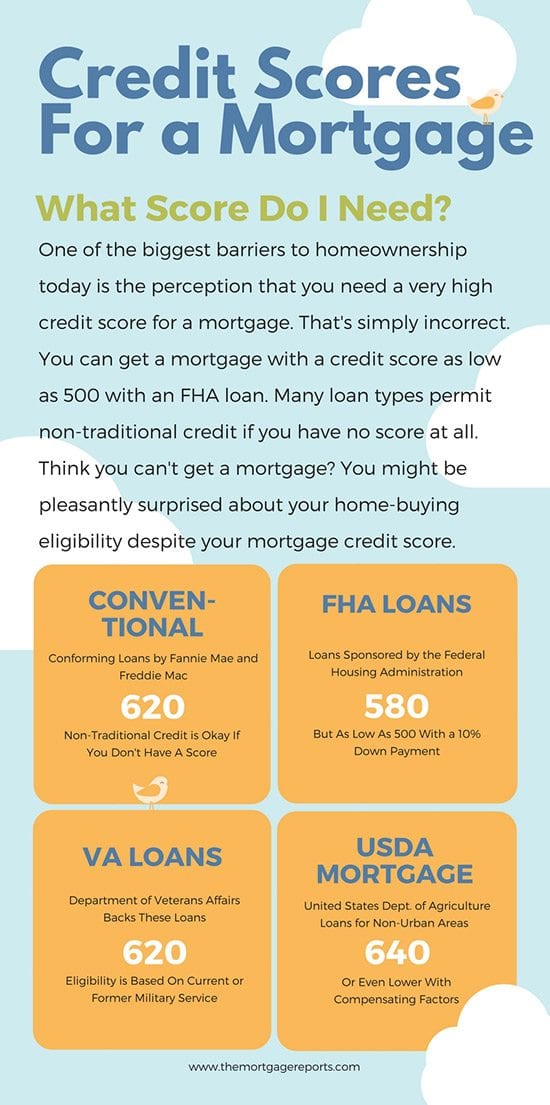 Verify your FHA loan eligibility (Dec 11th, 2017)
FHA Loans Allow 3.5% Downpayment
FHA loans are an important component of the U.S. housing and mortgage market.
They are insured by the Federal Housing Administration and made available to U.S. buyers and existing homeowners.
The agency was formed in 1934 and it exists to provide affordable housing to Americans. Today, it's the largest insurer of mortgage loans worldwide.
The Federal Housing Administration doesn't actually make loans. Rather, it insures loans made by the nation's banks, providing protection against default and loss.
In order to gain the FHA's protection, lenders must only make sure that the loan in question meets the lending standards as set forth by the FHA.
The FHA's rule book is known as the "FHA guidelines" and it describes all allowable loan traits, as well as the going terms of a Federal Housing Administration-backed loan.
For example, FHA guidelines state that home buyers must make a minimum downpayment of 3.5 percent against a home's purchase price; and that buyers can be cleared to buy a home 12 months after a bankruptcy, short sale, or foreclosure.
Guidelines also place limits on the size of an FHA-backed loan, which varies by county.
FHA loan limits range from $275,665 for a single-family home to $1,223,475 for a 4-unit home.
How Do I Check My FHA Home-Buying Eligibility?
For today's U.S. home buyers, the Federal Housing Administration mortgage is among the most lenient and forgiving mortgage programs available. Find out whether you're FHA-eligible.
Get today's live mortgage rates now. Your social security number is not required to get started, and all quotes come with access to your live mortgage credit scores.
Verify your FHA loan eligibility (Dec 11th, 2017)
The information contained on The Mortgage Reports website is for informational purposes only and is not an advertisement for products offered by Full Beaker. The views and opinions expressed herein are those of the author and do not reflect the policy or position of Full Beaker, its officers, parent, or affiliates.
Try the Mortgage Calculator