Mortgage Rates In 2014 : What To Expect From The 30-Year Fixed Rate Mortgage This Year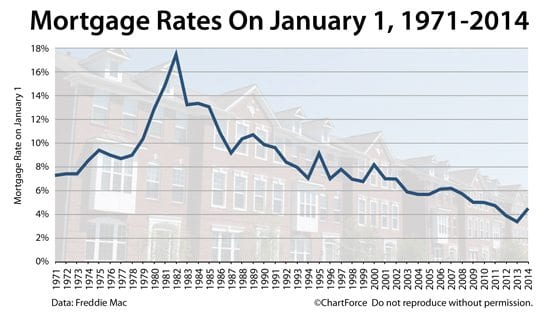 30-year mortgage rates began the year above 4% for the first time in three years this year.
According to Freddie Mac, the average rate for a 30-year fixed was 4.53% nationwide on January 1, 2014 -- a 1.12 percentage point increase from the year prior, marking the first time since 2000 that rates climbed more than one point between New Year's Days.
What will mortgage rates do in 2014? Is there chance for them to fall?
Click here to get today's live rate quotes (May 27th, 2017).
Mortgage Rates Making Homes Affordable
Each week since 1971, mortgage-backer Freddie Mac has published its Primary Mortgage Market Survey (PMMS), a report on the market's current mortgage rates, nationwide and by region.
Since the survey's inception, 30-year fixed rate mortgage rates have ranged as high as 18.45 percent (October 1981) and as low as 3.31 percent (November 2012).
Through 43 years, rates have averaged near 8.375%.
Perhaps that's why this year's "rising mortgage rates" may not be such a big deal. Against the backdrop of history, and as compared to home buyers from prior generations, today's mortgage rates look downright cheap.
In inflation-adjusted dollars, the payment on a $100,000 mortgage in 1981 would cost $3,840 today. The actual payment at today's rate is $508. This is why analysts say today's mortgage rates are great.
Even comparisons to the last 10 years look terrific.
Accounting for inflation, here is what a mortgage would cost per $100,000 borrowed in today's dollars:
2014 : Mortgage payment of $508
2010 : Mortgage payment of $566
2006 : Mortgage payment of $691
2000 : Mortgage payment of $985
Today's home buyers -- despite rising rates -- have huge amounts of home purchasing power as compared to recent history. Homes sold when rates were in the sixes, homes sold when rates were in the 10s, and homes will sell as rates move through 2014, 2015 and 2016.
Additionally, when you combine the today's low rates with the large collection of low- and no-downpayment mortgage plans, one could argue that this year's buyers have access to one of the most housing-friendly market climates in all of U.S. history.
See today's low mortgage rates live now (May 27th, 2017).
Mortgage Rates Predictions For 2014
2014 has been billed as the Year of Rising Mortgage Rates. With rates beginning the year near 4.5 percent, few predict rates rising any less than one-half percent. 
Economists for Fannie Mae and Wells Fargo expect mortgage rates will close the year near 4.9 percent. Kiplinger and the National Association of Realtors® project rates to 5.5 percent.
Rates are expected to rise for many of the same reasons.
First, the Federal Reserve is expected to continue tapering its third round of quantitative easing -- a program commonly known as QE3.  
QE3 has been in effect since September 2012. One of the program's objectives is to lower long-term mortgage rates for U.S. consumers. The Fed achieves this outcome by purchasing billions of mortgage-backed securities (MBS) in the open market monthly.
The extra demand causes MBS prices to rise, which causes mortgage rates to fall.
When QE3 first launched, the Fed was prescribed to purchase $40 billion in MBS monthly. In December 2013, though, the Fed deemed the program unnecessary at its original, full strength. The Fed began a QE3 "taper", reducing its monthly bond purchases by $5 billion per month, effective January 2014.
The Federal Reserve is expected to continue its taper through 2014, which analysts believe will lead to higher mortgage rates overall.
Another reason analysts expect rising rates is because the U.S. economy is improving.
Weak economic conditions promoted low mortgage rates late last decade. It makes sense, therefore, that the subsequent economic rebound would result in a wave of higher rates.
As the economy improves, mortgage rates may worsen.
Furthermore, as a third reason why analysts expect mortgage rates to rise, banks face a bevy of new compliance standards for 2014. These standards encompass underwriting, reporting, and the suitability of a borrower.
Analysts expect banks to pass compliance costs on to consumers, which results in higher rates. So far, however, rates for 2014 have remained quite low.
Mortgage Rates Have Dropped In 2014
So far this year, predictions for rising mortgage rates have been proved false.
Economic data has shown that optimism for 2014 may be overdone; that the slow, plodding growth which characterized the early years of the recovery may last for another few quarters, at least.
Mortgage rates have dropped from their January 1, 2014 levels. They're near their lowest point in two months. See how low mortgage rates have moved. Compare live mortgage rates today.
Get a live mortgage rate quote now (May 27th, 2017).
The information contained on The Mortgage Reports website is for informational purposes only and is not an advertisement for products offered by Full Beaker. The views and opinions expressed herein are those of the author and do not reflect the policy or position of Full Beaker, its officers, parent, or affiliates.
Try the Mortgage Calculator