Expanded FHA Loan Limits For 2013 Give Boost To U.S. Home Buyers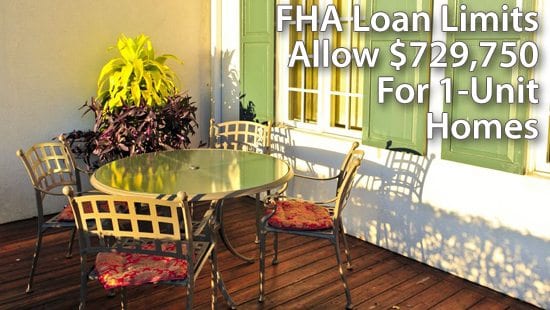 The FHA mortgage offers several advantages to home buyers as compared to a loan backed by Fannie Mae or Freddie Mac.
FHA loans allows for a very low 3.5% downpayment; mortgage underwriting standards are often "loose" as compared to other loan types; and  via the FHA Back To Work - Extenuating Circumstances program, buyers can get an FHA loan just 12 months after a foreclosure, short sale or bankruptcy.
However, the biggest advantage of an FHA mortgage is that you can borrow more money from your bank via an FHA-backed loan than you can with a conventional one. FHA loan limits are higher than Fannie Mae and Freddie Mac's.
Click here to skip to today's FHA mortgage rates (May 31st, 2020).
What Are FHA Loan Limits?
FHA stands for Federal Housing Administration. The agency is a part of HUD, and has been supporting U.S. homeowners since 1934.
The FHA is not a mortgage lender. Rather, it's an insurer, providing the nation's lenders protection against losses and default. The FHA will insure any mortgage which meets its minimum eligibility standards.
The FHA's minimum eligibility standards, collectively, are known as the FHA Mortgage Guidelines. FHA mortgage guidelines differ in their specifics between purchase and refinance loans, but some guidelines remain shared, too.
For all Federal Housing Administration loans — purchase or refi — there is a maximum loan size which the FHA will insure. The maximum loan size allowed by the agency is known as an FHA loan limit, and loan limits vary depending on your home type and where you live.
FHA loan limits range up to $1,403,400. This is the limit for a 4-unit home in Los Angeles County, California. It's also 17% higher than the maximum loan size allowed by Fannie Mae or Freddie Mac.
The FHA lets you borrow more.
Click to see FHA loan limits in your area.
How Much Can You Borrow Via The FHA?
FHA loan limits vary by property type. The agency will insure larger loan sizes for a 4-unit home, for example, than a single-family home or a condominium. The Federal Housing Administration will also insure larger loan sizes areas deemed to be "high-cost".
The agency considers an area to be high-cost if its median home sale price exceeds the national average by some fixed amount.
There are 74 counties nationwide which reach the FHA's maximum loan size limit. Plus, there are an additional 697 U.S. counties in which limits are elevated.
In all other counties, FHA loan limits are as follows :
1-unit home : $271,050
2-unit home : $347,000
3-unit home : $419,425
4-unit home : $521,250
In high-cost areas — areas which include New York City; Loudoun County, Virginia and Montgomery County, Maryland; and most of California. In these regions, FHA loan limits range up to :
1-unit home : $729,750
2-unit home : $934,200
3-unit home : $1,129,250
4-unit home : $1,403,400
Meanwhile, the agency has designated four areas in which loan limits are even higher, reflecting the ultra-high cost are living there. These four areas are Hawaii, Alaska, Guam and the U.S. Virgin Islands.
1-unit home : $1,094,625
2-unit home : $1,401,300
3-unit home : $1,693,875
4-unit home : $2,105,100
Note that the Federal Housing Administration reviews its maximum allowable loan sizes once per year, and that loan limits may change over time. Several years ago, "high-cost loans" did not exist. In several years, they may cease to exist again.
For now, however, the FHA offers loan size opportunities not available via conventional loans.
Get Mortgage Rates For An FHA Mortgage
For today's home buyers, mortgage rates remain low and loan limits remain high. Plus, with downpayment requirement at just 3.5% of your purchase price, FHA-insured loans are among the lowest-cost ways to join the ranks of homeownership.
Get today's FHA mortgage rates for your county and see how much home you can afford.