Home Affordable Refinance Program (HARP) Extended; Is HARP 3 Coming?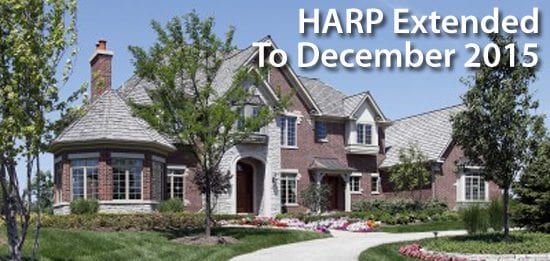 The Home Affordable Refinance Program (HARP) expiration date is extended. The program's new expiration date is December 31, 2015.
The extension is the program's second since its 2009 launch. HARP refinance opportunities are available to millions of U.S. homeowners.
Click for a personalized HARP mortgage quote (May 29th, 2017).
What Is The HARP Refinance?
The Home Affordable Refinance Program is a popular mortgage refinance program and a holdover from the government's 2009 economic stimulus program.
At the time, conventional mortgage rates were dropping to all-time lows but, because home values were falling as well, few U.S. households had sufficient home equity to refinance without being forced to incur some form of mortgage insurance.
Buyers whom had made 20% downpayments on their home had lost some (or all) of that. To refinance meant to add private mortgage insurance (PMI) and PMI negated the effects of whatever low mortgage rates were available at the time.
The government sought to help. Every refinance, it recognized, reduced homeowner payments which, in turn, raised the average disposable income per household. HARP, the government thought, would be one method by which consumers could help spend the country out of a recession.
The HARP refinance was launched in with just two basic qualification standards :
The refinanced loan must be backed by Fannie Mae or Freddie Mac, and been endorsed no later than May 31, 2009.

The refinanced loan must be current, with no late payments in the last six months
The government planned for HARP to reach seven million U.S. households. Unfortunately, after two years in the field, HARP was falling short of its goal. This was for a number of reasons, including a maximum loan-to-value restriction of 125%; and a specific HARP policy which discouraged mortgage lenders from making HARP loans.
Fewer than one million HARP loans closed between 2009 and mid-2011 -- well short of the government's goal. To boost the program's effectiveness, then, in late-2011, HARP's program guidelines were extended. LTV restrictions were removed entirely and lenders were granted indemnification from certain types of errors.
The changes were a boon for U.S. homeowners, too. Dubbed "HARP 2.0", the updated program reached more U.S. households in its first 10 months than the original Home Affordable Refinance Program reached in its first 2-plus years.
As of February 2013, HARP has been used more than 2.3 million times. Today's typical HARP homeowner reduces his monthly mortgage payment by 35%.
Click for a personalized HARP mortgage quote (May 29th, 2017).
HARP 2.0 Extended To December 31, 2015
In April 2013, the government moved to extend the Home Affordable Refinance Program. The program's new expiration date is December 31, 2015. This doesn't mean your HARP loan must be closed by December 31, 2015 -- it means only that your mortgage application must be complete.
Typically, you'll have up to 3 months to get your loan "in-process", but different mortgage lenders may use different application guidelines.
There's also the possibility for HARP mortgage guidelines to change for a second time.
For the last 12 months, Congress has discussed the opportunity for a HARP 3.0-like program and, while it's unclear whether HARP 3 will even pass, several concepts have surfaced as possibilities :
Allow Alt-A, subprime and non-government backed loans to refinance via HARP 3.0
Allow former HARP participants to "Re-HARP", or use the HARP program again
Change the HARP entry date from May 31, 2009 to sometime in 2010 or 2011
HARP 3.0 is alternatively called #MyRefi and it's unknown whether any -- or all -- of its features will get merged into the existing Home Affordable Refinance Program. Should HARP 3 come to pass, however, the government is expected to blow past its original 7 million household target for the underwater refinance program.
Click for a personalized HARP mortgage quote (May 29th, 2017).
HARP Mortgage Rates Available Online
Mortgage rates for the Home Affordable Refinance Program are similar to those for conventional mortgage financing which have been firmly under 4% for more than 14 months. This is why HARP-eligible households are saving so much money.
Plus, closing costs are low.
Take a look at today's HARP mortgage rates. The program will last for another two years, but there's no guarantee for low mortgage rates beyond today. You can get a quote online, and without a credit check. See what HARP can do for you.
Click for a personalized HARP mortgage quote (May 29th, 2017).
The information contained on The Mortgage Reports website is for informational purposes only and is not an advertisement for products offered by Full Beaker. The views and opinions expressed herein are those of the author and do not reflect the policy or position of Full Beaker, its officers, parent, or affiliates.
Try the Mortgage Calculator