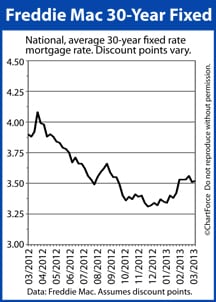 Rising mortgage rates have led to a surge in mortgage activity. Today's home buyers and refinancing households are working hard to capture low rates before they're gone for good.
Have you been waiting to refinance? It's time to get started.
Click here for a personal mortgage rate quote (Aug 20th, 2019).
Refinance Applications Jump 15 Percent
Each week, the Mortgage Bankers Association (MBA) releases its Weekly Mortgage Applications Survey. For the week ending March 1, 2013, the survey showed application volume jumping 15 percent as compared to the week prior.
The application surge was evenly split between home purchases and mortgage refinances.
Refinance application volume was up fifteen percent week-over-week, rising to levels not seen since mid-January. HARP 2.0 mortgage applications have accounted for roughly 1 in 4 queries since mid-2012.
Purchase applications rose, too, climbing eighteen percent week-over-week. Purchase mortgage applications are at a 5-week high and now account for 23% of loan applications nationwide.
This is the largest purchase mortgage market share in nearly 2 years.
The Rush To Refinance?
Last week rises in loan applications is likely tied to rising mortgage rates and rising home prices. There is no shortage of news on the subjects and today's home buyers and homeowners are keenly aware of the market.
Since January 1, for example, conforming mortgage rates are up 0.250 percent and FHA rates are up the same. Higher mortgage rates have contributed to rising homeownership costs. So have higher home prices. The cost of homeownership is rising and the value of a refinance has dropped.
Rates remain relatively low, though, as compared to history.
Three years ago, the 30-year fixed rate mortgage rate averaged 5.00%. Today, rates are 3.52 percent. The 15-year fixed rate mortgage is down, too, averaging 2.76 percent nationwide, a 161-basis-point reduction in just 36 months.
Today's homeowners with 2010-vintage home loans have huge reason to refinance. Mortgage rates are higher, but still sufficiently low to make a change.
HARP, Conforming Rates Rising
Mortgage rates continue to rise, slowly and steadily. The jobs economy is improving and the housing market is, too. The conditions that created lifetime-low mortgage rates through most of 2012 are no longer.
If you plan to buy a home or refinance one in 2013, consider moving up your time frame. The longer you wait, the more you may pay.
Click here for a personal mortgage rate quote (Aug 20th, 2019).