As Home Foreclosures Wane, 4 States House 50 Percent Of Them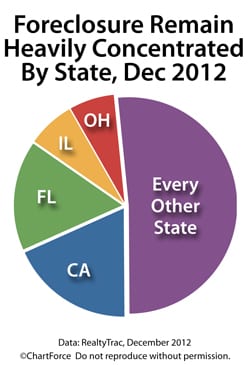 Foreclosure home supplies are dropping.
Foreclosure filings have now slowed to a 68-month low -- predating last decade's recession -- and the availability of foreclosed homes figures to move even lower through 2013. 
If you plan to buy a foreclosure or distressed property, your best "deals" may be the ones you find today. 
Click here for purchase mortgage rates (Oct 23rd, 2017).
A 6-Year Foreclosure Low
Foreclosure filings are scarce these days, according to foreclosure-tracking firm RealtyTrac.
In December, the number of foreclosure filings fell 10 percent from the month prior, totaling approximately 162,000 filings nationwide. Not since April 2007 has foreclosure activity been this sparse.
December's pullback is not a seasonal one, either. 
As compared to December of last year, RealtyTrac reports filings down 21 percent. A "foreclosure filing'ÄĚ any one of the following foreclosure-related events : (1) The serving of a default notice, (2) A scheduled home auction, or (3) A bank repossession.
Foreclosure filings are down 36% from the 2010 peak.
Click here for purchase mortgage rates (Oct 23rd, 2017).
Foreclosures Fall In Nevada, California, Others
Foreclosure activity is plummeting nationwide. One major reason is rising home prices. According to the Federal Housing Finance Agency (FHFA), home values are up 5.6% as compared to one year ago.
Another second reason is the U.S. workforce. With 27 straight months of job growth -- a streak which has added more than 4 million jobs to the U.S. economy -- more U.S. homeowners are able to meet monthly mortgage payment obligations.
And, third, mortgage lenders have been more willing to work with homeowners who have fallen behind on payments. The $25 billion mortgage servicing settlement from mid-2012 established protocol by which banks and homeowners could work together to avoid default, and the process appears to be working.
The result is fewer foreclosure filings nationwide, led by states including Nevada, Arizona, California and Michigan -- four states typically associated with high rates of foreclosures. Each showed a drop in foreclosure filings between December 2011 and December 2012 of 20 percent of more. 
In addition, there were seven states in which foreclosure filings fell by more than 50% in the 12 months ending December 2012. Those states were Oregon, Massachusetts, Kentucky, Montana, Tennessee, Michigan, and Delaware.
Furthermore, foreclosure filing remain concentrated by geography. Just 4 were home to half of last month's foreclosure filings nationwide.
California : 18.4 percent of all foreclosure filings
Florida : 16.4 percent of all foreclosure filings
Illinois :  7.1 percent of all foreclosure filings
Ohio : 6.7 percent of all foreclosure filings
For first-time buyers in the Cleveland, Ohio area; and move-up buyers in Miami, Florida; and real estate investor in places like Chicago, Illinois or Sacramento, California, geographic concentration like this may present opportunities not present in markets such as Boston, Massachusetts where foreclosed homes are more rare.
Of the U.S. properties in some form of foreclosure, RealtyTrac estimates that 15% with a market value of between $200,000 and $300,000; and up to 21% with a value which exceeds $300,000.
Click here for purchase mortgage rates (Oct 23rd, 2017).
Buying Bank-Owned : How Much Can You Afford?
Nationwide, foreclosed homes remain popular with buyers -- mostly because of they can be "cheap" as compared to comparable, non-distressed homes. Recent data shows foreclosures selling at a 17% discount.
However, buying a foreclosed home can be different from buying a "regular" home. Contract negotiations are often different because you're working with a bank, and  closings may not be immediate. Therefore, start strong.
Get a foreclosure pre-approval letter and make sure to know how much home you can afford. Make your foreclosure purchase as smooth as it can possibly be. get started with a mortgage rate quote to help build your household budget.
Click here for purchase mortgage rates (Oct 23rd, 2017).
The information contained on The Mortgage Reports website is for informational purposes only and is not an advertisement for products offered by Full Beaker. The views and opinions expressed herein are those of the author and do not reflect the policy or position of Full Beaker, its officers, parent, or affiliates.
Try the Mortgage Calculator