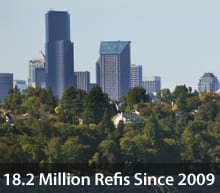 The government's recently-released Housing Scorecard shows home values rising, sales volume strong, and demand for refinances surging.
2012 was a good year for housing. The 2013 housing market is projected to be strong.
Verify your new rate (Aug 20th, 2019)
$1.5 Trillion Home Equity Replaced
The Housing Scorecard is a monthly report, published jointly by the U.S. Department of Housing and Urban Development (HUD) and the U.S. Department of the Treasury. It's meant to highlight housing recovery efforts, including homeowner assistance program offered through the Federal Housing Administration (FHA) and the Home Affordable Modification Program (HAMP).
Data from the Home Affordable Refinance Program (HARP) is included, too.
Among the notes from November's Housing Scorecard :
More than 3.2 million mortgages have been modified since 2009
The 1.1 million households receiving HAMP assistance are saving
Home sales are up, home supplies are down, and mortgage rates are rock-bottom
In addition, the slowly, steadily improving U.S. housing recovered another $387 billion in home equity in November 2012, raising the 3-year total to $1.5 trillion in home equity replaced.
With more home equity, home sellers net more from a sale; and refinancing households with existing jumbo mortgages, Alt-A mortgages or sub-prime loans find it easier to get refinanced.
Verify your new rate (Aug 20th, 2019)
18.2 Million Refinances Since HARP Launched
The November Housing Scorecard also showed that, since April 2009, there have been more than 18.2 million household refinances nationwide.  The refinances have come in all flavors.
Some of the refinances have been of the "traditional" variety — rate-and-term refinances; cash-out refinances; and cash-in refinances. Others have been association for special loan programs.
HARP refinances, for example — both with the original Home Affordable Refinance Program and with the newly-rewritten HARP 2 program — account for roughly 1.7 million refinances since April 2009. The HARP program is available to homeowners whom are on-time with payments and whose existing loans are backed by Fannie Mae or Freddie Mac, pre-dating June 2009.
FHA Streamline Refinances have been a big part of the refinance market, too.
Via an FHA Streamline Refinance, homeowners with existing FHA-insured home loans can refinance without appraisal and to rates which often beat those for HARP and other conforming loans.
Furthermore, there have been an abundance of VA IRRRL mortgages closed since 2009. The VA IRRRL is sometimes called the VA Streamline Refinance. It's similar to the FHA Streamline Refinance in that appraisals are not required but, with the VA Streamline Refinance, mortgage insurance is never required.
Lastly, falling rates in the jumbo mortgage market have created a mini refinance boom among homeowners with loans in excess of conforming loan limits.
Verify your new rate (Aug 20th, 2019)
Housing Scorecard Points To Strong 2013
The government's November Housing Scorecard suggests that the housing market bottomed in late-2011 and that 2012 has been a year of foundation-building. 2013 is expected to be a year of expansion.
As home prices gain and mortgage rates remain low, housing and homeowners have much to gain. If you've been thinking of a refinance, though, consider acting soon. As the broader U.S. economy improves, mortgage rates are expected to rise. FHA mortgage insurance rates are expected to climb as well.
Get started with your refinance today.
Verify your new rate (Aug 20th, 2019)