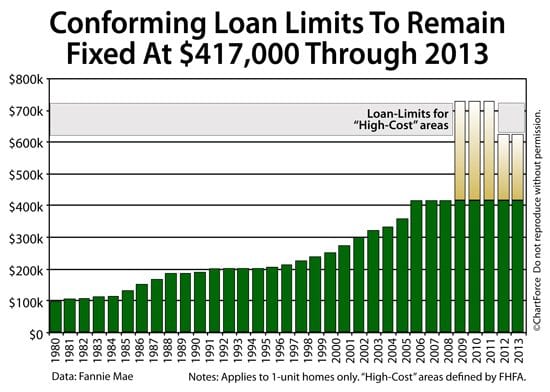 The Federal Housing Finance Agency (FHFA) recently announced the conforming mortgage loan limits for 2013 for mortgages acquired by Freddie Mac and Fannie Mae.
For purchase loans in 2013, loan limits are unchanged from 2012. For refinance loans, loan limits were raised for certain refinancing homeowners.
Click here to see your local jumbo loan limit.
What Is A "Conforming Loan Limit"?
Fannie Mae and Freddie Mac are securitizers of mortgages; buying home loans in bundles from originating lenders and repackaging them as investment-grade debt. The two entities won't just buying anything, however. They will only buy loans which "conform" to printed mortgage guidelines.
A "conforming mortgage" is one that, literally, conforms to the mortgage guidelines as set forth by Fannie Mae or Freddie Mac.
Among the loan traits governed by Fannie Mae and Freddie Mac is loan size. The groups will not purchase loans for which the value exceeds some number. This number is known as the conforming loan limit and it varies by property-type and metropolitan statistical area (MSA).
Conforming loan limits are sometimes called "jumbo loan limits", too. This is because "jumbo mortgage" is the name for a conventional mortgage for which the loan size exceeds Fannie Mae's and Freddie Mac's maximum limits.
Click here to see your local jumbo loan limit.
Conforming Loan Limits : Starting At $417,000
For 2013, there will be no change in the conforming loan limits from 2012. $417,000 is the starting point for all U.S. counties. Then, based on location and property-type, limits increase.
For most areas, the 2013 loan limits are :
1-unit home : $417,000
2-unit home : $533,850
3-unit home : $645,300
4-unit home : $801,950
Homes with more than 4 units do not meet Fannie Mae and Freddie Mac mortgage guidelines.
Click here to see your local jumbo loan limit.
Some MSAs, however, get access to higher loan limits. Known as "high-cost" areas, local median home prices exceed the national average which renders the $417,000 loan limit too small to be effective with even a 20% downpayment.
For example, mortgaging home with a purchase price of $525,000 and a 20% down payment would require a $420,000 home loan — too big for conforming — and there are many U.S. counties in which the median purchase price exceeds this figure.
To help these homeowners get access to low mortgage rates, Fannie Mae and Freddie Mac offer "high-balance conforming mortgages". High-balance conforming mortgages are in every way identical to a standard conforming mortgage except that they allow for larger loan sizes.
High-cost areas include Bethesda and Potomac, Maryland; Alexandria and Loudoun County, Virginia; and most of California. Conforming loan limits in high-cost areas allow the following maximum loan sizes :
1-unit home : $625,500
2-unit home : $800,775
3-unit home : $967,750
4-unit home : $1,202,925
Furthermore, for homeowners in Alaska, Hawaii, Guam, and the U.S. Virgin Islands, the jumbo loan limits are even higher, allowing up $938,250 for 1-unit homes.