Mortgage Rates : All-Time Lows Into Thanksgiving Weekend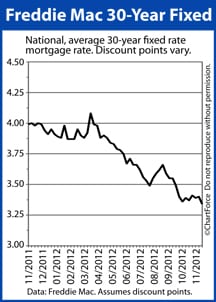 Mortgage-backed securities (MBS) had a mixed week last week.
During the holiday-shortened week, the Fannie Mae (FNMA) 3.0% 30-year coupon finished -6/32, lifting conforming rates higher nationwide, a class of loans which includes HARP 2 mortgages and jumbo-conforming product. 
FHA mortgage rates, by contrast, improved.
The Ginnie Mae (GNMA) 3.0% 30-year coupon finished +1/32 last week, edging FHA Streamline Refinance and VA IRRRL mortgage rates lower.
Jumbo mortgage rates worsened last week.
Get today's mortgage rates (Jan 20th, 2018).
Mortgage Markets Uncertain, Tightly Wound
There was little economic data on which for mortgage bonds to trade last week, and the data which was released was reviewed with respect to Hurricane Sandy.
For example, the Initial Jobless Claims spiked last week, an event which would normally lead mortgage rates sharply lower. That didn't happen, however. Wall Street looked past the data, knowing that the surge was, in part, the result of delayed filings from the week prior. Rates idled.
We may see similar nonchalance between now and the start of 2013.
In causing an estimated $50 billion in damage, Hurricane Sandy's aftermath will reverberate through the holiday shopping season. Weak consumer spending reports may not be as carefully considered by investors, therefore; slow jobs growth may be given a short-term pass; falling housing starts and home sales may be attributed away.
Get today's mortgage rates (Jan 20th, 2018).
For mortgage rate shoppers, it may make for an uncomfortable few months. Mortgage rates are expected to remain low, but volatile. Uncertainty in Europe won't help the situation, either.
Last week, new data showed that the European economy has slowed overall, affecting even Germany and France -- the region's strongest nations. Meanwhile, debt troubles continue to plague Greece and, to a lesser extent Spain, with Eurozone leaders divided over appropriate action.
Since 2010, Europe's shrinking economies and lingering sovereign debt concerns have been a boon for U.S. mortgage rates. Uncertainty abroad drives safe haven buying which benefits mortgage-backed bonds.
Mortgage rates are down 160 basis points over the same span of time.
Get today's mortgage rates (Jan 20th, 2018).
Another Holiday Week For Mortgage Rates
Mortgage rates should remain volatile this week.
Trading volume will be light with Thanksgiving and Black Friday on the calendar, and when trading volume's light, mortgage rates get jumpy. It won't be abnormal if daily mortgage rates move 0.25 percentage points or more this week. 
Despite the holiday, the week's economic calendar is semi-full :
Monday : Existing Home Sales from NAR; Housing Market Index from NAHB
Tuesday : Housing Starts from the Census Bureau; Fed Chairman Ben Bernanke speaks
Wednesday : Jobless Claims from the Department of Labor
Thursday : Markets closed for Thanksgiving
Friday : None; Markets closed at 2:00 PM ET
Last week, Freddie Mac put the average, conforming 30-year fixed rate mortgage rate at 3.34% nationwide and the average, conforming 15-year fixed rate mortgage rate at 2.65% -- both all-time lows. This week, mortgage rates may climb from that trough.
If you're floating a mortgage rate or still shopping for one, this week may be a good time to lock something in. Mortgage rates remain under 4% but have little room to fall. Rates could start rising in as little as a week. 
Get today's mortgage rates (Jan 20th, 2018).
The information contained on The Mortgage Reports website is for informational purposes only and is not an advertisement for products offered by Full Beaker. The views and opinions expressed herein are those of the author and do not reflect the policy or position of Full Beaker, its officers, parent, or affiliates.
Try the Mortgage Calculator