VA Streamline Refinance : "Am I Eligible For The IRRRL Program?"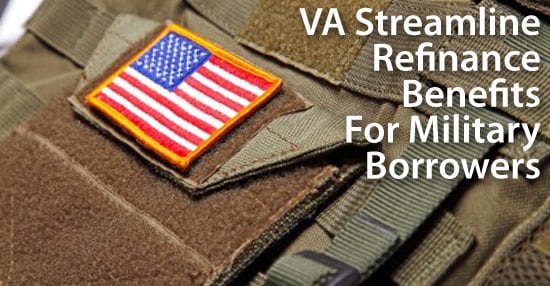 Homeowners often recount how refinancing a home is decidedly simpler than trying to finance one for a purchase. No borrower "type" says this more often, though, than a military borrower with a VA-guaranteed home loan.
This is because VA borrowers don't use the same refinance programs meant for the general U.S. population. Rather, VA borrowers get access to a special program called the Interest Rate Reduction Refinancing Loan (IRRRL).
Also called the VA Streamline Refinance, the IRRRL mortgage give military borrowers the ability to refinance to today's low rates with a fraction of the loan paperwork required of nearly everyone else.
Click to get today's VA mortgage rates (May 27th, 2017).
VA Streamline Refinance : No Verifications
For military borrowers, VA loans appeal as a zero-downpayment purchase product, but also as one which requires no monthly mortgage insurance. Because VA loans don't require mortgage insurance payment, the cost of carrying a VA loan is much smaller on a monthly basis as compared to, say, the FHA's 3.5% downpayment program.
However, the benefits of the VA home loan go beyond its 0% down option -- VA home loan borrowers have access to one of the simplest, fastest refinance programs available -- the VA Streamline Refinance bypasses most standard underwriting processes.
As examples, homeowners applying for an IRRRL are not required to submit bank statements to underwriting, nor are they required to submit W-2s, paystubs or tax returns.
Appraisals are waived for VA Streamline Refinances, too.
"Am I Eligible For The VA Streamline Refinance?"
The VA Streamline Refinance standards of qualification are basic.
First, and most importantly, the homeowner must have an existing VA-guaranteed mortgage loan. Homeowners with FHA-insured home loans, for example, are not IRRRL-eligible. Neither are homeowners with Fannie Mae- or Freddie Mac-backed mortgages.
VA Streamline Refinances are for homeowners with VA loans only. Also :
You must show that you currently use, or once used, the home as a primary residence
You must be current on your mortgage payments
You must not have more than one 30-day late payment within the past year
Furthermore, via this VA-to-VA loan, you may not receive "cash-in-hand". You may, however, add loan fees and closing costs to your loan balance such that you don't bring cash to your closing.
Lastly, the VA allows refinancing homeowners to add up to $6,000 in energy efficiency improvements into their respective IRRRL loans with the caveat that energy efficiency upgrades must be completed within 90 days of funding.
Click to get today's VA mortgage rates (May 27th, 2017).
See Today's VA Streamline Refinance Mortgage Rates
With VA Streamline Refinance mortgage rates near all-time lows, it's no wonder that VA loan volume is at record levels.
Use the program to lower your mortgage rate; to convert your ARM into a fixed-rate mortgage; to shorten your term from 30 years to 15 years; or, to finance energy efficient home repairs. The IRRRL is flexible, fast, and simple to underwrite. Get started with a rate quote.
Click to get today's VA mortgage rates (May 27th, 2017).
The information contained on The Mortgage Reports website is for informational purposes only and is not an advertisement for products offered by Full Beaker. The views and opinions expressed herein are those of the author and do not reflect the policy or position of Full Beaker, its officers, parent, or affiliates.
Try the Mortgage Calculator