HARP 2.0 : No Income Needed With "Money In The Bank"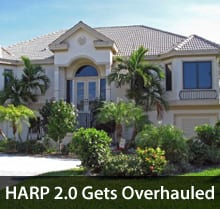 Editor's Note: HARP expired 12/31/18. However, Fannie Mae and Freddie Mac recently rolled out new High LTV refinances. Read about them here. This post will remain active for archival purposes. 
In an effort to help HARP 2.0 reach more U.S. homeowners, Fannie Mae and Freddie Mac are changing their respective HARP mortgage guidelines.
Effective September 14, 2012, qualifying for HARP become a whole lot simpler.
Click here for today's HARP mortgage rates (Jul 8th, 2020).
Explaining The HARP Program
HARP is an acronym which stands for Home Affordable Refinance Program. It was first launched in 2009 as part of the Federal Home Finance Agency's plan to help underwater homeowners.
Via HARP, homeowners whose homes have lost value can refinance — regardless of their respective loan-to-values. No matter how much equity your home has lost, so long as you meet HARP's basic underwriting requirements, you remain eligible to refinance to today's low rates.
HARP's underwriting hurdles are low, too :
Your current loan must be backed by Fannie Mae or Freddie Mac, and;
Your current loan must have a note date of no later than May 31, 2009, and;
Your current loan must not have been on the HARP program
If you can meet the above criteria and have paid your mortgage on-time for the last 6 months, and for 11 of the last 12 months, you're in and underwriting can begin.
Furthermore, because HARP allows for unlimited loan-to-value and very few verifications, closings can come quickly. There are no home appraisals and paperwork is kept to a minimum. Even loans with existing private mortgage insurance (PMI) find HARP approvals streamlined — HARP loans routinely close within 30 days.
For all of its ease, however, to-date, HARP's official rulebook had excluded a large group of homeowners whom the FHFA believed should otherwise be eligible.
Starting today, homeowners whose debt-to-income (DTI) fail to meet HARP standards can qualify with "money in the bank" instead.
Click here for today's HARP mortgage rates (Jul 8th, 2020).
HARP : Forget DTI — Qualify On "Money In The Bank"
Fannie Mae and Freddie Mac are changing the way a HARP mortgage applicant's income is evaluated.
Previously, lenders underwriting a HARP mortgage were required to show that at least one borrower had a verifiable source of income either via a verification of employment (VOE), self-employment, or a verification of source of non-employment income.
In plain terms, these guidelines meant that a HARP applicant was required to show that some income exists to offset monthly debts — not necessarily that enough income exists to offset monthly debts. It's a "waiver of DTI", really. The government doesn't care what your income looks like. If you've been paying your mortgage as agreed for the past 6 months and for eleven of the last 12, it's clear that you're a "good risk".
Lenders disagreed, however, and many added investor overlays to the HARP guidelines so that applicants would need a 45% DTI or something similar to gain approval. As a result, many HARP loans were turned down for "high DTI".
Going forward, that's won't happen. HARP now permits alternative sources of income.
Click here for today's HARP mortgage rates (Jul 8th, 2020).
Effective immediately, Fannie Mae and Freddie Mac no longer require verification of income from at least one HARP borrower. In lieu of such verification, HARP applicants can provide proof that at least 12 months of mortgage payments exist in reserves for the subject property, where "mortgage payments" is a sum that includes principal + interest payment; monthly real estate tax payment; monthly homeowner insurances payment; and, any requisite association or community dues.
Borrowers can document 12 months of PITI using any of the following asset statements :
Checking and savings account, or money market mutual funds
Liquid investments in bonds, stocks and/or mutual funds
Vested monies in a retirement account
Furthermore, these conditions are for the subject property only. Borrowers are not required to show that reserves exist for non-subject properties.
Click here for today's HARP mortgage rates (Jul 8th, 2020).
Fewer HARP Documentation Requirements
In addition to allowing for alternative income verification, HARP mortgage guidelines have been updated to require less paperwork from the borrower, and less scrutiny by the lender.
Many standard procedures of underwriting still apply, including specifying the maximum allowable age for an income or asset document, and requiring that borrowers provide standard documentation types. Some, however, have been changed.
For example, HARP lenders are no longer required to verify large deposits that appear on an applicant's bank or other asset statement; nor are they required to verify the liquidation of an asset if that asset is required to pay for closing costs.
Even more reaching is that HARP guidelines no longer require to assess a borrower's receipt of income nor the likelihood that the income will continue for at least 3 years. This means that a homeowner who has received child support or alimony in uneven, or even undocumented, amounts can still qualify to refinance an underwater mortgage via HARP.
Previously, income of this type was disallowed.
Click here for today's HARP mortgage rates (Jul 8th, 2020).
HARP : Expanding To Reach More Households
The HARP mortgage program has helped more than 1 million U.S. households and, as mortgage guidelines loosed, it's expected to help several million more.
If you've been turned down for HARP in the past, apply for HARP again. The guidelines are newer, simpler, and designed to approve more loans. Plus, mortgage rates are great. See what HARP can do for you.