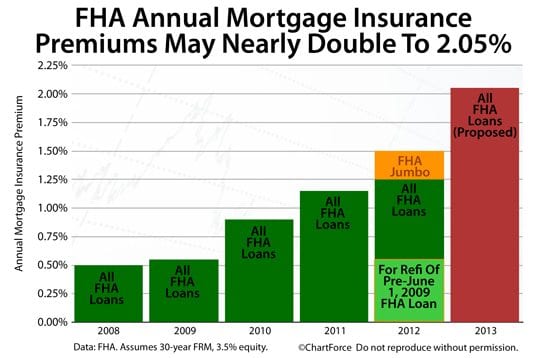 The FHA may be raising its mortgage insurance premiums yet again. The Federal Housing Administration Fiscal Solvency Act of 2012 has overwhelmingly passed the House and will make its way to the Senate.
Among other powers, the bill grants the FHA authority to raises its mortgage insurance premiums to as high as 2.05% annually — nearly twice the 1.20% rate most FHA-insured homeowners pay today.
Mortgage rates may be dropping, but they're not dropping as fast as FHA mortgage insurance premiums may rise.
.
FHA : Self-Funded And Battling Insolvency
The FHA was formed by congressional decree in 1934 as an aid the ailing housing market. At the time, most mortgage terms were onerous for home buyers. Mortgage approvals typically required a downpayment of 50 percent and loan terms were balloons of 3 or 5 years.
Via the FHA, better terms became available. In exchange for approving "good" loans, the FHA offered mortgage default insurance to the nation's banks. So long as a loan was underwritten to the FHA's standards, the bank would be insured against its loss.
This move was a boon to home buyers and the U.S. economy. However, the FHA went one step further. It made sure its program was good to U.S. taxpayers, too. Rather than take funding from Congress for its operation, the FHA devised a mortgage insurance system that would help it be self-funding.
Even today, nearly 80 years later, the FHA is the only government agency that operates entirely from its own generated income. The FHA mortgage insurance system makes this possible.
.
Unfortunately for today's home buyer and FHA-insured households, though, the FHA's mortgage insurance rates did not rise at the same rate at which FHA loans defaulted between 2007-2011. This has lowered the FHA's "reserves" to record low levels.
The FHA is expected to keep $2 in reserves for every $100 insured. As of November 2011, it held just 24 cents per $100 insured.
To help maintain its $2 reserves level, the FHA has raised its mortgage insurance premiums 4 times in 4 years. Now, the gates are opening for the FHA to raise its premiums yet again.
The House has approved a bill that gives the FHA permission to raises its annual mortgage insurance rates to 2.05%.
.
Annual Mortgage Insurance Premiums May Spike
The Federal Housing Administration Fiscal Solvency Act of 2012 sailed through the House of Representatives with a 98% vote. It's easy to understand why, too. The FHA has been vital to U.S. housing markets — its insolvency could slow, or cripple, the nation's economic rebound.
In May 2012, the FHA insured nearly 1 in 5 purchase home loans.
The FHA Fiscal Solvency Act seeks to give the FHA authority to require FHA lenders to repay all losses that resulted from fraud; and to establish rules by which "bad lenders" can be prohibited from originating FHA loans
It also proposes two changes to how FHA mortgage insurance premiums are paid :
Establish a "floor" for annual mortgage insurance premiums of 0.55%
Grant the FHA the ability to charge up to 2.05% in annual mortgage insurance premiums
The bill makes no mention of whether the FHA will retain the right to change upfront mortgage insurance premiums, which are currently 1.75%.
.
Recent FHA Mortgage Insurance Premium Changes
The FHA is no stranger to changing MIP rates. Since 2008, the agency has changed its annual mortgage insurance premiums four times.
In 2008, the FHA charged 0.50% in annual MIP to home buyers using 30-year fixed rate mortgages and a 3.5% downpayment. Since then, those rates have climbed.
In 2009, the FHA charged 0.55 percent
In 2010, the FHA charged 0.90 percent
In 2011, the FHA charged 1.10 percent
In 2012, the FHA charged 1.25 percent (or 1.50 percent in high-cost areas)
For 2013, the FHA may get the ability to charge 2.05 percent for annual mortgage insurance premiums. This would be the highest annual MIP in FHA history.
In addition, because the Federal Housing Administration Fiscal Solvency Act of 2012 establishes a minimum annual MIP of 0.55%, homeowners currently exempted from FHA mortgage insurance — those using 15-year FHA mortgages with 78% loan-to-value or lower — would no longer be exempted.
.
FHA Mortgage Rates Remain Low
When FHA mortgage insurance premiums, they do a little bit of good and a little bit of bad. They help to keep the FHA self-funded and solvent — a key cog in the nation's housing recovery. That's the good.
The bad is that they render FHA home loans a little less affordable for buyers nationwide, and applicants of the program. Mortgage rates keep falling but, with FHA MIP rate climbing, the "true cost" of the FHA loan is rising.
If you're looking at an FHA mortgage, once your loan is locked, so is your mortgage insurance premium rate for as long as you're in the mortgage. Existing FHA-backed homeowners won't pay the new, higher premiums should they come to be.
FHA mortgage rates remain lower than for a comparable conforming loan. See how today's rate fit your budget.
.