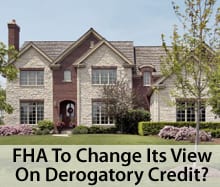 Update : The FHA waived its mandatory waiting periods in August 2013. Read more about the program here.
Between 2006-2011, the FHA's share of the purchase mortgage market increased 5-fold.
For 2012 and beyond, that share should increase.
The FHA is contemplating new, looser mortgage guidelines that would waive its standard "waiting period" after a significant derogatory credit event. Home buyers with recent bankruptcy, foreclosure or short sale may be cleared to buy homes immediately.
FHA : Loans For Borrowers With 500 FICO Or Better
The Federal Housing Administration (FHA) is not a mortgage lender; the FHA does not make loans. Rather, it insures loans for banks that do.
The FHA publishes a compendium of rules known as "FHA mortgage guidelines" and so long as a mortgage meets of the rules' minimum standards, the FHA will insure the loan-issuing bank against default.
A better name for an FHA mortgage, then, might be FHA-insured mortgage; it's a more accurate reflection of the relationship between the FHA and mortgage lender nationwide.
For purchase transactions, FHA mortgage guidelines are fairly straight-forward :
Monthly debt should not exceed 45% of household income, without excellent cause
Downpayment must be 3.5% of purchase price or appraised value, whichever is lower
Credit scores of 580 or higher get "maximum financing"; Scores under 500 disallowed
In addition, mortgage loan sizes may not exceed local FHA loan limits.
In most areas nationwide, including Palo Alto County, Iowa; Price George's County, Maryland; and Miami County, Ohio, for example, local FHA loan limits are $271,050.
In other "high-cost" areas including Los Angeles County, California; Monroe County, Florida; and Eagle County, Colorado, the local FHA loan limit is $729,750.
Check your area's FHA loan limit.
FHA Mortgage Guidelines Change With The Economy
Mortgage guidelines are a living, breathing thing. As the housing market moves, and as credit conditions necessitate, mortgage guidelines morph. This is true for FHA mortgage guidelines, just as it is for Fannie Mae- and Freddie Mac-type loans and VA loans, for example.
Guideline changes can be small; increasing maximum debt-to-income ratios from 43% to 45%, for example. Or, they can be big. The is a good example of this. Other times, changes are major — broad enough in scope that they reverberate throughout the housing market as a whole.
The FHA may make a major guideline change soon.
Within 75 days, the FHA is expected to change its purchase mortgage guidelines to allow home buyers with major derogatory credit events in their recent history to skip the traditional "waiting period" for an FHA-backed mortgage.
FHA : "Ignore" Foreclosures, Bankruptcy, Short Sales?
Major derogatory events include foreclosure, short sale, and Chapter 7 bankruptcy. The mandatory waiting period of each of the aforementioned events are as follows, assuming credit has been re-established by the borrower :
Foreclosure : Must wait 3 years before eligible for FHA-insured financing
Short Sale In Default : Must wait 3 years before eligible for FHA-insured financing
Chapter 7 Bankruptcy : Must wait 2 years before eligible for FHA-insured financing
Under the FHA's expected new plan, these waiting periods will be waived in full.
Soon, FHA-insured loans may be available to home buyers who may have been recently foreclosed upon; for whom a short sale was necessary; or for whom a Chapter 7 bankruptcy was discharged yesterday.
The FHA's new waiver on foreclosures, short sales and bankruptcies would add to the national pool of home buyers, creating buy-side demand for housing and upward pressure for home values nationwide.
See Today's FHA Mortgage Rates
The FHA has grown its market share since the start of the decade on a combination of sound mortgage guidelines, low mortgage rates for borrowers, and a minimum downpayment option of just 3.5%. With its expected "waiting period" waiver, the FHA figures to grow its market share, and the pool of potential buyers nationwide.
Home prices have made slow, steady gains since October 2011 and those gains may accelerate with new FHA policies. See how today's FHA mortgage rates can fit in your household budget.