The modern manufactured home: there's a lot to like
What's a "manufactured home?" It's the correct phrase to describe what used to be called a mobile home or trailer.
That last word used to carry a lot of baggage. But to assume that a modern manufactured home is anything like a 1970s trailer would be flat-out wrong. Manufactured homes now are safe, comfortable, spacious and fully featured. And many parks today are as different from the '70s stereotypes of trailer parks as you can imagine.
Small wonder, 22 million Americans lived in manufactured homes in 2017. And 10 percent of all new homes started that year were manufactured ones.
Unfortunately, manufactured homes can be hard to finance. But with personal loans emerging as a viable option, that might be changing.
*TheMortgageReports and/or our partners are currently unable to service the following states – MA, NV
How to finance a manufactured home
Most articles about financing these homes tell you to get a mortgage. And they're right. You'll almost certainly pay less that way — if you and the home qualify.
But, in the real world, that's often not the case. To be eligible for a mortgage, the home must:
Have been built after 1976, have government tags (see image below) confirming it meets safety and quality standards and still be in good condition
Be "real" property — That means it must be officially designated as real estate (rather than as a vehicle or personal property) and be subject to property taxes
Comply with local regulations over its foundations and have had its wheels and axles removed
Not have any additions (including some forms of decking) that stop it complying with lenders' requirements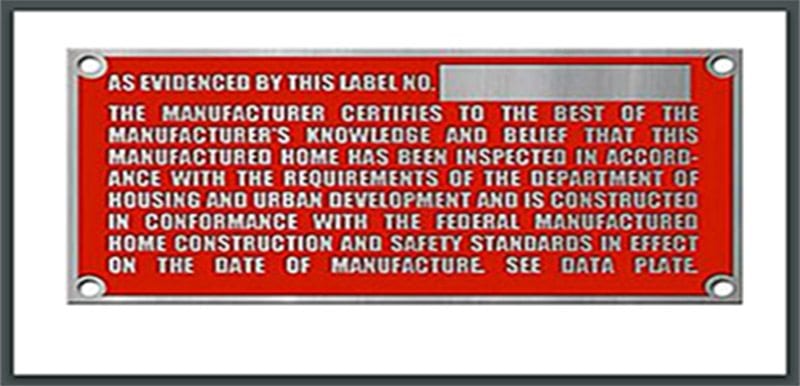 Even if the home meets those requirements, lenders often charge more for small-value loans than bigger ones. So you should explore all your financing options, including a personal loan.
*TheMortgageReports and/or our partners are currently unable to service the following states – MA, NV
Personal loans are a realistic solution
In 2017, 77 percent of newly manufactured homes were designated as personal property rather than real estate. You can't finance personal property with a mortgage.
So the owners of those may have used personal loans if they needed financing.
Personal loans have a big advantage over mortgages: the lender has zero interest in, or control over, the home. That's because you're not "securing the loan" (giving the lender permission to foreclose or repossess if you default) using real property. Instead, you're borrowing the money on the basis of your signature alone. So you can use the proceeds for any purpose you want. The lender doesn't care.
That lender will, however, care very much about getting its money back. It's going to want to make sure you're a good borrower. So it's going to check your credit report and score. And it'll want to verify your income and financial situation to be sure you can afford the monthly payments. You'll also need to be age 18 or over and have a valid social security number.
Other important advantages of personal loans over mortgages are that they're typically cheap or free to set up. No costly title, escrow, or appraisal fees. Lender fees are typically a lot lower.
And that you get the money much sooner: usually within a week and often within 24 hours.
Are personal loan amounts enough to finance a manufactured home?
Many lenders will advance up to $100,000 to good borrowers. And that should be enough to buy you a very pleasant manufactured home. The average sales price for a new one of those was $70,600 (excluding land) in 2018, according to the Manufactured Housing Institute. Of course, that covers wide variations in size and you may be able to get a new, smaller (single-width) one for about $40,000.
Naturally, used homes are significantly less costly. Depending on location, size and condition, it may be possible to pick up a bargain for $10,000.
But, if you need to move the home to a different site, you should expect to pay between $1,000 and $10,000, depending on the distance and what's involved in disconnecting utilities and preparing the home for transportation.
If you want to move one from one end of the country to the other, you could be looking at $25,000. But at that point, you should just find a different manufactured home where you are moving.
What's a typical interest rate for a personal loan?
Personal loan interest rates depend on how good a borrower you are, the variations are huge.
So, if you have a stellar credit score, a good income and plenty of money left over at the end of each month after you've made payments on your other debts, you could get an exceptionally low rate. Indeed, you'll see rates of 4.99 percent or even less advertised.
However, if your credit score is really bad, you'll likely pay much, much more — assuming anyone will approve your application at all. When we checked, we could find only one lender that would think of lending $50,000 to someone with a credit score of 620. And it wanted an interest rate of 21.5 percent. Rates over 27 percent aren't uncommon for those with bad credit.
Related: Solve these 3 problems and improve your credit score fast
As with all forms of borrowing, you'll stand to benefit significantly if you shop around for the lowest rate. In particular, you shouldn't sign up for financing offered by salespeople in the park where you're buying. At least, you shouldn't do so without first checking whether there are better deals available. A few minutes on the internet could save you a bundle.
Why it might make sense to buy a manufactured home with a personal loan
One of the reasons so many people love manufactured homes is that they're so affordable. At a time when it costs $107 a square foot to construct a traditional, site-built home, it costs just $49 to build a manufactured one. And, of course, that 50 percent saving feeds into the subsequent sale market, meaning you can pick up a used manufactured home for a song.
Manufactured home loans are often at lower dollar amounts. And while personal loans generally come with higher rates than do mortgages, you still might save money with manufactured home/personal loan combo than you would with a stick-built home and a mortgage.
Get approved for a personal loan
There's no better time to check your eligibility for a personal loan for a home purchase. The provider network for these loans is getting larger by the day, and more companies are offering more programs.
*TheMortgageReports and/or our partners are currently unable to service the following states – MA, NV