2018 HELOC: a popular choice
National Mortgage Professional magazine recently ran the headline, "Is 2018 the Year of the HELOC?" And, in the story that followed, it answered its own 2018 HELOC question — in the affirmative.
Certainly, it would be unsurprising if that journalist were correct because an increasing number of homeowners have an increasing amount of available equity. That's the sum by which the market value of their homes exceeds their mortgage balances. That means many more of them are eligible to borrow using a HELOC (a Home Equity Line of Credit).
What are the chances?
In fact, the figures are startling. By the third quarter of 2017, 80 percent of all homeowners had enough equity to qualify for a HELOC. That's according to research by Black Knight.
To put that into raw numbers, roughly 42 million mortgagors (homeowners with mortgages) had close to $5.4 trillion in equity that they could use for HELOC borrowing.
People can borrow using a 2018 HELOC. But will they?
Advantages of HELOCs
It looks likely many people will because HELOCs have always been popular for two main reasons. First, they're a very cheap way of borrowing, and secondly, they're highly flexible.
Cheap borrowing
HELOCs are second mortgages. That means they take the second position if the property goes into foreclosure and must be sold. The odds of a second mortgage lender getting fully repaid from the proceeds of a foreclosure sale are not great, and that's why their interest rates are higher than those of fixed first mortgages.
Not that much higher because they're still secured by a home (the home as collateral), the interest rates people typically pay on them are lower than those of nearly any other sort of borrowing. At the time of writing, those with very good or excellent credit could find their rate starting with a 5 (5.XX percent APR).
That's at a time when the average credit card rate is over 16 percent. Indeed, some plastic charges more than 30 percent. HELOCs almost always cost significantly less in interest than personal loans, auto loans, student loans and other types of borrowing that aren't secured by your home.
Flexibility
It can be helpful to think of a HELOC as the love child of a home equity loan and a credit card because it shares characteristics with both. From its home equity loan parent it inherited its ultra-low interest rates and also has its credit card parent's flexibility.
So, as with plastic, you can borrow and repay the money as often as you want up to your credit limit. And you only pay interest on your outstanding balance.
This makes it ideal for those who need access to money occasionally, or who want a lump sum that they can pay back early. They're also popular with self-employed consumers whose incomes vary wildly. They can be good for many other purposes, including paying for a family wedding, consolidating existing debts or buying a big-ticket item, such as a car or dream vacation.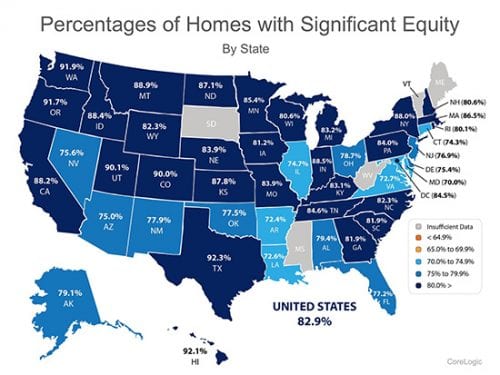 Changes to the 2018 HELOC
A couple of things are changing for HELOCs in 2018:
Tax relief
Up until the end of 2017, tax relief was generally available on interest on borrowing secured on homes. That included HELOCs.
The overhaul of the tax code enacted in December of that year scrapped that relief for many second mortgages. So bear in mind you won't get to deduct the interest on your HELOC. You can still deduct interest on HELOCs and other second mortgages if the proceeds are used for home improvement.
Interest rates
Most HELOCs have always come with adjustable interest rates. In other words, their rates have floated up and down in line with many others.
From the start of 2009 through to the end of 2015, nobody much cared. That's because the Federal Funds Rate, to which most others are tied, slumped to close to zero. It stayed that way for roughly seven years but they've started to creep up over the last couple of years. The Federal Reserve says it intends to maintain that upward momentum.
Nobody knows for sure how far or how fast rates will rise. But you need to build this risk factor into your thinking.
Choosing the right home equity borrowing
If you need to borrow money and wish to secure your loan with your home's equity, you have three main choices:
HELOC
Home equity loan (HELOAN)
Cash-out refinance
However, if you plan to spend the money you raise on home improvements, you may have different and better choices.
Best home improvement loan: how to find it and pay less for it
The same ...
All your home equity choices share the same two fantastically appealing advantages:
You can spread payments over a long period
They're typically very much cheaper than any unsecured alternative
But in other ways, they can have very different characteristics.
... But different
All home equity products involve you putting your home on the line because you could face foreclosure if you fall behind on your monthly payments.
So it's really important you take time to investigate and study your options because each of those options comes with its own pros and cons.
Chances are, one option will suit your personal needs better than the others. For example, some value the flexibility of a HELOC, but others prefer the certainty of a fixed-rate HELOAN or cash-out refinance.
Research and understand
So be sure to explore and understand the differences between each type of borrowing.
HELOC or fixed home equity loan? What's best for you?
If you need more advice at any point, use The Mortgage Reports' Ask an expert forum. Just post a question and an expert will soon get back to you.
What are today's mortgage rates?
Today's mortgage rates for both first and second mortgages are higher than they've been in the past few months. That's because the economy is heating up, and that creates concern about inflation and causes bond investors to demand higher interest rates. However, mortgage rates are still at the very low end of their historical range, and highly-affordable.