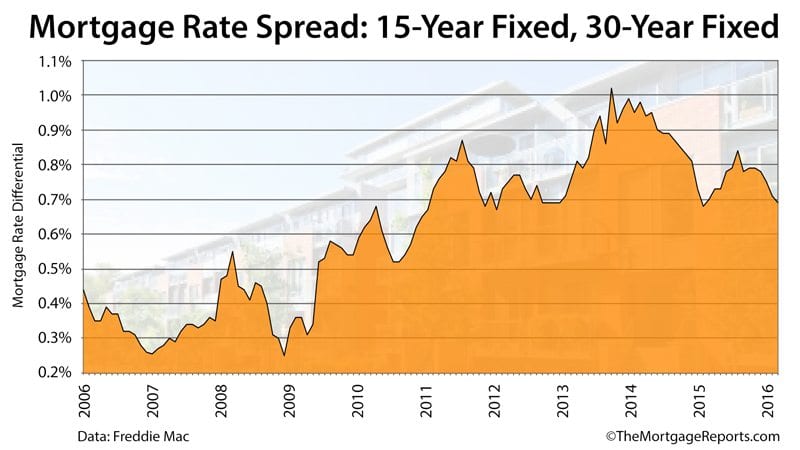 15-Year Mortgage Rates Drop
just keep on falling — for 15-year mortgages and otherwise.
According to Freddie Mac, mortgage rates are near their lowest of all-time, which is helping today's active home buyers to extend their purchasing power; and, which has put millions of U.S. homeowners "in the money" to do a .
Meanwhile, for homeowners who can manage the payments, it's the 15-year fixed-rate mortgage which has emerged as the best "deal" in home loans.
15-year mortgage rates currently beat 30-year rates by 70 basis points (0.70%), which generates a mortgage interest cost savings of sixty-three percent over the life of a loan.
If you're interested in paying less to pay off your home, the 15-year mortgage is your best way to go.
Verify your new rate
The 15-Year Mortgage: A Long-Term Saver's Dream
When you use a 15-year mortgage to finance your home, despite the higher monthly mortgage payment, you save big money as compared to financing your home with a comparable 20-year or 30-year fixed-rate loans.
There are two reasons why the 15-year fixed-rate loan is meant for savers.
One, mortgage rates for a 15-year fixed-rate mortgage are almost always lower than the rates on longer-term loans, including 20-year and 30-year fixed-rate products.
Because interest rates are lower with the 15-year loan, less mortgage interest is accrued by the homeowner each month, so less money is repaid to the bank.
Two, after 15 years, there's no more mortgage to repay; the loan is paid in full. This is five years shorter than loans with a 20-year terms and half the number of years as compared to a 30-year loan.
The combination of lower rates and a shorter term means that, over the life of a loan, homeowners using a 15-year fixed rate mortgage will save multiple hundreds of thousands of dollars.
Remember: a 15-year fixed rate mortgage isn't "stretched out" like a 30-year one. With a 15-year fixed rate mortgage, loan payments are heavy on principal, light on interest, and finished in 180 months.
The 30-year fixed rate mortgage is not built like like this.
As a comparison, at today's rates :
15-year fixed rate mortgage : First payment is 66% principal and 34% interest
30-year fixed rate mortgage : First payment is 35% principal and 65% interest
The 15-year fixed rate aggressively pays down principal. The 30-year does not.
With a 30-year fixed rate mortgage, mortgage payments don't include the same ratio of principal-to-interest until Year 18.
For homeowners using the $625,500 mortgage loan limit in places like Alexandria, Virginia; San Diego, California; or New York, New York, at today's mortgage rates, the 15-year fixed rate mortgage reduces long-term interest costs by $253,000.
That's enough to fund a college education; to fill a retirement account; or, to buy a vacation home.
Verify your new rate
Homeowners Are Switching To 15-Year Loans
With mortgage rates low, homeowners are opting for 15-year mortgage rates over thirty-year ones.
More than 30% of refinancing homeowners switched into a 15-year fixed-rate mortgage from a 30-year fixed last quarter — a 5-fold increase from the start of the decade.
And, with mortgage rates low, many refinancing households have made the switch with only a negligible increase to their monthly payment.
Mortgage rates have been falling to new lows all year.
Conventional 15-year mortgage rates now average near 2.75 percent for borrowers willing to pay 0.5 discount points at closing, where 0.5 discount points costs one-half of one percent of your loan size.
A homeowner in Orange County, California, therefore, borrowing at the local conforming loan limit of $625,500 could expect to pay discount points in the amount of $3,128.
Mortgage rates for FHA loans and VA loans are even lower.
Recent thirty-year fixed rate data from mortgage-origination software provider Ellie Mae shows rates averaging approximately 15 basis points (0.15%) less than rates for a comparable conventional loan; and VA mortgage rates averaging approximately 35 basis points (0.35%) less.
Many banks now quote 15-year rates and APR in the mid-2s; and, discount points are rarely required.
If you're planning to purchase or refinance a home, be sure to compare all available mortgage rates — including rates for the 15-year fixed.
Verify your new rate
Considerations Before Choosing A 15-Year Mortgage
The 15-year mortgage can provide enormous long-term savings to a homeowner as compared to other, longer-term loan products. However, the program won't be for everyone.
Most notably, the monthly payments on a 15-year mortgage are considerably higher than the payments on a comparable 30-year loan.
At today's rates, the payment on a 15-year loan is 50% higher than a 30-year.
An increase such as this can be a budget-breaker to some households; and, it can be harder to qualify for a mortgage with higher payments because of put forth by a lender.
Therefore, before selecting a 15-year mortgage to finance your next home, make sure the monthly payment is a manageable one; and, be sure to check with your lender.
This mortgage calculator can help you compare payments.
If you find 15-year fixed-rate mortgage payment to be too high for your comfort, but you still want the benefits of having a 15-year loan, there's another path you can take.
As a homeowner, there's no rule against refinancing and, with mortgage rates low, it's an excellent time to consider any low-rate product — not just the 15-year fixed.
To "copy" the benefits of a 15-year loan, do the following:
Refinance to a 30-year fixed rate mortgage
Ask for the lowest rate possible (and consider )
Send an extra 50% to your lender monthly, to mimic the 15-year payment
Using this system, you'll get the benefits of today's low rates, and you'll shorten your loan term from 30 years to 15 years with all of the extra payments you've sent.
You'll also remain in control of your repayment schedule. If there's ever a month you don't want to send extra monies to the bank, you don't have to.
What you send in is entirely up to you.
Get Today's Mortgage Rates
Current mortgage rates are at their lowest levels in more than a year. It's an excellent time to consider a refinance — especially if you're considering the 15-year fixed-rate mortgage.
Get today's live mortgage rates now. Your social security number is not required to get started, and all quotes come with access to your live mortgage credit scores.
Time to make a move? Let us find the right mortgage for you