VA: Gulf War Veterans Most Likely To Use VA Home Loan Program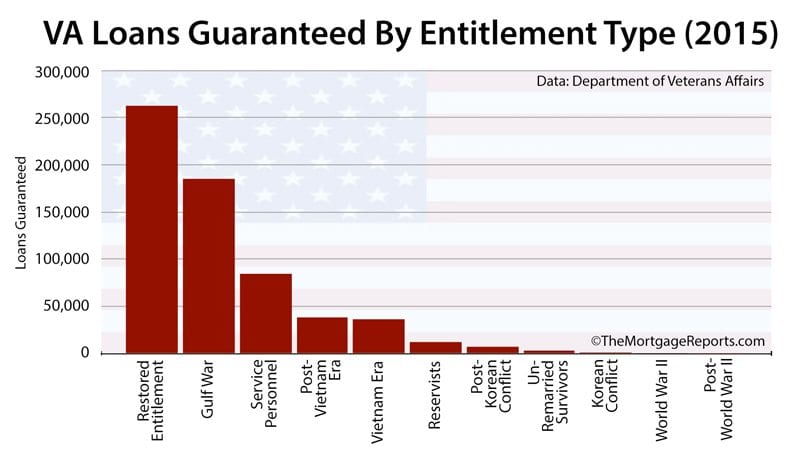 VA Mortgages Surge Nationwide
Mortgage rates for VA home loans have remained stubbornly low since last year -- and veterans with VA mortgage eligibility took notice.
VA loan volume has surged, led by a wave of home purchases and a rise in VA-to-VA refinance loans.
VA loans for home purchases rose 19% in 2015 from the year prior, and closed VA Streamline Refinance loans more than doubled.
Loose underwriting standards and the ability to purchase a home with no money down are among the chief reasons why VA loan are so popular. However, never having to pay mortgage insurance is another.
VA mortgage loans are the only government-backed product with no mortgage insurance requirement, regardless of whether you make a large down payment or a small one; and VA mortgage rates are often the lowest of all common loan types.
As a result, payments on VA loans are nearly always below payments for comparable FHA, conventional, and USDA mortgages.
The VA program is a great "deal" for a home buyer or refinancing household. If you're VA loan-eligible, make sure to get a quote for comparison.
Click to see your VA loan eligibility (Jan 16th, 2018)
About The G.I. Bill And VA Home Loans
The VA home loan program is more than seven decades old.
In 1944, the government passed the G.I. Bill, a law which provided a wide range of benefits to U.S. soldiers returning from World War II.
One of the G.I. Bill programs -- the VA Loan Guaranty -- awarded veterans with at least 90 days of active duty during the war years access to low-cost mortgages at favorable terms.
The program called for relaxed underwriting standards with a common-sense approach to help more veterans become U.S. homeowners.
By all accounts, the program has been a success.
In the 70+ years since its inception, military borrowers have used the VA Loan Guaranty program more than 21 million times. The program allows up to 100% loan-to-value (LTV) for purchase loans; and, gives access to a top-notch streamline refinance program which makes getting access to lower rates simple.
In 2015, more than $153 billion worth of VA loans were funded nationwide, more than half of which was used to fund the purchase of a new home.
VA-approved lenders operate in all 50 states and in the District of Columbia.
Click to see your VA loan eligibility (Jan 16th, 2018)
VA Loans: 5 Mortgages Programs Available
The Department of Veterans Affairs administers the VA Loan Guaranty program.
The Department of Veterans Affairs doesn't make VA loans directly, however. VA loans are made by VA-approved lenders -- the VA simply guarantees a portion of the loan for the bank, which protects the lender against loss.
Because of the VA guaranty, VA-approved lenders are able to provide military borrowers with more favorable loan terms as compared to a non-guaranteed loan (e.g.; conventional mortgage, jumbo loan).
The VA Loan Guaranty program makes available 5 different programs:
The purchase loan, for the purchase of a new home
Cash Out Refinance loans, for taking equity from your home
Interest Rate Reduction Refinance Loans (IRRRL), for lowering your rate
Native American Direct Loan (NADL) program, for purchase, construction or improvement of homes
Adapted Housing Grants, for veterans with permanent and total service-connected disability
Each program can be used for the purchase of a single-family or multi-family home, including for housing units in condominium buildings and co-ops.
VA refinance loans can also be used for home renovation and energy-efficiency improvements.
Click to see your VA loan eligibility (Jan 16th, 2018)
VA Loans Most Common Among Gulf War Vets
The VA home loan benefits program was established in 1944, to ease the transition of World War II soldiers back into U.S. communities nationwide.
Today, the program is used by veterans of all types.
For the Fiscal Year 2015, the Department of Veterans Affairs reports more than 631,000 home loan guarantees made, which marks a forty-four percent increase from the year prior.
Restored Entitlement loans -- loans made to "repeat users" of the VA program -- outnumbered all other entitlement types.
This is because "Restored Entitlement" describes when VA loan has been paid in full via home sale; or when the homeowner agrees to assume the outstanding VA loan balance so that a new loan can be made via the G.I. Bill.
The largest uniform class, however, was Gulf War veterans, which comprised 29% of all VA loans guaranteed in FY 2015. Gulf War veterans includes military borrowers with service dates from August 2, 1990 to the present.
562 loans were made for World War II veterans last year.
Click to see your VA loan eligibility (Jan 16th, 2018)
Refinancing Your VA Loan Via IRRRL
The G.I. Bill and its Home Loan Guaranty program gives military home buyers access to lower mortgage rates than the general population; and, with easier mortgage approval standards, too.
Nearly three-quarters of all VA loan applications got "closed" last year, which is an extremely high figure. Among the reasons why so many VA loans close is because of the simplicity of the Interest Rate Reduction Refinance Loan (IRRRL).
More commonly known as the VA Streamline Refinance, the IRRRL (pronounced "earl") waives the traditional verifications and documentation required of a home loan refinance.
The IRRRL requires no income documentation, no check of the credit score, and no verification of employment. You can be unemployed and get approved for the VA Streamline Refinance.
The key is that you've paid your mortgage as-agreed.
If your mortgage history is good over the past year, and if the refinance will save you money, the VA will happily let you move forward on your loan.
It doesn't even matter whether your home is underwater or has lost value since the date of purchase -- no appraisal is required via the IRRRL.
You can even refinance a former home which you've since converted to a rental.
It's no wonder, then, that more than one million VA Streamline Refinance loans have been completed since the start of the decade. When mortgage rates drop, opportunity is abound.
And, because any VA-approved lender can refinance your loan via the IRRRL, you're able to comparison shop to find the lowest VA rate loan with the lowest available fees.
Get Today's VA Mortgage Rates
The G.I. Bill provides subsidized mortgage lending, which is why VA mortgage rates are often so low as compared to conventional and jumbo mortgage rates. You may be surprised at how low your VA mortgage rate can be.
Take a look at today's VA mortgage rates now. Your social security number is not required to get started, and all quotes come with instant access to your live credit scores.
Click to see your VA loan eligibility (Jan 16th, 2018)
The information contained on The Mortgage Reports website is for informational purposes only and is not an advertisement for products offered by Full Beaker. The views and opinions expressed herein are those of the author and do not reflect the policy or position of Full Beaker, its officers, parent, or affiliates.
Try the Mortgage Calculator