You Can Expect A Fed Rate Hike In March, Thanks To The Jobs Report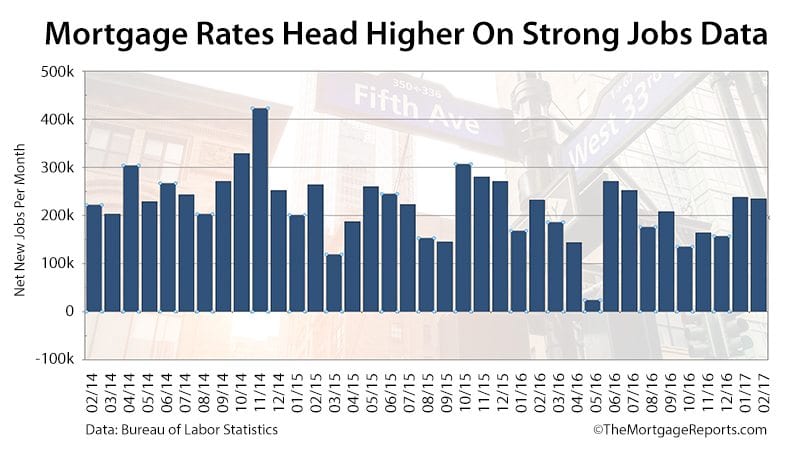 Mortgage Rates On Shaky Ground After Jobs Report
The good news: the U.S. economy is on a record run.
More than 15 million jobs have been added to the economy this decade. There are no signs of a slow down.
The bad news: mortgage rates are rising, and the Federal Reserve is all but certain to hike rates in March.
The February Non-Farm Payrolls report showed that more than a quarter million jobs were added to the U.S. economy last month. Confidence is booming, and that's typically bad for mortgage rates.
Still, a 30-year fixed mortgage can be had in the low 4s, and even lower for popular government-backed mortgages such as the USDA home loan.
The combination of a strong jobs market and historically low interest rates should spur home buyers to act in 2017.
There have been few times in history when such low rates were available in such a strong economy.
Click to see today's rates (Mar 26th, 2017)
The Effect Of The Jobs Report
On the first Friday of each month, the Bureau of Labor Statistics releases its Non-Farm Payrolls report.
More commonly known as "the jobs report", Non-Farm Payrolls gives a detailed look at the nation's workforce. The report includes jobs by sector, average earnings, and the national unemployment rate.
The U.S. economy is inextricably tied to the job market.
Jobs create wealth. Workers have money to spend, and pump that money back into the economy in a virtuous cycle.
The reverse can happen, too.
If workers can't find jobs, they stop consuming goods and services. Companies pull back on hiring, lay off workers, and decrease production. More slack in the job market ensues, and workers spend even less.
A healthy balance of jobs, spending, and wage growth is ideal for the economy. That's why Wall Street watches the Non-Farm Payrolls report so closely, and why everyday consumers should, too.
Plus, mortgage rates can swing wildly based on jobs data.
Click to see today's rates (Mar 26th, 2017)
February Non-Farm Payrolls Report: Strong Ahead Of Fed Meeting
The February Non-Farm Payrolls report showed 235,000 net new jobs created last month -- higher than the consensus estimate of two hundred thousand jobs.
January Non-Farm Payrolls data was revised higher by a total of eleven thousand jobs.
The data has alerted Wall Street, and no doubt the Fed is watching, too.
The second Federal Reserve meeting of 2017 convenes just four days from the release of this report. Strong jobs data will likely convince the group that it's time for another rate hike.
With more jobs come a risk of rampant inflation, a scenario the Fed does not want to see play out. It would rather curb a too-hot economy to temper inflation than to let go unchecked for too long.
One of its important "levers" to control the economy is the Federal Funds Rate, which the group can lift and cut depending on the strength of the economy.
The Fed's rate -- and consumer interest rates -- could start rising after today's Non-Farm Payrolls release.
Click to see today's rates (Mar 26th, 2017)
Job Market Performance Nearly Locks In Fed Hike
Between December 2008 and December 2015, the Federal Reserve held the Fed Funds Rate in a target range near zero percent as a way to catalyze the U.S. economy.
Then, at the end of 2015 and again at the end of 2016, the group voted to raise the Fed Funds Rate by a cumulative one-half of one percent, noting that future rate hikes were likely, so long as economic conditions warranted them.
The Federal Funds Rate now stands between 0.50% and 0.75%.
But that could soon change.
The Federal Reserve meets for the second time of 2017 on March 14-15. Just a few weeks ago, analysts expected a June rate hike. A March move was all but off the table.
Then a string of Fed members delivered speeches, and took that opportunity to prep the market for likely Fed action.
Today's jobs report nearly seals the deal. Job growth is strong, wages are up, and the unemployment rate is hitting all-time lows.
If you've been thinking of refinancing your rate or getting out of your HELOC (a loan whose rate is directly connected to the Fed Funds Rate), now would be the time.
Rates are still low, but very likely to rise in 2017. The job market shows no sign of slowing, which could spur a heated economy and further rate hikes in coming months.
What Are Today's Mortgage Rates?
The Non-Farm Payrolls report shows strong economic growth and a solid jobs economy. This will affect mortgage rates negatively in 2017. For now, rate increases remain low.
Take a look at today's real mortgage rates now. Your social security number is not required to get started, and all quotes come with instant access to your live credit scores.
Click to see today's rates (Mar 26th, 2017)
The information contained on The Mortgage Reports website is for informational purposes only and is not an advertisement for products offered by Full Beaker. The views and opinions expressed herein are those of the author and do not reflect the policy or position of Full Beaker, its officers, parent, or affiliates.
Try the Mortgage Calculator