Report: November New Home Sales Jump 16% Year-Over-Year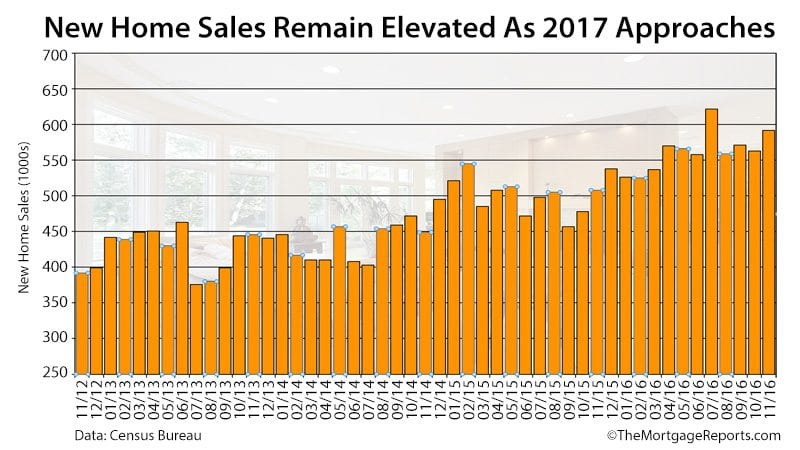 New Construction Home Sales Surpass Hot 2015 Levels
Newly-built homes continue to sell quickly.
According to the U.S. Census Bureau, November New Home Sales leaped despite limited home inventory.
A favorable mortgage environment is pushing new home sales ahead.
Current mortgage rates are still historically low, and mortgage lenders have made it simpler for first-time home buyers to get mortgage-approved for a home loan.
Fannie Mae recently added the 3% down HomeReady™ mortgage program to the full complement of low- and no-down payment loans available to today's buyers; and purchase mortgage applications are getting approved at the highest rate since the start of the decade.
It's an excellent time to be shopping for a home. The best deals you find in housing may be the ones you find today.
Click to see today's rates (Jan 24th, 2017)
New Home Sales Hit 592,000Â Sales, Annualized
Each month, in conjunction with the U.S. Census Bureau, the U.S. Department of Housing & Urban Development (HUD) releases its New Home Sales report.
A "new home" is a home which has not been previously occupied; one which can be considered new construction.
For November 2016, HUD reports 592,000Â new homes sold on a seasonally-adjusted, annualized basis, marking a five percent increase from the month prior, and a 16% jump from one year ago.
Builders are feeling good about their prospects.
Earlier this month, the National Association of Homebuilders (NAHB) released its Housing Market Index (HMI), a monthly homebuilder confidence survey.
The most recent Housing Market Index shows homebuilder confidence near its highest point in a decade, with home builders projecting new home sales for early-2017 to be near multi-year bests.
Demand for new homes has been strong, too, as evidenced by the high number of buyers requesting tours of model units.
If you're hoping to buy new construction, there aren't many homes to left to purchase. At the end of November, there were just 250,000 new homes for sale nationwide, a supply of 5.1 months.
Click to see today's rates (Jan 24th, 2017)
Home Supply Tight As Buyers Rush In
New home sales will end the year strong, with buyers snapping up homes at every available price point -- faster than builders can build them, even.
At the current pace of sales, the complete stock of new homes for sale would be sold in 5.1 months. This means that all newly-built homes for sale would be "sold out" prior to May of next year.
Builders could have the upper hand on buyers right now -- it's a seller's market. Home supply of less than six months typically favors sellers over buyers in home negotiations.
Today's new home buyers, therefore, have little leverage over builders and may be unlikely to receive purchase incentives in 2017, including free upgrades and/or price breaks.
New Home Supply has been south of six months through 60 of the last 61 months. It's no surprise, then, that home prices have moved markedly higher during that time.
Nationwide, home values are up 35% since 2012.
Click to see today's rates (Jan 24th, 2017)
Buy A New Home, Inexpensively
Home prices are rising but, thankfully, mortgage rates remain low.
According to Freddie Mac's weekly Primary Mortgage Market Survey, the average conventional 30-year mortgage rate is currently 4.30% for prime borrowers; with rates for VA loans, FHA loans and USDA loans even lower.
Low rates help to make homes affordable. Low- and no-down payment mortgages make them easier to purchase.
FHA mortgages, for example, allow a downpayment of just 3.5 percent and require a credit score of 580 or better to get qualified.
Then, there is the HomeReady™ mortgage, which is a 3-percent downpayment program available via Fannie Mae. HomeReady™ is valid for loan sizes up to $424,100 and can be used by multi-generation households with non-documented rental income; and by home buyers in lower-income census tracts.
For buyers with military experience, the VA mortgage can be an attractive option.
VA loans allow for 100% financing and never require mortgage insurance. VA mortgage rates also tend to be the lowest of all commonly-available mortgage rates, based on data from loan software company Ellie Mae.
The USDA Section 502 loan is another no-downpayment mortgage option.
Commonly called the "Rural Housing Loan", USDA loans provide 100% financing to qualified borrowers in low-density neighborhoods. This can include rural and suburban neighborhoods.
What Are Today's Mortgage Rates?
Sales of new construction homes are strong and demand for homes remains high. Thankfully, today's mortgage rates are low. Buyers have purchasing power even as builders hold leverage in negotiation.
Get today's live mortgage rates now. Your social security number is not required to get started, and all quotes come with access to your live mortgage credit scores.
Click to see today's rates (Jan 24th, 2017)
The information contained on The Mortgage Reports website is for informational purposes only and is not an advertisement for products offered by Full Beaker. The views and opinions expressed herein are those of the author and do not reflect the policy or position of Full Beaker, its officers, parent, or affiliates.
Try the Mortgage Calculator