Low Mortgage Rates Boost Homebuyer Purchasing Power 81%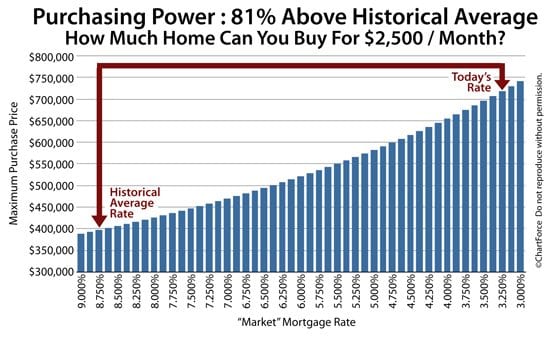 This time, it's actually true -- "it's a great time to buy a home". And the chart above shows why. As compared to historical averages, mortgage rates are so low today that home buyers are getting an 81% percent increase in purchasing power.
When purchasing power this high, of course it's a great time to buy a home. Everything's on sale.
Click to see today's rates (Jan 16th, 2017).
Purchasing Power : It's About "Low Rates", Not "Cheap Homes"
Home buyers of all types -- first-timer buyers, move-up buyers and investors alike -- often shop for homes in terms of price ranges. They look for "homes for $300,000"; or "homes for less than $500,000"; or, homes for "around $1 million".
This approach is as common as it is wrong. Buyers should never shops for homes by price range. Instead, they should always shop by payment.
The logic is straight-forward -- the listing price for a home only loosely correlates to its total monthly payment. Its annual real estate tax bill must be considered, as must its hazard insurance costs. The same is true for association costs for buyer of condos, co-ops, and PUD.
Heck, even the downpayment size will change a home's monthly payment.
It's why two homes at the exact same list price can hit your budget differently. That's just the nature of housing. A better method is to shop by payment.
When you shop for homes by monthly payment, you get a truer sense of how the home will hit of your budget. You also put yourself in stronger control of the home buying process. Furthermore, when you shop for homes by payment, it accounts for the effects of changing mortgage rates.
In a falling mortgage rate environment -- like the one we're in now -- mortgage rates expand your home purchasing power. For the same budgeted monthly payment, in other words, because of falling rates, buyers can afford homes within higher price ranges.
With mortgage rates nearing 3 percent, the improvement has been drastic.
Click to see today's rates (Jan 16th, 2017).
Purchasing Power Up 9.9% Since Last Year; 25% From 2007
Low home prices matter, but the real key to home purchasing power is low mortgage rates.
If that seems strange to you, think about last quarter. Home affordability made all-time records. However, it occurred during a period of rising home prices. How was that possible? 
Because of mortgage rates.
The 30-year fixed rate mortgage rate has been south of 4% for all of 2012 and, just this week, the benchmark product is averaged 3.32% for borrowers willing to pay 0.8 discount points plus closing costs -- a new all-time low.
3.32% is incredibly low. Since 1971 -- a span of more than 500 months -- the 30-year fixed rate mortgage rate has averaged 8.75%. Today, it's much less than half of that and you can see how purchasing power has improved affected.
Assuming a $2,500 monthly mortgage payment and 20 percent down:
Historical Average Rate (8.75%) : A $2,500 monthly mortgage payment affords a purchase price of $397,000
Today's Average Rate (3.32%) : A $2,500 monthly mortgage payment affords a purchase price of $718,050
You can buy 81 percent more home in 2012 for the same monthly payment as compared to the average of the last 40 years. Even as compared to one year ago, homebuyer purchasing power is higher by 9.7 percent.
This is why everyone says it's such a great time to buy. Nevermind recovering home prices -- mortgage rates are ridiculous.
Click to see today's rates (Jan 16th, 2017).
Monthly Budgets Start With Mortgage Rates
If you're a home buyer in today's market -- whether in Silicon Valley, California; Phoenix, Arizona; Miami, Florida; or anywhere else -- ultra-low mortgage rates will boost your home buying budget.
Conforming mortgage rates plus FHA mortgage rates, VA mortgage rates, USDA mortgage rates and jumbo loan mortgages remain dirt-cheap.
Start your budget-planning process with a rate quote. Then, work the figures backwards into your maximum "list price". Mortgage rates are at their best levels of the year. Once they begin to rise -- perhaps as soon as 2013 -- purchasing power will shrink.
Click to see today's rates (Jan 16th, 2017).
The information contained on The Mortgage Reports website is for informational purposes only and is not an advertisement for products offered by Full Beaker. The views and opinions expressed herein are those of the author and do not reflect the policy or position of Full Beaker, its officers, parent, or affiliates.
Try the Mortgage Calculator