Moving? Consider One Of The Nation's Most Affordable Cities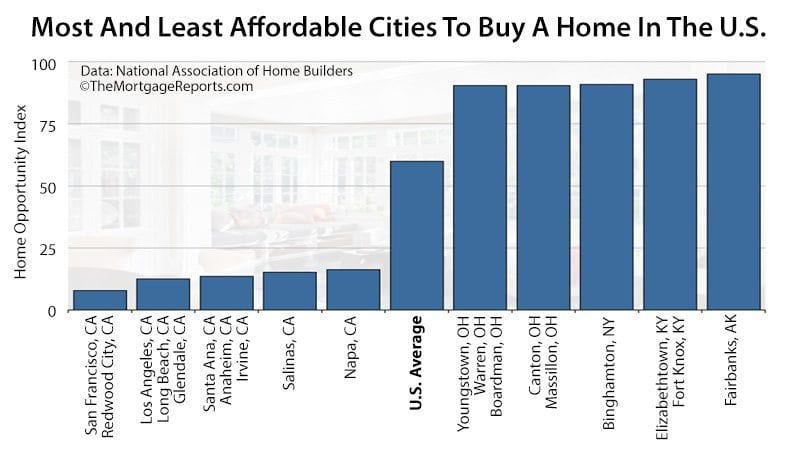 Waiting For Home Prices To Drop?
It's a great time to buy a home.
Home prices have climbed more than 5% annually for the second straight year, but today's mortgage rates are still low, and homes are still affordable.
But what will happen through 2017? Likely, a drop in home affordability.
Home prices are expected to keep climbing, and mortgage rates aren't expected to drop back to the 3s -- where they were in mid-2016.
So, what should you do if you're on the fence about buying?
You might consider buying a home now, but buying too early can be costly, too.
There's no "right answer", but one thing's nearly certain -- the best deals you find in housing may be the ones you find today. By this time next year, buying a home could be an expensive proposition.
Click to see today's rates (Mar 28th, 2017)
Homeownership Costs To Rise In 2017
Each quarter, the National Association of Homebuilders (NAHB) attempts to measure whether U.S. homes are "affordable" for the typical U.S. household.
The group measures median household incomes within 225 metropolitan areas nationwide and -- using average 30-year fixed rate mortgage rates -- determines whether these incomes can support the typical monthly housing cost.
The index is known as the Home Opportunity Index (HOI).
In last year's fourth quarter, the Home Opportunity Index hit 59.9%, which means that about six-in-ten homes are affordable to households earning a median income. However, affordability stayed level only because home buyers had locked in rates before they rose post-election.
Now, mortgage rates are climbing, and affordability is threatened. Analysts expect rates to end 2017 considerably higher than they are today.
Home prices are expected to rise, too.
Click to see today's rates (Mar 28th, 2017)
Low-Downpayment Loans Help Today's Buyers
Home prices are up close to six percent from last year. This affects a buyer's potential monthly payment; and raises the down payment required to purchase a home.
It can be tough enough to scrape together a down payment -- especially for buyers putting 20% down on a home. But, not everyone wants to do that.
Thankfully, low- and no-downpayment loans remain readily available.
Home buyers can choose from among the¬†Conventional 97 and the HomeReady'ĄĘ home loan, each of which¬†requires three percent down; the FHA loan, which requires 3.5% down; and the VA and USDA loans, which require zero money down.
The Conventional 97 mortgage is mostly used by buyers with better-than-average credit who are purchasing single-family homes to "live in"; and the¬†3% down¬†HomeReady'ĄĘ home loan is geared at buyers in lower-income census tracts.
Both programs, however, are limited to $424,100, so buyers in "high-cost cities" should consider either putting five percent down, or a different low-downpayment option.
One such option is the FHA loan, which allows for a downpayment of just 3.5% and allows buyers to finance any home which will be their primary residence, so long as the home is a single-unit (e.g.; a house, a townhome, a condo) or a home of up to 4 units.
FHA loan limits are higher than what's allowed by the¬†Conventional 97 and¬†HomeReady'ĄĘ, ranging up to $636,150.
Another option for buyers making a small downpayment is no-money-down VA loan. Available to buyers with military experience, the VA Home Loan Guaranty program never charges mortgage insurance and mortgage rates are typically the lowest of all loans available.
Lastly, note that there's another no-money-down loan -- the USDA loan --  available to buyers, but the program cannot be used in a "big city" markets. Its use is relegated to buyers in the exurbs and in less densely-populated suburban neighborhoods.
Ask for these loans with any U.S. lender.
Click to see today's rates (Mar 28th, 2017)
Live Somewhere Affordable/Unaffordable
For buyers in search of affordable homes, differentiation must be made for "big markets" and "small markets".
Small markets are often more affordable than big markets; and homes along East Coast and West Coast are often least affordable.
It should be no surprise, then, that many of the Most Affordable U.S. Housing Markets are spread throughout Ohio and Kentucky.
Last quarter, the country's most affordable small-ranked city was Fairbanks, Alaska.
95.1 percent of homes in one of the most northern U.S. cities were affordable to families earning the area's median income of $93,800.
Overall, the Midwest ranked highly for home affordability.
Lansing, Michigan: 89.8 percent affordability
Springfield, Illinois: 89.9 percent affordability
Canton, Ohio: 90.4 percent affordability
On the opposite end of the affordability scale sits San Francisco, dead-last on the list of Most Affordable Cities. Less than 8 percent of median income earners can afford a home, under NAHB's conditions.
But that's no surprise. The Bay Area has been ranked the Least Affordable place in the U.S. since the fourth quarter of 2012. Before that, New York City took the title for most expensive city each quarter back to 2008.
Consider More Than Home Prices When Considering A Move
The most surprising point of the NAHB study, however, is the comparison between another California city -- San Diego -- and what is perceived to be one of the most ridiculously high-priced areas in the country: Honolulu, Hawaii.
But urban Honolulu is twice as affordable as San Diego, according to the report, with 36 percent of homes affordable to median income earners.
The median sales price in Honolulu is $556,000 -- not cheap by most measures. But median income rises to the task, coming in near $90,000, and one of the highest income readings on the list.
In San Diego, though, home prices are only slightly lower, at $490,000.
But a median-income family earns just over seventy-three thousand dollars annually.
The comparison of two cities reveals the importance of income when it comes to affordability. Home buyers should not necessarily avoid relocating to an "expensive" city, if their income will justify the move.
Conversely, families should examine earning potential before moving to a "cheap" area.
When thinking about a relocation, the NAHB Housing Opportunity Index just might be the first resource you consider.
What Are Today's Mortgage Rates?
Home prices are rising and so are national rents. You may not be ready to buy a home today but, by next year, the affordability of homes is expected to be worse.
Get today's live mortgage rates now. Your social security number is not required to get started, and all quotes come with access to your live mortgage credit scores.
Click to see today's rates (Mar 28th, 2017)
The information contained on The Mortgage Reports website is for informational purposes only and is not an advertisement for products offered by Full Beaker. The views and opinions expressed herein are those of the author and do not reflect the policy or position of Full Beaker, its officers, parent, or affiliates.
Try the Mortgage Calculator