Soft Fed Announcement Means Relief For Mortgage Rates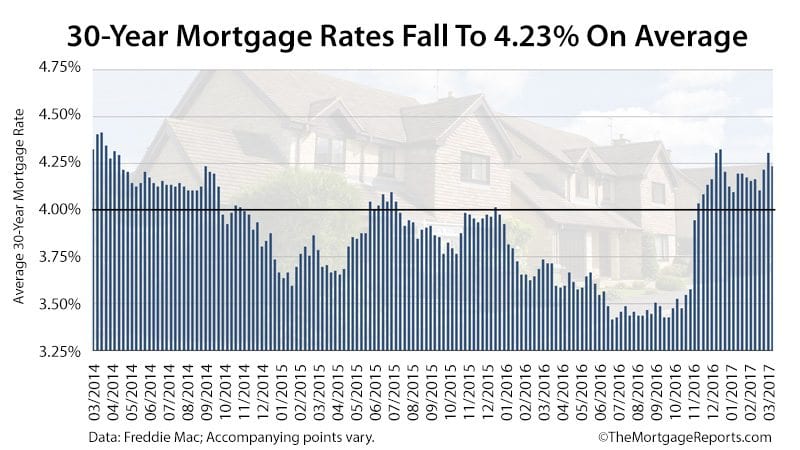 Rates Drift Lower
Mortgage rates fell after fears of a rate-unfriendly Federal Reserve turned out to be unfounded.
Freddie Mac, in its weekly survey of more than 100 lenders nationwide, reported the average thirty-year rate fell 7 basis points (0.07%) to 4.23% this week.
The March 15 Federal Reserve meeting was actually good for mortgage rates.
While the group did move its benchmark rate up by 0.25%, it did not issue forecasts pointing to aggressive rate hikes or restrictive policy for the remainder of 2017.
The market peeled back increases it had built into mortgage rates "just in case."
So far this year, mortgage rates have not eclipsed their December 2016 highs. We may have seen the highest rates of 2017 already, and the rest of the year could be tamer than everyone thought.
Click to see today's rates (Mar 26th, 2017)
How Freddie Mac Finds Its Weekly Average Rate
Each week, mortgage agency Freddie Mac surveys 125 lenders nationwide for its Primary Mortgage Market Survey (PMMS), a snapshot of current mortgage interest rates.
It asks mortgage companies, banks, and credit unions, and other lenders their current rate for a well-qualified borrower putting 20% down, and paying "discount points," or extra fees that directly reduce the rate.
The agency polls lenders Monday through Wednesday for its Thursday release.
The delay makes the survey useful for long-term mortgage rate comparisons, but it isn't a very good way to check up-to-the-minute rates.
Today, the average consumer can see mortgage rate changes that happen in the last hour. That wasn't the case 45 years ago when Freddie Mac published its first mortgage rate survey.
Back then, the average consumer may have checked rates in newspapers or traveled to their local bank to see recent rate offers.
Today's mortgage shopper has a distinct advantage. They can check rates online at will, and secure a quote based on minutes-old rates, not days-old ones.
And in today's rapidly shifting rate environment, that could mean big savings.
Click to see today's rates (Mar 26th, 2017)
Stock Market Loses Steam, Mortgage Rates Fall
Wall Street has been talking about rising rates for years.
In 2015, experts predicted much higher rates by year's end. Rates only rose modestly. The same predictions arose in 2016. Instead, mortgage rates bottomed out near all-time lows.
As one would expect, analysts predicted higher rates in 2017. The rampant post-election rate jump had just happened.
Dire predictions are circulating, but mortgage rates have been remarkably tame in 2017 thus far.
Rates now nearly match levels seen at the height of the post-election jump. They have not crested this level, despite predictions to the contrary.
All markets experience "corrections" from time to time. The good news is it doesn't always have to be a bad thing.
A correction is simply a return to a sustainable level. Often, bubbles form -- in the stock market, housing market, and the interest rate market, too.
The recent mortgage rate upheaval could be "overdone" at this point, and poised for a reversal.
What would take us there? There are still plenty of geopolitical concerns, many of which resulted in low 2016 rates. None of those have been resolved yet, by the way.
Ongoing European Union upheaval and middle-east conflict are just two examples.
Plus, the "elephant in the room" is how Donald Trump's policies will affect the economy, inflation, taxes, and a slew of other rate-influencing factors.
The post-election stock market rally is losing steam. Wall Street is realizing that pro-economic policies proposed by the new president aren't easy to get through Congress. So, economic growth may not come soon.
Typically, mortgage rates rise in a hot economy. If the hope for a stronger economy wanes, so could the stock market, and mortgage rates could drop.
We're already seeing this effect. Donald Trump's health care bill appears stalled. Investors wonder if economic initiatives, too, will run up against a brick wall -- or be stripped down -- limiting their effect on the economy.
In short, don't rule out falling rates in 2017. It could be a very good year for mortgage rate shoppers.
Click to see today's rates (Mar 26th, 2017)
Mortgage Types Offer Different Rates
Freddie Mac requests conventional/conforming loan rates to arrive at its national average rate.
But it leaves out mortgage rates for government-sponsored programs that could come with even lower costs.
In today's rising rate environment, a non-conventional loan could be the right decision for some homeowners.
Three loan programs in particular -- the USDA home loan, VA mortgage, and FHA loan -- are government-backed mortgages with rates in the 3s.
The USDA loan is available in less dense neighborhoods across the U.S. It offers zero down payment and lenient credit score minimums.
Eligibility is based, in part, on location of the home. Ninety-seven percent of U.S. land mass is eligible for a USDA loan, so homebuyers looking for housing outside of major metropolitan areas should check this option.
The zero-down VA home loan program comes with lower-than-conventional rates, according to loan software provider Ellie Mae, undercutting conventional loan rates by an impressive 25 basis points (0.25%).
Veterans with as little as 90 days of service history could be eligible for a VA loan.
With rates falling, the FHA loan rates are dipping into the high-3s. About forty percent of home buyers under the age of 37 buy their first home with FHA.
It's no surprise.
FHA requires just 3.5% down and is very lenient about credit scores. According to a report released by Ellie Mae this month, 56% of FHA borrowers had a credit score between 600 and 699.
Only 16% of conventional loan applicants had similar scores.
The FHA home loan is the go-to program for home buyers without perfect credit profiles, little cash to put down, and the desire to become a homeowner as soon as possible.
Many lenders are offering these loan types at rates in the 3s, even as conventional rates are solidly above 4%.
What Are Today's Mortgage Rates?
Today's interest rates are low, despite the post-election jump. Historically any rate in the 4% range was considered "too good to be true." But those rates are still available.
Get today's live mortgage rates now. Your social security number is not required to get started, and all quotes come with access to your live mortgage credit scores.
Click to see today's rates (Mar 26th, 2017)
The information contained on The Mortgage Reports website is for informational purposes only and is not an advertisement for products offered by Full Beaker. The views and opinions expressed herein are those of the author and do not reflect the policy or position of Full Beaker, its officers, parent, or affiliates.
Try the Mortgage Calculator