Buyers Get A Better Shot At Affordable Housing In 2017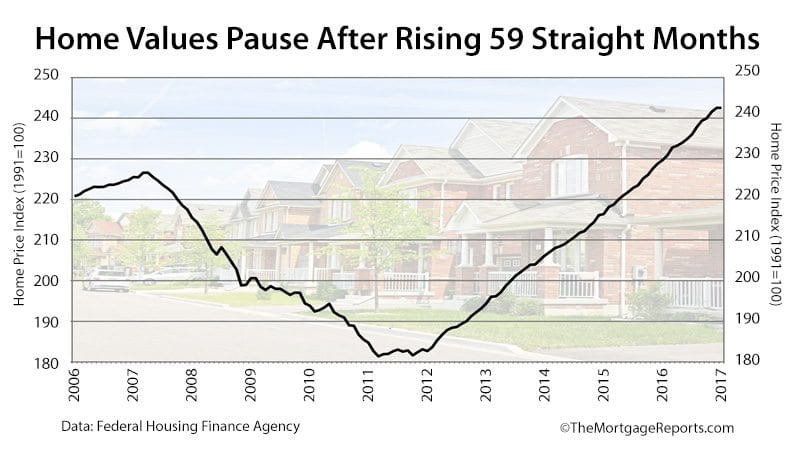 Home Price Gains Suddenly Stall
U.S. home values finally show signs of slowing, and that could spell opportunity for home buyers.
The Home Price Index, which is published by the Federal Housing Finance Agency (FHFA), shows U.S. property values flat month-over-month, after 59 straight months of gains.
It could be a sign that higher mortgage rates are taking their toll and tempering home prices.
That might not be a bad thing.
Home prices are up 32% nationwide since 2012, and, prior to January's data, seemed unstoppable. Wall Street and Main Street alike wondered how high prices could go. Was the housing market entering another dreaded "bubble"?
That seems unlikely, seeing that today's housing market is supported by tight regulations in the mortgage industry. Plus, the labor market appears strong and sustainable.
But, the home price cool-off could mean buyers have a better shot at affording a quality home in 2017.
Click to see today's rates (Mar 28th, 2017)
Home Price Index: Annual Home Price Gains Continue
The FHFA Home Price Index is a product of the Federal Home Finance Agency (FHFA). It tracks changes in the value of a home between subsequent sales. Data is supplied via Fannie Mae and Freddie Mac as part of the mortgage approval process.
The Home Price Index (HPI) is benchmarked to a value of 100, which is meant to represent the U.S. housing market as it existed in 1991, the year in which the index was created.
In January 2017, the Home Price Index stalled at 242.56, matching the previous month's reading. Home prices are up 5.7% year-over-year.
Despite the single-month weakness, home values are still on a tear. Not adjusted for inflation, prices have surpassed the March 2007 peak by more than 7%.
But as a home buyer, don't let rising prices scare you.
According to a recent report by First American Title Company, homes are still 33% cheaper than they were in 2006, in "real" terms.
Most house price indexes don't consider inflation, mortgage rates, and current income levels. They look at nominal prices only.
First American's report considers other factors, though, and calculates that the typical buyer can afford a home about 1/3 more expensive today than they could eleven years ago.
Because homes are only about 1/14 more costly now, homes are still a "good deal."
Click to see today's rates (Mar 28th, 2017)
Are Values Rising In Your Area?
Ask your REALTOR® how much homes are appreciating, and she will tell you, "it depends."
Homes might be selling for 10% more than one year ago in a downtown core while prices stagnate in outlying areas.
Geography determines house values on a micro level -- which can be felt and seen first-hand by the everyday home buyer. Location plays out on the macro level, too.
Home prices on the West Coast rise a certain amount, but those in the interior U.S. perform differently.
The FHFA House Price Index is calculated by looking at a mixed bag of regions:
Pacific : +7.7% (Hawaii, Alaska, Washington, Oregon, California)

Mountain : +8.3% (Montana, Idaho, Wyoming, Nevada, Utah, Colorado, Arizona)
Middle Atlantic : +3.8% (New York, New Jersey, Pennsylvania)
East North Central : +5.0% (Michigan, Wisconsin, Illinois, Indiana, Ohio)
South Atlantic : +6.2% (Delaware, Maryland, District of Columbia, Virginia, West Virginia, North Carolina, South Carolina, Georgia, Florida)
New England, an area which includes Maine, New Hampshire, Vermont, Massachusetts, Rhode Island, and Connecticut, has changed +3.5 percent since twelve months ago.
The West North Central, which includes Oklahoma, Arkansas, Texas, and Louisiana, rose +4.6%.
What Are Today's Mortgage Rates?
Home values are likely to keep rising in 2017, but mortgage rates are still very low. Plus, lenders are approving more loans than during any period this decade.
Take a look at today's live rates now. Rates are available with no social security number required to get started, and with instant access to your "mortgage credit scores."
Click to see today's rates (Mar 28th, 2017)
The information contained on The Mortgage Reports website is for informational purposes only and is not an advertisement for products offered by Full Beaker. The views and opinions expressed herein are those of the author and do not reflect the policy or position of Full Beaker, its officers, parent, or affiliates.
Try the Mortgage Calculator