March 2017 Mortgage Rates Forecast (FHA, VA, USDA, Conventional)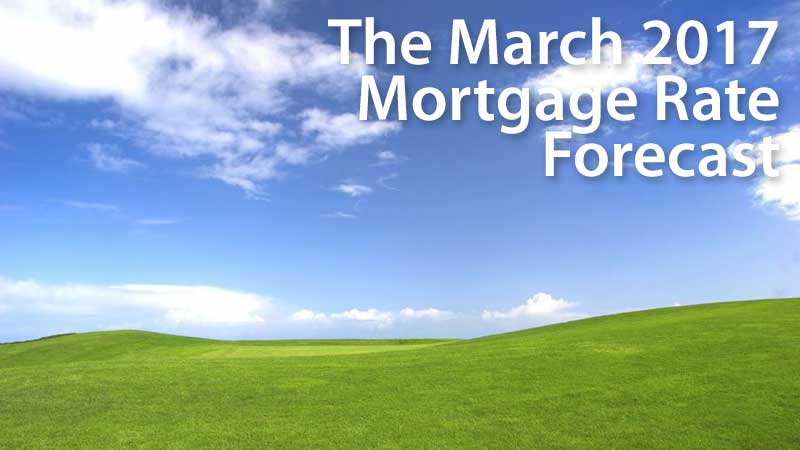 Mortgage Rates Forecast For March 2017
Mortgage rates are poised to move big in March.
Rates have been in a historic holding pattern, moving within a range of just 11 basis points (0.11%) since the start of the year, according to Freddie Mac.
That could change overnight.
Donald Trump addressed both houses of Congress for the first time in his presidency the evening of February 28.
Details on policy will move mortgage rates all month long.
The second Federal Reserve meeting of 2017 will take place mid-month, and rate hike is still on the table.
And, a slew of market-moving data is set to be released this month.
As a consumer, it's easier to secure a mortgage rate during relatively steady times. Rapidly shifting rates can price you out of a home you want, or make a refinance irrelevant.
And, the best rates of the month might be the ones you see today.
Click to see today's rates (Mar 26th, 2017)
Freddie Mac: 30-Year Mortgage Rate Hits 4.16%
The average conventional 30-year fixed rate mortgage started March at 4.16%, according to Freddie Mac's Primary Mortgage Market Survey (PMMS).
The 15-year was clocked at 3.37%, and the 5-year adjustable rate mortgage -- which will become more popular as rates rise -- dropped to 3.16%.
Rates haven't moved much since January.
Starting the year at 4.20%, the thirty-year fixed mortgage stood just four basis points (0.04%) lower to start March.
It's an advantageous time to be a mortgage rate shopper.
Though rates are up since the election -- reacting to the president's proposed policy shifts -- they are in a remarkable holding pattern.
The current "wait and see" mode is making shopping for rates easier.
In a steady market, you shop for a home purchase mortgage or refinance, but maybe you aren't ready to move forward.
You wait a day or two, and that rate is still available.
Rising rates, though, can price you out of the home you really wanted -- or put you "out of the money" for a refinance.
Luckily, there's more than "one rate" in the mortgage marketplace.
Each Thursday, Freddie Mac publishes its national average rate. But the interest rate is a blend derived from a survey of more than 100 lenders.
And, it covers conventional mortgage rates only. Government-backed FHA and VA mortgage rates are not surveyed as part of the report; nor are mortgage rates for USDA loans.
Rates for these "alternative" programs are even lower than for conventional.
All of this makes it easier for today's refinancing homeowners to qualify for streamlined loans such as the FHA Streamline Refinance, the VA Streamline Refinance, and the USDA Streamline Refinance.
Streamlined refinance loans can close in as few as 30 days because of reduced paperwork requirements and no appraisal in most cases. These refinances are simpler for banks to underwrite and approve.
Click to see today's rates (Mar 26th, 2017)
Mortgage Rates For March 2017
Today's mortgage rates are hovering in the low 4s, and many mortgage rates predictions have them unchanged-to-higher through 2017.
Loans now cost just $490 monthly for every $100,000 borrowed, excluding escrows for taxes and insurance, private mortgage insurance (PMI), and flood insurance, where applicable.
It should be noted, though, that although mortgage rates are still historically low, they may not stay that way for long. Mortgage rates change quickly with the economy, and with shifts in market sentiment.
Mortgage-backed securities (MBS) -- the Wall Street asset upon which mortgage rates are "made" -- have been waiting for a reason to move one way or another. This has rates on shaky ground.
MBS pricing is currently responding to influences on the economy, including the Federal Reserve's monetary policy, the jobs market, and forecasts for the new administration's stance on eceonomic issues.
The biggest market mover this month, though, could be the Fed.
The Fed meeting adjourns March 15
The two-day Federal Open Market Committee (FOMC) meeting -- a.k.a. "Fed meeting" -- will take place March 14-15.
The group will either hike or hold its benchmark rate, and will reveal its decision via a statement released at 2:00 PM ET on Wednesday, March 15.
A hike this month is still on the table.
In December, the Fed voted to raise its benchmark rate by one-quarter of one percent to a range between 0.50-0.75%. The decision was unanimous.
The group let the dust settle, and made no changes to policy at its January 31-February 1 meeting. But a March move is still in play.
Inflation is near to the Fed's target of 2% annually, a level the group has been waiting on for years. Unemployment is half the levels seen earlier this decade.
But the Fed is running out of time to soften the blow of a rate hike. That's why March 3 could be a volatile day.
Federal Reserve Chair Janet Yellen will deliver a speech at 1:00 PM ET. It will be the last chance to hint at a March rate hike before the mandatory "blackout period", an approximate one-week pre-meeting period during which Fed participants must nearly ceace public communications about policy.
If a hike is coming, Yellen is sure to drop a major hint on March 3.
But even if the Fed doesn't hike its benchmark Federal Funds Rate, mortgage rates could still skyrocket after the meeting.
The reason: economic projections.
Four times per year, the Fed releases its own projections on future rate hikes. Its March meeting is the first of the year that will include this report.
In December, mortgage rates rose when the Fed increased its estimate to three rate hikes in 2017, when it had called for just two within its previous guidance.
The same could happen in March upon material changes in outlook.
The Fed doesn't control mortgage rates but its rhetoric drives markets.
As a mortgage rate shopper, then, it pays to track FOMC meetings. As the most powerful financial body in the world, it probably has more power to move markets than the president himself.
But that doesn't mean President Donald Trump won't do his own market shaking in March.
Click to see today's rates (Mar 26th, 2017)
Donald Trump is still moving markets
Donald Trump delivered his first speech to both houses of Congress the evening of February 28.
Markets watched closely to this and any event that reveals details about upcoming policies. Uncertainty is one reason for the relative calm of mortgage rates lately.
No one wants to move until the future is more clear.
The new presidential administration is making it harder to predict rates. This would be true regardless of who won the election. Any new administration can lock in policies that move markets.
If not for this "wild card", the typical reports would guide predictions: March's Non-Farm Payrolls and the Federal Open Market Committee (FOMC) meeting announcement would dominate mortgage rate moves this month.
But this is no typical environment.
Since Trump's election win, the stock market has been on an upward run. And so have mortgage rates.
The administration plans $1 trillion in infrastructure spending and non-trivial tax cuts. Markets perceived these plans as inflationary.
Interest rates almost always rise in a high-inflation environment. Investors buy mortgage-backed securities that come with certain rates of return. The interest rates investors receive are directly connected to your mortgage rate.
In short, mortgage rates need to be considerably higher than the rate of inflation. Prices in the economy are rising about 2% per year according to the Consumer Price Index published by the Bureau of Labor Statistics.
If inflation hits 4%, as it did as recently as 2007, you will no longer find 4% mortgage rates at your local lender or online. Ten years ago, the 30-year mortgage rate averaged 6.34%.
All eyes will be watching the Trump administration for further insight on spending plans. More important, whether a proposal could realistically make it through Congress.
If the new administration presents a viable spending package, markets could "price in" rising inflation to the mortgage rate market, and rates could rise.
Click to see today's rates (Mar 26th, 2017)
Mortgage Programs With Low Rates Now
Mortgage programs today come with low rates in the 4s.
But some mortgage programs come with even lower rates than that.
Ellie Mae, a mortgage software firm which processes 3.7 million applications per year, gathers data on loans run through its system monthly. Its January Origination Insight Report was telling.
Government-backed programs, falsely perceived to have worse terms, actually carried the best mortgage rates.
The following average rates were reported by Ellie Mae.
Conventional loans: 4.42%
FHA mortgages: 4.23%
VA loans: 4.01%
Conventional loans are the go-to program for most home buyers with large down payments, good credit, and significant assets left after closing.
But Fannie Mae and Freddie Mac -- the two major mortgage rule-making agencies in the U.S.¬†-- have rolled out new programs for a wider array of buyers. A newer option donned HomeReady'ĄĘ requires just 3% down and is available to those with modest incomes.
The government-backed VA home loan is even easier to qualify for. It comes with lenient credit requirements and is available to home buyers who have served in the U.S. military. There is no down payment necessary, and no monthly mortgage insurance charged.
FHA loans are extremely popular, used by about 40% of first-time home buyers in their 20s and 30s. Flexible lending requirements allow new graduates to obtain an approval just after starting their careers.
A loan program not covered by Ellie Mae's report is the USDA home loan, otherwise known as the Rural Development (RD) Guaranteed Housing Loan or "Section 502" loan.
It supports homeownership in less dense areas in which incomes often lag those within cities. There's no downpayment required, and minimum credit scores are low.
USDA mortgage rates are about as low as VA ones, making them one of the most affordable home buying options on the market.
For rural and suburban home buyers, there are few better options than the USDA loan.
Mortgage rates for these programs are still low, and could go lower in 2017.
Click to see today's rates (Mar 26th, 2017)
This Month's Economic Calendar
The next four weeks hold no shortage of mortgage-rate-moving news. Notably, watch for market reaction to President Trump's speech the morning of March 1, and the FOMC announcement on March 15.
Market-moving events for the month are as follows:
Tuesday, February 28 (after market close): President Trump speaks
Friday, March 3: Federal Reserve Chair Janet Yellen speaks
Friday, March 10: Non-Farm Payrolls
Wednesday, March 15: FOMC meeting adjourns
Wednesday, March 15: Consumer Price Index (key gauge of inflation)
Wednesday, March 22: Existing Home Sales report
Thursday, March 23: New Home Sales report
March could be a volatile month for mortgage rates. The Federal Reserve is meeting, and key indicators of inflation -- which is bad for mortgage rates -- will be published.
Lock in now to avoid potentially negative mortgage rate fluctuations this month.
What Are Today's Mortgage Rates?
Mortgage rates are currently just above 4 percent. Home buyers have excellent purchasing power at today's rates; and refinancing households can save more cash with a refinance.
Get today's live mortgage rates now. Your social security number is not required to get started, and all quotes come with access to your live mortgage credit scores.
Click to see today's rates (Mar 26th, 2017)
The information contained on The Mortgage Reports website is for informational purposes only and is not an advertisement for products offered by Full Beaker. The views and opinions expressed herein are those of the author and do not reflect the policy or position of Full Beaker, its officers, parent, or affiliates.
Try the Mortgage Calculator