Is The Housing Market Finally Cooling?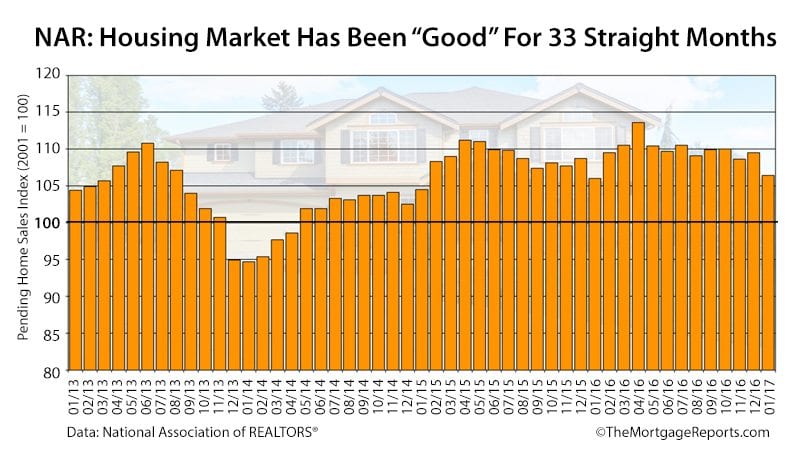 Pending Home Sales Report: Fewer Buyers Signing Contracts
Some are calling a report released Monday a harbinger of a cooling market.
According to the National Association of REALTORS® (NAR), the January 2017 Pending Home Sales Index dropped nearly 3% from the month prior.
Pending sales -- home purchase transactions for which a buyer has signed a contract -- are at their lowest levels since one year ago.
Is it the end of the strongest housing bull market in recent memory?
Maybe not.
Interest in buying homes has not waned, according to NAR. Rather, home prices are up, and so are current mortgage rates. And, not enough homeowners are selling.
These factors are delaying discouraged yet determined buyers.
The spring home buying season could bring a new swath of sellers to market. Homeowners are getting top dollar for homes, and the NAR reports that last month, homes sold faster than during any January this decade.
If you're looking for a home, no doubt you've noticed tough competition.
The housing market isn't cooling; it's just getting tougher to buy a home before someone else does.
Click to see today's rates (Mar 28th, 2017)
Pending Home Sales Index : Predicting The Future Of Housing
Each month, the National Association of Realtors® publishes its Pending Home Sales Index (PHSI). The report measures homes under contract, and not yet closed.
The Pending Home Sales Index differs from most market reports.
Traditional metrics measure how housing performed in the past, but the PHSI forecasts how housing will perform in the future.
The index tallies U.S. homes recently under contract to project future, closed home sales. This is possible because the National Association of REALTORS® knows that 80% of homes under contract "close" within 2 months of contract.
In January, the Pending Home Sales Index read 106.4 -- down 2.8 points from December's reading, but marking the index's 33rd straight month above its baseline reading of 100.
Beating the baseline is a big deal.
When the Pending Home Sales Index crosses 100, it's an indication that U.S. homes are going to contract at a faster pace than during 2001, the first year in which the index was published.
2001 is generally considered a good year for U.S. housing. Despite the modest drop, current housing market activity is exceptional.
Results for the Pending Home Sales Index, mixed by region:
Northeast Region : +3.6% from the year prior
Midwest Region : -3.8% from the year prior
South Region : +2.0% from the year prior
West Region : -0.4% from the year prior
For today's renters, it's an excellent time to consider buying a home.
Click to see today's rates (Mar 28th, 2017)
Two Popular Loan Types That Help Buyers
Today's housing market is getting a nice boost from more home buyers who are getting mortgage-approved.
According to a recent report from loan software company Ellie Mae, about 3-in-4 home purchase loan applications were approved and "closed" in January. This means the applicant successfully completed the loan process and purchased a home.
In 2014, only sixty percent of applications made it to closing.
Two major loan programs contributed to the high numbers: FHA and conventional.
FHA loans
The same report showed that buyers used FHA for about one-in-five home purchases.
FHA is even more popular among younger home buyers. A related Ellie Mae study showed that loan applicants born between 1980 and 1999 use an FHA loan about 40 percent of the time.
First-time and repeat home buyers alike gravitate toward FHA because of its flexibility. It requires just 3.5 percent down and accommodates buyers with credit scores down to 580.
Home buyers can use FHA as a 100% loan. A buyer can secure a downpayment gift from a relative, employer, approved non-profit, or even long-standing friend.
FHA requires modest mortgage insurance premiums (MIP) that total about $70 per month for every $100,000 borrowed. FHA MIP cost is not more expensive for buyers with lower credit, as is the mortgage insurance that comes with conventional loans.
Applicants with a credit score below 660 may find that FHA yields a cheaper monthly payment. And, home buyers can cancel their FHA mortgage insurance premium via a refinance when their home gains adequate equity.
Conventional loans
A conventional loan is one that is approved to guidelines set forth by mortgage agencies Fannie Mae and Freddie Mac.
This loan type makes up more than 60 percent of the market according to Ellie Mae.
Conventional mortgages do not require a 20 percent downpayment, as many home buyers assume. Buyers can put as little as three percent down with the Conventional 97 program or the newer HomeReadyTM loan.
Buyers with larger down payments often choose an 80/10/10 piggyback loan. The home buyer opens a primary mortgage for 80 percent of the purchase price, a ten percent second mortgage, the puts ten percent down.
This loan structure allows the buyer to avoid private mortgage insurance (PMI) while making a reduced downpayment.
Conventional loans are the first choice among many home buyers because they come with low rates and can beat FHA in monthly cost for well-qualified applicants.
What Are Today's Mortgage Rates?
Across the country, homes are going to contract quickly. Demand from buyers is huge and, because of today's low rates and rising rents, the pool of potential buyers has stayed strong.
Take a look at today's real mortgage rates. Your social security number is not required to get started, and all quotes come with instant access to your live credit scores.
Click to see today's rates (Mar 28th, 2017)
The information contained on The Mortgage Reports website is for informational purposes only and is not an advertisement for products offered by Full Beaker. The views and opinions expressed herein are those of the author and do not reflect the policy or position of Full Beaker, its officers, parent, or affiliates.
Try the Mortgage Calculator