Existing Home Sales Unfazed By Rising Rates, Shockingly Low Home Inventory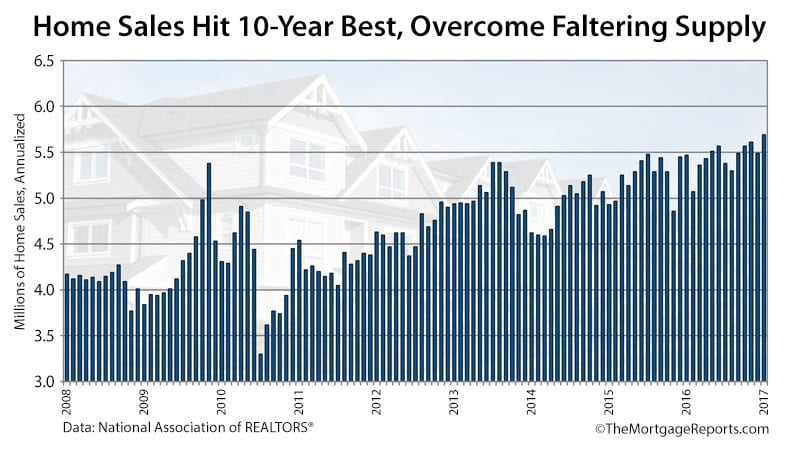 Best Month For Home Sales Since February 2007
Home sales clocked in at post-downturn bests in January, according to the National Association of REALTORS®.
Not since the housing boom of the late-2000s have sales been this strong.
5.69 million existing homes sold on a seasonally-adjusted, annualized basis last month, a 3.3% increase from the month prior.
The jump is surprising.
Home supply is at its lowest level since at least 1999 when NAR started tracking data. That usually hinders home sales. Last month, though, sales rose, hinting that buyers are more eager than ever.
Home prices are set to skyrocket in 2017, as a mass of home shoppers vie for a limited number of quality homes.
As a buyer, it could be wise to buy that home before someone else does.
Click to see today's rates (Mar 24th, 2017)
Home Sales Signal Red-Hot 2017 Housing Market
The National Association of REALTORS® (NAR) released its January 2017 Existing Home Sales report, which showed 5.69 million homes sold on a seasonally-adjusted, annualized basis.
An "existing home" is a pre-owned house that is being sold again and does not include newly constructed homes.
January's reading starts 2017 with a bang. This year could be the best for home sales, eclipsing 2016 as the top year since the housing downturn.
The factor holding sales back now, though, is ultra-low inventory. As recently as 2012, home supply rose above six months, the inflection point between a "buyer's market" and "seller's market".
Existing Home Supply fell to just 3.6 months nationwide in December, and stayed at that level for January.
There are now just over 1.6 million homes for sale in the U.S. That is down seven percent from a year ago, when inventory was already tight.
Low home supply is driving up prices. NAR reports that year-over-year home values have risen 59 months in a row, up four percent since last year.
That could be good news. Higher prices could entice homeowners to sell, increasing inventory and tempering prices.
At least, that's the hope. For now, homes remain scarce.
Click to see today's rates (Mar 24th, 2017)
Should You Wait To Buy? Maybe Not
Mortgage rates are rising, and it's lighting a fire under home buyers.
First-time and repeat buyers alike realize it's now time to buy before rates price them out of the home they really want.
January's home supply reading is evidence of the trend.
Supply matched all-time lows set in December as buyers snatch up every available home. Before that, the Existing Home Sales report had never shown inventory at 3.6 months since the NAR started tracking data in 1999.
More sellers need to sell.
Upon listing a home, selling homeowners realize it won't be on the market long.
The NAR reports that the average home stays on the market just 50 days, down from 64 days a year ago.
If you are a buyer, no doubt you've noticed the tough competition. Your "ammunition", then, is to secure a pre-approval from a lender. Sellers often won't consider an offer without knowing the buyer is approved for financing. And, your real estate agent may require a pre-approval or pre-qualification letter even before you start viewing homes.
A pre-approval is better than a pre-qualification, because it is a complete, finalized approval, minus the property itself. It is based on the lender's review of your documentation, such as bank statements, pay stubs, and tax returns.
A pre-qualification, though, is only the lender's best estimate that you will be approved based on information given verbally. It's not uncommon for mortgage applicants to accidentally overestimate their income when speaking to the lender.
Tax write-offs, a side business, or alimony and child support can diminish, on paper, qualified income. Sometimes buyers are not approved for as much home as they thought.
Prepared buyers are more likely to buy the home they want when it becomes available.
Click to see today's rates (Mar 24th, 2017)
First-Time Buyers Return To The Market
First-time home buyers are entering the housing market in waves.
Low mortgage rates and low-downpayment programs -- plus skyrocketing rent payments -- are enticing "on-the-fence" home buyers.
First-time buyers made up 33 percent of sales in January, one of the highest readings since 2012.
Easing mortgage standards are helping this segment of home buyers.
Nearly 77% of home buyers are now getting their loans "closed" -- the term used to describe a completed and finalized mortgage loan, which infers a completed home purchase. This data is according to mortgage software firm Ellie Mae.
That's up from just sixty-eight percent in 2015.
First-time buyers, once turned down, often think they can't be approved elsewhere. That's not the case.
In fact, lender overlays make some applicants ineligible at one lender, but completely acceptable at another.
Overlays are additional rules that specific lenders add to "by-the-book" guidelines. For instance, FHA guidelines state a borrower needs a minimum 580 credit score to qualify, whereas a lender may increase its minimum score to 640.
But home buyers often don't realize that the lender across the street -- or online -- may accept a much lower FICO.
Lenders are constantly loosening their guidelines, and it's showing up in NAR's Existing Home Sales report.
There have been few better times than now to be in the market to buy a home.
Click to see today's rates (Mar 24th, 2017)
5 Low-Downpayment Programs For First-Time Home Buyers
Mortgage rates alone are not enough to extend an opportunity to buyers. The more important piece is actually available mortgage programs.
Today's market offers first-time home buyer down payment flexibility, the likes of which hasn't been seen in nine years.
Even mainstays of affordable housing, such as FHA loans, have made it even easier to buy. Mortgage insurance premiums were reduced last year. And, more lenders are offering these loans at the FHA-suggested 580 minimum score.
Conventional lenders have eased downpayment requirements. The minimum down for loans backed by Fannie Mae and Freddie Mac is now 3%. The Conventional 97 mortgage and the HomeReadyTM loan are both lenient about the amount of money you need upfront.
HomeReadyTM is available to buyers with incomes up to 100% of the median income in the area in which they are buying. In underserved communities, the income limit is removed altogether.
The USDA home loan goes further than even FHA and conventional loans when it comes to low downpayments: it requires zero down. And, closing costs can come from a gift or even a seller contribution.
Another zero-down loan comes from the U.S. Department of Veterans Affairs. The VA loan is a veteran-only mortgage for which current and former military service members earn eligibility with as little as 90 days of active service.
These mortgage programs and others are even more affordable because of today's record-breaking mortgage rates. Home sales are rising, with little question that today's home buying environment is one of the best in history.
What Are Today's Mortgage Rates?
The U.S. housing market is advancing into 2017.  It's an excellent time to buy a home, and the first step is getting a rate quote for your home mortgage.
Get today's live mortgage rates now. Your social security number is not required to get started, and all quotes come with access to your live mortgage credit scores.
Click to see today's rates (Mar 24th, 2017)
The information contained on The Mortgage Reports website is for informational purposes only and is not an advertisement for products offered by Full Beaker. The views and opinions expressed herein are those of the author and do not reflect the policy or position of Full Beaker, its officers, parent, or affiliates.
Try the Mortgage Calculator