Freddie Mac: Mortgage Rates Pull Back From 33-Month High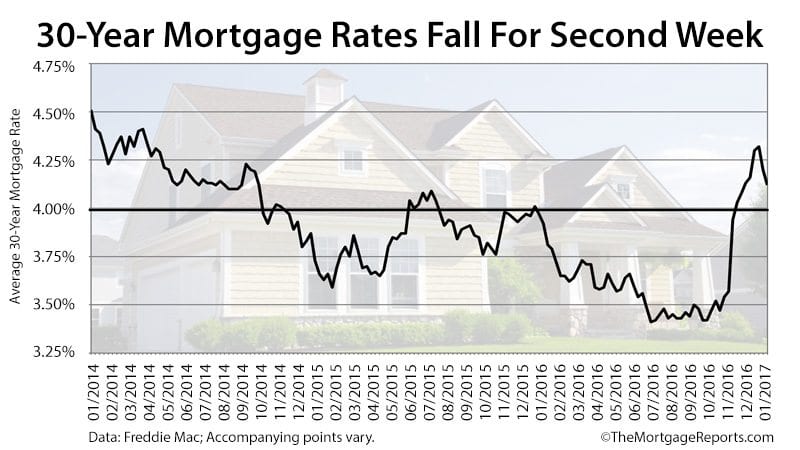 Mortgage Rates Continue Falling In January
Current mortgage rates are falling.
For only the second time since late-October, mortgage rates did not rise.
Freddie Mac, in its weekly survey of more than 100 lenders nationwide, reported the average thirty-year rate fell another 8 basis points (0.08%) to 4.12% this week.
Rates are down from a 33-month high set the last week of December.
This is a welcome change of protocol for today's mortgage rate shopper.
Since the hours following the historic 2016 election, rates have been on a nearly unmatched run skyward.
From trough to peak, mortgage rates rose 91 basis points, or nearly one full percentage point between July and December.
But opportunity still exists for rate shoppers.
Mortgage rates tend to run up quickly then fall in response to an overreaction in the marketplace. The Mortgage Reports predicted falling rates in January due to this phenomenon, and it appears the forecast was correct.
As a home buyer or refinance-eligible homeowner, January could be your second chance at a very low rate.
Click to see today's rates (Jan 16th, 2017)
Freddie Mac: Mortgage Rates Hit 4.12%
Each week, mortgage agency Freddie Mac surveys 125 lenders nationwide for its Primary Mortgage Market Survey (PMMS), a snapshot of current mortgage interest rates.
It asks mortgage companies, banks, and credit unions, and other lenders their current rate for a well-qualified borrower putting 20% down, and paying "discount points," or extra fees that directly reduce the rate.
Arguably, Freddie Mac's mortgage rate survey is not a very good indicator of up-to-the-minute rates.
The agency polls lenders Monday through Wednesday then publishes results Thursday.
In other words, reported mortgage rates are probably no longer available at the survey's release.
But that's good news for rate shoppers this week.
Rates were higher when Freddie Mac began polling lenders on Monday. Now, a mortgage consumers can get a rate even lower than Freddie Mac's reported average.
Mortgage rates change by the minute. The only way to get an accurate rate, then, is to request one from a mortgage lender that can provide current, available rates for your situation.
Click to see today's rates (Jan 16th, 2017)
Mortgage Shoppers Considering 15-Year Rates, ARM Loans
Just weeks ago, there were few reasons to choose a mortgage other than a 30-year fixed rate.
Even homeowners planning to sell their home or pay off the loan often chose a 30-year for the extra security it provides.
Plans change, markets dip -- the 30-year loan offered "insurance" against these events, while keeping payments ultra low.
Now homeowners are reconsidering that logic.
The 15-year fixed loan -- though it comes with a higher payment -- offers rates comparable to those once available for 30-year loans.
For rate-conscience borrowers, this loan product could be a second chance at a super-low rate.
15-year loans are not without disadvantages, though. Payments are often unaffordable for first-time home buyers or those on a tight budget.
At today's rates, a 15-year payment will be about 45% higher than a 30-year one.
The solution, then, could be an adjustable-rate mortgage. An ARM loan offers a fixed rate for a certain number of years, then adjusts based on the current market.
For instance, a 5-year ARM provides a low rate for five years before any risk of moving upward. Currently, the 5-year ARM averages 3.23% -- fourteen basis points lower than this week's 15-year fixed average rate.
Most homeowners remain in their mortgage for less than seven years. An ARM could be perfect for the home buyer or homeowner that plans to move up in the medium term.
Homeowners who are less risk-averse could select a 7-year ARM or even a 10-year adjustable loan. These products provide a stable product at lower rates than available for a 30-year fixed mortgage.
In today's rising rate environment, a mistake could be assuming the 30-year fixed rate is your only option.
Click to see today's rates (Jan 16th, 2017)
Loan Programs With Rates Still In The 3s
Freddie Mac polls more than 100 lenders to arrive at a national average rate.
But the agency requests conventional/conforming loan rates only. It leaves out mortgage rates for government-sponsored programs that could come with even lower costs.
In today's rising rate environment, a non-conforming loan could be the right decision for some homeowners.
Two loan programs in particular -- the USDA home loan and VA loan -- are government-backed mortgages with rates still in the 3s.
The USDA loan is available in less dense neighborhoods across the U.S. It offers zero down payment and lenient credit score minimums.
Eligibility is based, in part, on location of the home. Ninety-seven percent of U.S. land mass is eligible for a USDA loan, so homebuyers looking for housing outside of major metropolitan areas should check this option.
The zero-down VA home loan program comes with lower-than-conventional rates, according to Ellie Mae, undercutting conventional loan rates by an impressive 25 basis points (0.25%).
Veterans with as little as 90 days of service history could be eligible for a VA loan.
Many lenders are offering these two loan types at rates in the 3s, even as conventional rates are solidly above 4%.
Home buyers who may be eligible for either one should consider a loan type other than conventional.
What Are Today's Mortgage Rates?
Today's interest rates are still low, despite the dramatic jump. Historically any rate in the 4% range was considered "too good to be true." But those rates are still available.
Get today's live mortgage rates now. Your social security number is not required to get started, and all quotes come with access to your live mortgage credit scores.
Click to see today's rates (Jan 16th, 2017)
The information contained on The Mortgage Reports website is for informational purposes only and is not an advertisement for products offered by Full Beaker. The views and opinions expressed herein are those of the author and do not reflect the policy or position of Full Beaker, its officers, parent, or affiliates.
Try the Mortgage Calculator